One of the best-performing content both on traditional and digital media is content about relationships. Heterosexual relationships in particular. One of the most ubiquitous sentiments shared in this content is that marriage is not about happiness with the rise of divorce among younger people being blamed on them erroneously expecting to be happy while married. This messaging is interesting because in non-fictional media from TV shows to movies and books, marriage is framed as a union that's full of happiness. All our fairy tales end with… "and they lived happily ever after." Let's talk about the impact of continuously suggesting that marriage is not about happiness.
It's grooming
One definition of grooming is training, preparing or conditioning someone, usually over a longer period of time. This messaging that marriage is not about happiness socializes people, women in particular into accepting abuse and terribly unhappy situations. It prepares them to accept a continuous state of unhappiness in their relationships, framing that as normal.
One study about regret found that a whopping 31% of married people would not marry their current spouse again. In the same study, 12% said they weren't sure they would marry their current spouse again. There is a direct link between this logic and the abuse that is ubiquitous in romantic relationships.
Stands in the way of progress
If we all understand and accept that marriage is not about happiness, then there's no incentive to change things. This is just the way things are. This logic is harmful and misleading. There is nothing that is set in stone about marriage, about human relations. All of it is made up of people which means it can be changed by people.
If marriage has so much sorrow that we need continuous propaganda insisting that marriage is not about happiness, then we must change marriage. The reason the media instead focuses on training people to accept unhappiness instead of addressing the cause of unhappiness is because marriage is based on patriarchal values. Patriarchal values that benefit men and whose privileges they would not willingly relinquish. Insisting that marriage is not about happiness is a way of maintaining the status quo that's a source of misery for too many people.
Conclusion
People are told that marriage is about commitment and sacrifice, not happiness. All this does is normalize needless suffering. It just makes people stay in miserable situations, suffering through life. This normalization of suffering and happiness stands in the way of all progress. It stands in the way of improving relationships in general, and heterosexual relationships in particular. Normalizing a continuous state of unhappiness in a single institution such as marriage also leaks into other areas of society. Governments in many countries are a source of misery to their citizens, yet in many instances, people just accept this as the normal state of things which stands in the way of demanding change.
Demanding joy and happiness from life and our relationships is a radical act. It's the beginning of demanding better lives for all of us. There is no glory in suffering through life. Life is already so unpredictable and full of surprise pain, we don't need to be causing each other more unhappiness.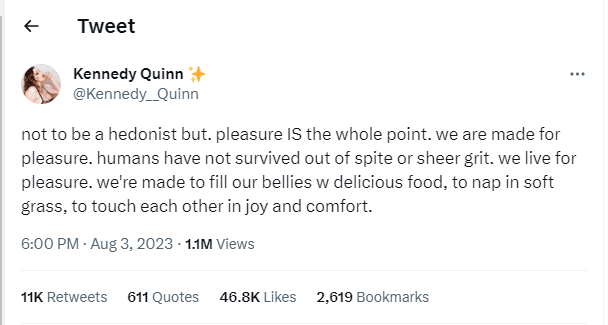 Check out
Relationships And A Tolerable Level Of Permanent Unhappiness
7 Ways To Add Fun Into Your Marriage Or Dating Life
Opinion: There Is Nothing Equal About Going 50-50 In A Relationship
Relationships: Things Happy Couples Do For Each Other Without Being Asked
Are You Headed For Divorce? Things Couples That Separate Have In Common
Why Couples Are Embracing The Concept Of Living Apart Together And The Benefits Of Having Such A Relationship
How A Sleep Divorce Could Make Your Relationship Stronger