Someone recently shared a story online about a man who was shocked when his girlfriend left him. He said he knew she wasn't happy, but he thought that it was "a tolerable level of permanent unhappiness." Let's talk about this societal expectation that heterosexual relationships come bundled with unhappiness that one must just tolerate, suffer through until they die and find themselves standing before St. Paul at the pearly gates.
Men are socialized to expect unhappiness
The man in the shared story who was left by his unhappy wife later shared that he was also unhappy in the relationship, but he'd never considered leaving and even with the benefit of hindsight he realizes that if she hadn't ended things, he wouldn't have ended it, he'd still be married.
One of the most common jokes about heterosexual relationships revolves around things like the old ball and chain and men being forced to settle down. Women are socialized through romantic movies and stories to perceive marriage as a source of happiness while men are socialized to perceive it as a source of unhappiness. Women are portrayed by society as anxiously running towards it while men are portrayed as running away from it. Hell, there are wedding cake toppers that capture this dynamic. Wedding cake toppers! Men are socialized to expect misery in relationships. Check out the clip here.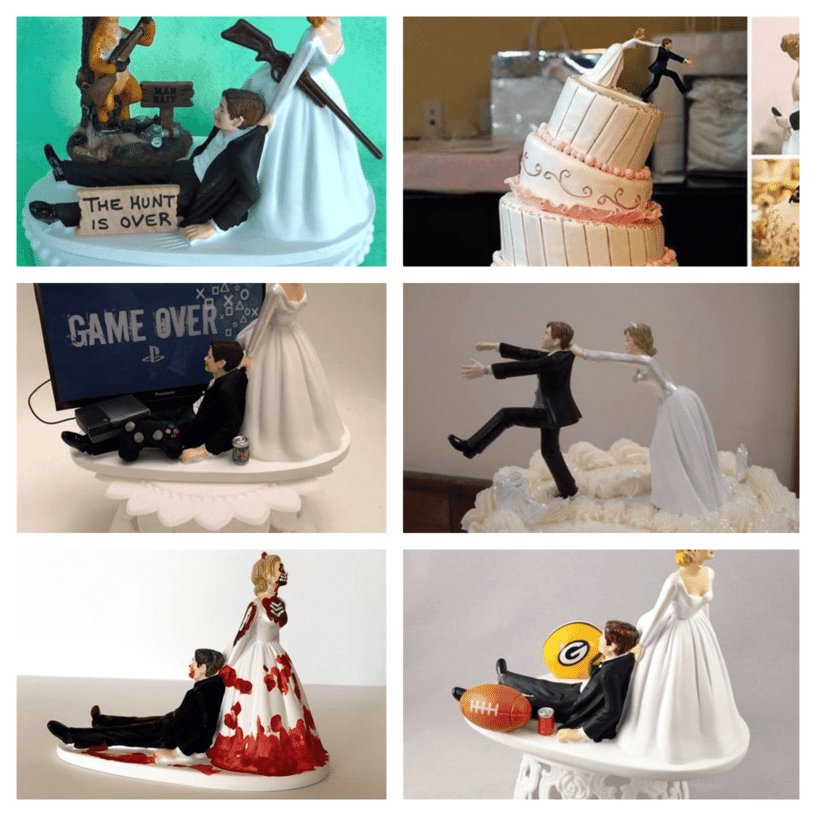 Men are okay with women's unhappiness
One of the key responses touched on the fact that men benefit more from heterosexual relationships than women do. Beyond that, as long as they continue to benefit from it, it doesn't concern them when women are unhappy. A tolerable level of unhappiness is just something they expect women to put up with. When women complain aka raise their concerns, they are framed as nagging. Consider something like housework, a significant source of stress for many women. Men are completely okay with their wives suffering and they expect women to shut up and take it. Women are supposed to accept this tolerable level of permanent unhappiness.
Marriage is not about happiness
Even though society socializes women to believe that marriage will bring them happiness, it also sends them the message that marriage is not about happiness. Both men and women are trained to expect unhappiness and misery in marriage. They are indirectly encouraged to find a tolerable level of permanent unhappiness and maintain that. Marriage is some kind of endurance sport where you just stay together for the children or for appearance purposes or because God hates divorce.
This assertion that marriage is not about happiness and that one has to tolerate unhappiness sets women up to suffer. Any level of tolerance says to your partner that that is something you're willing to keep living with. As one man pointed out, men will do what you allow. Women assume that if they endure a man will clock their pain and change when all it does is communicate to them that you're willing to put up with it. All this socialization that prepares people to accept a tolerable level of permanent unhappiness is set them up for abuse and mistreatment. If a relationship doesn't bring you joy, what's the point?
Check out
8 Benefits Of Going For Couple Therapy Before Marriage
Opinion: Marriage Is Not About Happiness
Opinion: The Problem With Marriage Humour Content
Opinion: On Men Abusing Women In The Name Of Pranks
Relationships: On Men Hating Their Partners And Signs Your Man Hates You
Relationships: Things Happy Couples Do For Each Other Without Being Asked
Are You Headed For Divorce? Things Couples That Separate Have In Common