Making cocktails is fun and it also gives you a chance to experiment with different ingredients to make fun, delicious drinks that you can sip while reading a book, hanging out with your friends or just watching a movie. Here are some of the cocktails you should try.
Mojito
Recognised as the most popular cocktail across the world, you wouldn't be amiss to add a mojito recipe to your list of cocktails. It is a simple yet immortal cocktail that can be taken during the day and alongside pairings such as spicy chicken wings, shrimps, chicken curry and zucchini risotto. For a good glass of mojito, you will need;
Ingredients
40ml of white rum
30ml of lime juice
2 tablespoons of refined white sugar
7 leaves of mint (spearmint, Hierba Buena)
Soda
Ice
Preparation
In a highball glass, add the sugar and lime juice.
Stir well then add mint. Pin down with a pestle and add ice, the white rum and soda to fill.
Slap the mint leaves, and put them in the glass. You can garnish using a sprig of mint or with strawberries for a change.
You can also make a mojito with gin or rum. You can also make one without alcohol – mocktail. Lifestyle: 10 Mocktails You Can Serve People Who Don't Take Alcohol
2. Manhattan Whiskey Cocktail
We have this cocktail that makes use of orange fruit peels to give the cocktail a tangy taste. It has other alcohol including Angostura bitters (but you can use the bitters that is available) and vermouth. Trust me, it's worth it.
Ingredients
1 cup whiskey
⅔ cup vermouth
2 dashes of angostura
4 small orange peels
4 fresh cherries
Instructions
Place ice in a cocktail shaker.
Add the whiskey, vermouth and angostura.
Rub the orange peel around the rim of the cocktail glass.
Strain the drink into the glass.
Add cherries and enjoy!
Check out more whiskey cocktails here. You can also make this cocktail with a martini.
3. Margarita
The Margarita is a popular cocktail and for good reason. There are different stories about who invented the margarita but the most popular is that margarita was invented in 1948 in Acapulco, Mexico when a socialite made a tequila cocktail.
Ingredients
2 ounces tequila
1/2 ounce orange liqueur
1-ounce lime juice, freshly squeezed
1/2 ounce agave syrup
Garnish: lime wheel
Garnish: kosher salt (optional)
Add tequila, orange liqueur, lime juice and agave syrup to a cocktail shaker filled with ice, and shake until well-chilled.

2. Strain into a rocks glass over fresh ice.

3. Garnish with a lime wheel and kosher salt (optional).
Image from https://www.thespruceeats.com/fresh-margarita-cocktail-recipe-759317
4. Whiskey sour cocktail
The whiskey sour is one of the most famous whiskey cocktails, and for a good reason. If you tend to lean towards sour cocktails, then you should try this out.
Ingredients
50ml of whiskey
25ml of freshly squeezed lemon juice
15ml of sugar syrup
15ml of egg white
Cherry or lemon twist for garnish
Instructions
Add 50ml of whiskey in a glass
Add 25ml of freshly squeezed lemon juice
Add 15ml of sugar syrup
Add 15ml of egg white
Garnish with a lemon twist
You can also make a sour with other alcoholic drinks like cognac.
5. Espresso martini
This is a classic martini cocktail and those who love coffee will love it. Recipe from BBC Good Food.
ingredients
Ingredients
For the sugar syrup
100g golden caster sugar
For the cocktail
ice
100ml vodka
50ml freshly brewed espresso coffee
50ml coffee liqueur
4 coffee beans
STEP 1. Start by making the sugar syrup. Put the caster sugar in a small pan over medium heat and pour in 50ml water. Stir, and bring to the boil.
STEP 2. Turn off the heat and allow the mixture to cool. Put 2 martini glasses in the fridge to chill.
STEP 3. Once the sugar syrup is cold, pour 1 tbsp into a cocktail shaker along with a handful of ice, the vodka, espresso and coffee liqueur. Shake until the outside of the cocktail shaker feels icy cold.
Strain into the chilled glasses. Garnish each one with coffee beans if you like.
6. Negroni
This is one of the most famous cocktails. It's both simple and sophisticated and the perfect addition to your dinner party this holiday season.
Ingredients: 1 shot Martini Rosato, 1 shot Campari, 1 shot gin, ice cubes
Steps: Pour the ingredients into an old-fashioned glass filled with ice cubes. Stir and garnish with an orange slice.
Negroni cocktail image from https://www.liquor.com/recipes/negroni/
7. Martini
A martini is a cocktail made with gin (or vodka) and vermouth and garnished with a lemon twist. Over the years, the martini has become one of the best-known mixed alcoholic beverages. It is possibly one of the simplest cocktails to make as it can be done in a few minutes. You should chill your cocktail glass in a refrigerator before making the cocktail. That way, your cocktails will stay crisp and cool longer and the frost adds a nice aesthetic to the final presentation. 10 Gin Cocktails Recipes.
Ingredients
60ml gin
Vermouth, to taste
A slice of lemon
Instructions
Stir your gin and vermouth together in a glass.
You can use the amount of vermouth that suits your preference. Remember, the more you use the more herbal it will be.
Garnish with a slice of lemon to give the drink a sour twist. 
8. Daiquiri
This legendary drink is mostly loved for its elegance and simplicity. With just 3 ingredients, you can make a splendid aperitif that can stand by itself or be paired with fish dishes and shellfish. To make the Daiquiri you will need.
Ingredients
45ml of rum
20ml lime juice
5ml of sugar syrup
Preparation
Chill a martini glass with 3 pieces of ices cubes. You can discard the ice once the glass chilled.
In a shaker that has ice, pour in the rum, lime juice, and sugar syrup
Shake for 12 seconds and strain the contents into the Martini cup.
Garnish with a slice of lime and serve.
You may like to know that due to its high contents of vitamin C, Daiquiri was the drink used to combat scurvy in the 1700s. It was until later after the Cuban revolution did this cocktail start to be served in the bars of New York and across the world. 10 Rum Cocktails You Can Make At Home
9. Old Fashioned
2 oz. rye or bourbon whiskey
2
dashes of Angostura bitters
Club soda
Place the sugar cube in a glass.
Wet it down with Angostura bitters and a short splash of club soda.
Crush the sugar with a wooden muddler, then rotate the glass so that the sugar grains and bitters give it a lining.
Add a large ice cube. Pour in the whiskey.
Garnish with an orange twist, and serve with a stirring rod if you're so inclined.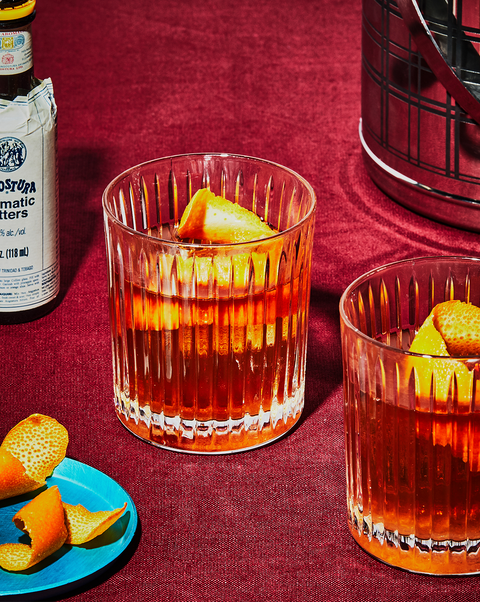 10. Sidecar Cocktail
This cocktail, described as a timeless brandy sour drink, is a perfect balance between sweet and sour. So if this kind of taste is your cup of tea, then it is highly recommended.
Ingredients
Cognac
Orange liqueur
Lemon juice
Garnish – a slice of lemon
Instructions
Gather the ingredients.
Pour the ingredients into a cocktail shaker with ice cubes.
Shake well.
Strain into a chilled cocktail glass.
Do you know What Your Signature Alcoholic Drink Says About You
This list contains only a few of the awesome delicious cocktails you can make. Check out other cocktails you can make here.
10 Whiskey Cocktails. You can also check out Famous Grouse cocktails you can make at home
10 Easy And Quick Vodka Cocktails
10 Tequila Cocktails Recipes You Can Make At Home
10 Cognac Recipes That You Should Try Out At Home
5 Easy Wine Cocktail Recipes To Spice Up Your Valentine's Day
10 Mocktails You Can Serve People Who Don't Take Alcohol
Did you know that the cocktails above are some of the most favourite cocktails all over the world?
What's your favourite cocktail?