The beauty of working from home is that you can design your workspace to suit your personal style without limit. A well-decorated home office gives you inspiration and drive to work for longer. You don't have to source professional help with these home office accessories.  Working From Home: 10 Ways To Make It Work
Bluetooth Speaker
If music isn't life, then maybe you want better sound quality for your skype meetings or video presentations. Either way, Bluetooth speakers are becoming more of a necessity than a luxury.
Succulent Hanger
Nothing brings life into a room more than plants. Create space for them by mounting succulent hangers on your wall and add some green with this office accessory.
Journal
Writing helps us keep account and process emotions better. Therefore, keeping a journal by your workstation not only makes your desk look good but also it's a way to put your thoughts on paper.
String Lights
Working late into the night can drain you and you may need an extra push to get through those long nights. Adding some eye-catching string lights makes your home office cosy enough to spend a few extra hours in.
beautiful home office image from https://in.pinterest.com/pin/246923992061122581/?lp=true
Colourful Sticky Notes
Maybe it's just me, but I like my work environment as colourful as it can be. Therefore, I tend to reach for the coloured sticky notes when I'm shopping for office accessories. They are easy to spot and also serve as a decoration on your desk.
DIY Stationery Holder
Stationery holders keep your desk organized while adding décor to your home office. You can repurpose old cups and mason jars to become stationery holders. With a little craftsmanship and a vivid imagination, you can create aesthetic stationery holders. Here's some inspiration.
Throw Pillow
Spice up your seating area with a few colourful throw pillows. Since you're using them as an accessory, go for a fun pattern and you can also mix and match if you have several chairs. The best place to shop for such pillow is the flea market or online.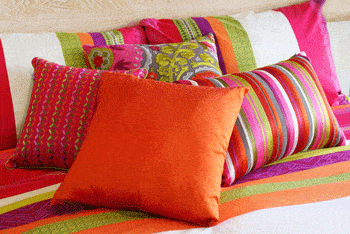 Stress Toys
Stress toys as décor is not a new thing. Those metal pendulums used in several movies are actually stress relievers. Every workspace needs a stress reliever pressure can build up over time. A simple snowball or squishy toy will work. Try looking for eye-catching toys that also work as a decoration for your home office. Here are a few.
Rug
This home office accessory lets clients know that you have good taste. It's both a luxurious and necessary décor. Find a rug that blends with the vibe of the room. Additionally, make sure that the rug is not wall to wall unless you're willing to keep it clean every day. Keep the furniture clean as well.
Chic Desk
Last but definitely not least, shop for a unique desk. Your home office is your sanctuary so you should make it as welcoming as possible. Ditch the traditional office desks and go for a more modern desk. Also, you can have one made to your preference.
Check Out DIY Decors To Glam Up Your Bedroom