Bedrooms are arguably the place we spend the most time in the house. It is the place we go when we need some privacy. It is also the first thing we see in the morning and the last thing we see at night. So, why not make your bedroom a reflection of your personality?
Sometimes glamming up our room might be costly and at other times we might not find the exact product in the market. However, décor has been made easy with blogs like Shutterfly and Pinterest that provide great do-it-yourself ideas.
Refurbished Dresser
Nothing adds life to a dull room like a new paint job. Painting a small dresser does not require much in terms of cost or skill. Make sure to line the floor with newspapers to avoid any spills. You can also spray paint interesting designs on the dresser. Additionally, changing the knobs gives the dresser a fresh new look. You can also flip the dresser and modify it to be a vertical dresser or a vanity table. However, you will need the help of a carpenter for this one.
Blackboard Wall
Not only is a blackboard a practical addition to any creative's bedroom, but it is also significantly cheaper than installing a whiteboard since all you need is matte black paint. The wall can be used to write down any ideas for a project or simply doodle when creative block kicks in. It is also unique and decorative as it stands out from ordinary wall art. It adds a cool background to your room that can be customized at any time. There are some great blackboard ideas on Pinterest to try out.
Chandeliers
When you think of chandeliers, you think of expensive, sparkling decorations hanging from the wall. Everyone desires to have a beautiful chandelier in their house but they might be too pricey for most of us. However, there are several chandelier DIY tutorials to help add a little class to your room. My favourite was this crystal ball chandelier that I'm looking forward to making. Again, make sure you seek the assistance of a professional electrician before handling electric wires.
Mason jar plants
Adding plants is a great way to bring the colour and vibrancy of nature to your space. Plants freshen up the air and flowering plants are beautiful to look at. Mason jars are also inexpensive items that can be re-purposed.
Decorative mirrors
A beautiful mirror can serve as a wall decoration as well as its utility purpose. For a full-length mirror, adding some string lights around its frame makes the mirror look glam and photograph really well. There are also wooden mirrors and colour chart DIYs if you're looking for a more dramatic idea.
Hand-painted signs
For this, you will need a block of wood and some paint. By simply playing with colours and designs, you can create a custom wall decoration.  It could be a simple handprint, a quote or a splash of colours.
Sweater pillowcases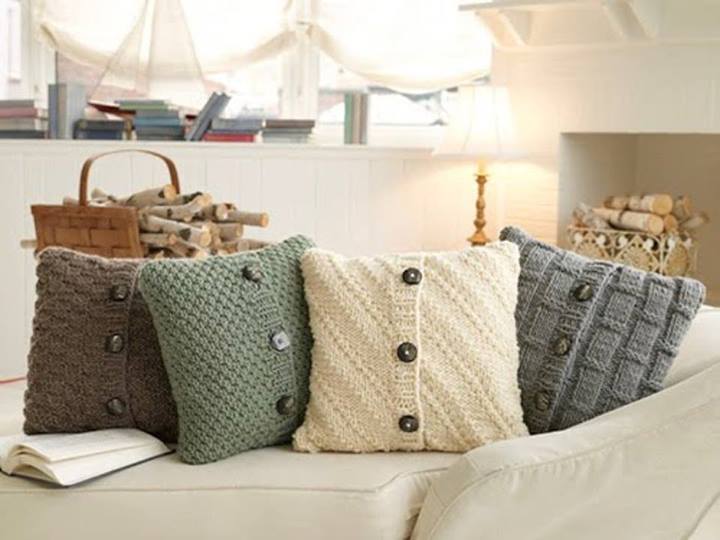 You can knit some woollen pillowcases. In case you don't know how to knit, you can improvise with old sweaters or purchase second-hand sweaters and have a tailor sew them to the size of the pillow.
Looking for more tips, here is how you can use Fabric To Bring Colour To Your Home
Top DIY Tools To Have In Your Toolbox
Interior Décor: Renter-Friendly Remodelling Ideas That Are Reversible
Interior Décor: Different Options To Brighten Up A Room