Don't you just hate when you've spent hours finding the right outfit and dressing up then when you're ready to leave the house, you notice you have a makeup stain. If you wear makeup, you know that this happens more than it should and it can make you feel frustrated. However, there are people who seem to have mastered the art of wearing makeup without staining their clothes. What's their secret, you ask? Here are some tips that can be helpful.
Avoid Putting Makeup Beyond Your Jawline
Once upon a time, beauty gurus would recommend applying makeup down to your neck. This was because most brands didn't have a variety of shades that matched certain skin tones. However, today, there are brands with hundreds of shades to fit any skin tone. Take Fenty Beauty, for example, who boasts of having 50 shades of foundation. You're more likely to find the perfect shade today and you don't have to apply makeup on your neck. 8 Tips For Picking The Right Foundation Shade
Wear Primer And Setting Spray
Most people diminish these two products but they are a must-have in your arsenal. They not only keep your makeup in place all day but also they could help you avoid staining your clothes. The primer makes sure that the products stay on while the setting spray makes sure it doesn't come off. Therefore, even if you happen to touch your face or if your clothes come in contact with your face they won't be stained. 7 Uses Of Setting Spray
Use A Scarf
It can be difficult to wear clothes after putting on makeup but this is actually the best way to ensure that you don't stain your clothes. If you're wearing something tight, cover your face with a scarf that you don't mind getting dirty. Scarves are light so they won't wipe off your makeup and they're a good shield between your clothes and face. You'll be relieved to see just how effectively this works.
Place A Cloth Over Your Collar
For the ones who are sceptical about wearing your clothes after putting on makeup, you can try this tip. After wearing your clothes, place a cloth over your collar and anywhere you feel might be stained. Some of the other places you should cover include laps and sleeves. The cloth will prevent any residue from falling on your clothes thus keeping them squeaky clean.
Avoid Touching Your Face
Imagine after doing your best to avoid staining your clothes with makeup then you're betrayed by your own hand. It's worse than heartbreak. We're most likely to touch our faces at least once throughout the day. However, you should try your best to avoid touching it especially when your makeup is still fresh because chances are you will touch your clothes after then stain them. If you happen to touch your face, wash your hands immediately.
Carry Makeup Wipes
When it's all said and done, you may try all kinds of hacks to avoid staining your clothes but still end up with a stain. This is where makeup wipes come in handy. If you notice a stain and don't have time to change your clothes, you can use a wipe to remove the stain. Wipes work just as well on clothes as they do on your face. Many makeup artists use this technique on their clients in case they spill makeup on them. Simply dab or gently rub the stain with a wipe until it's gone.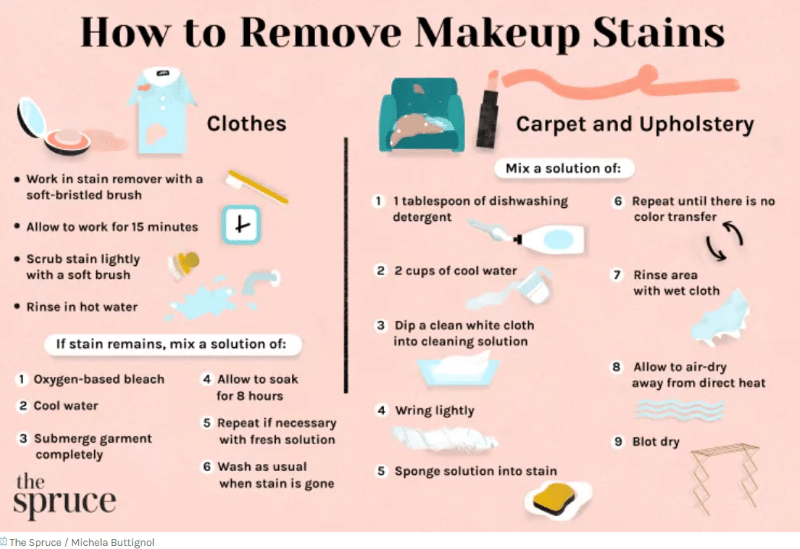 Check out 7 Tips And Tricks To Remove Makeup Effortlessly
Skincare: 6 Things You Must Do When Removing Your Makeup
7 Makeup Mistakes That Cause Acne Breakouts
Beauty: 15 Easy Tips To Get Every Last Drop Of Your Makeup
Here's How To Figure Out Your Skin Undertones And Find The Best Makeup For Your Skin