The Church is a community that is known for how serious it can be. However, in the US, churches have found a way to drag a laugh or two out of their community with their signs. They aren't just for announcing the upcoming sermons or seminars. By the standards of these churches, Bible study is not something that should be humourless. Blessed are those who laugh at the signs of the Lord.
1. The golden rule, but make it 21st Century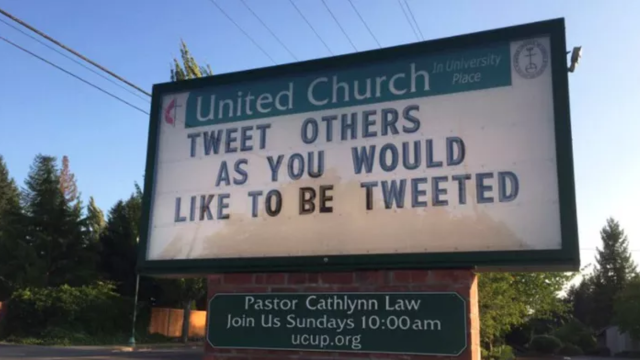 This church embraced the new age of digital communication.
2. This church cares about your skin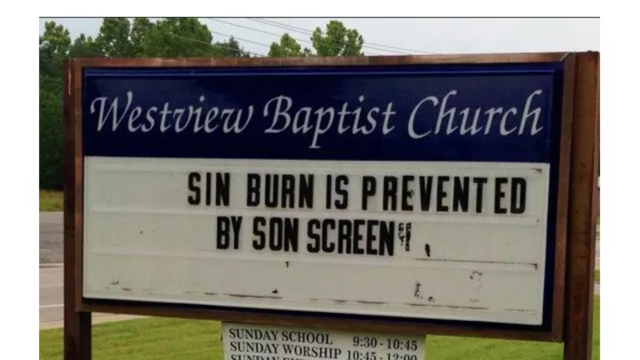 Taking the pun game to the next level, this church subliminally reminded its congregation to wear sunscreen while inoculating themselves from eternal damnation with screening by Jesus.
3. Punny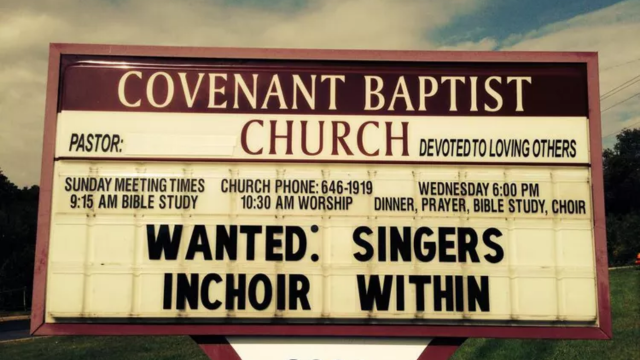 This church found a creative way to get more people to sign up for their choir.
4. Drop it like it's hot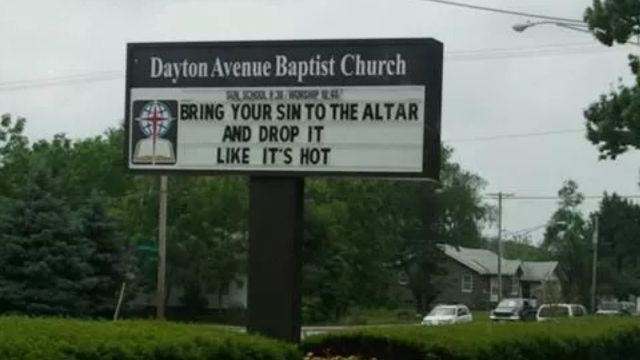 When the sin's in the crib ma… this church is down with the hip hop. Probably.
5. Driver safety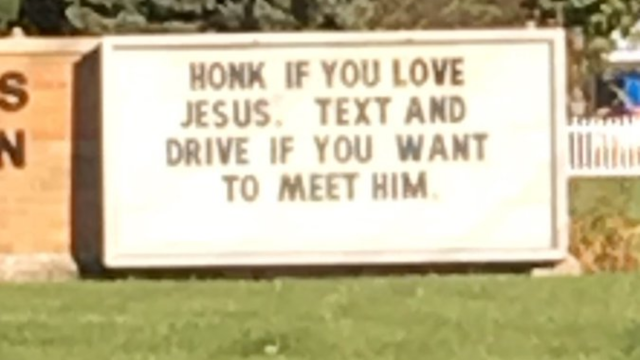 This church warns what happens when you drive unsafely.
6. Congratulations, you have found your father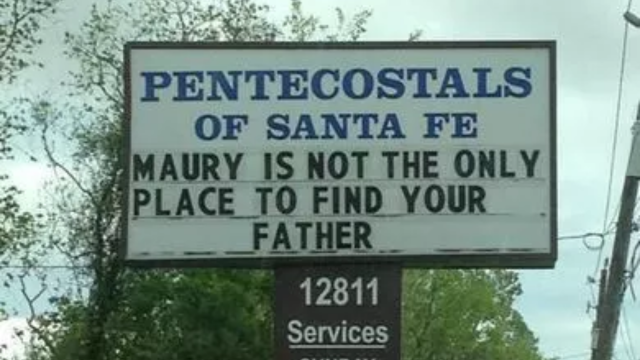 This church makes it clear that those seeking a father can find a Heavenly one in their place of worship.
7. Distillation and salvation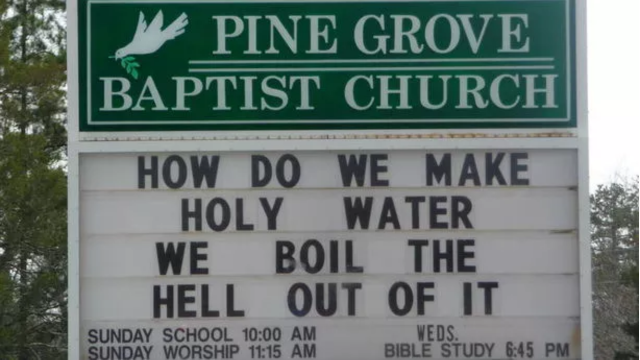 How to make holy water.
8. Shoppers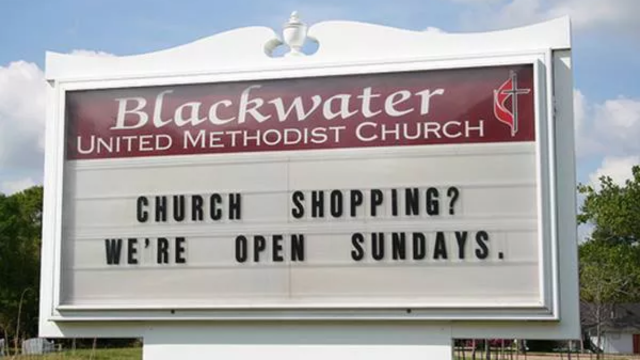 This church reminds the faithful shopping for a place to worship, about their working hours.
9. Full-time faith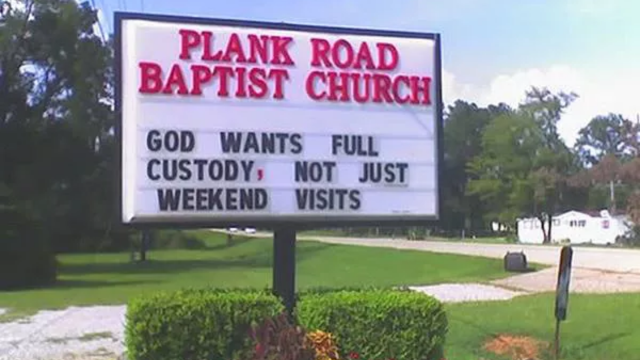 Being a child of God is a full-time gig.
10. Remember the debts paid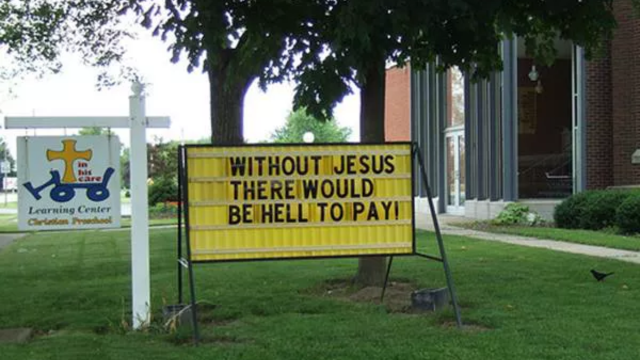 This church reminds worshippers of the price that was paid.
11. Prayer day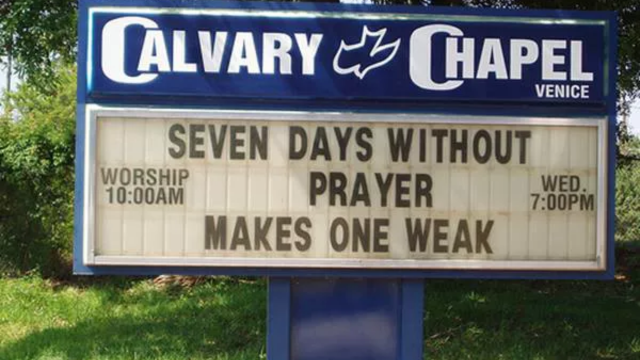 This church reminds you how often you should pray.
12. Instructions unclear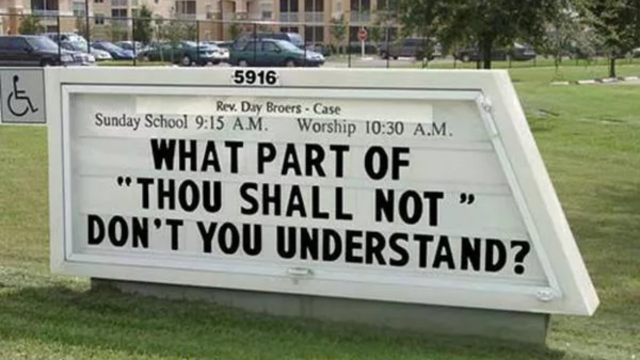 This church doesn't understand what's not clicking.
13. Family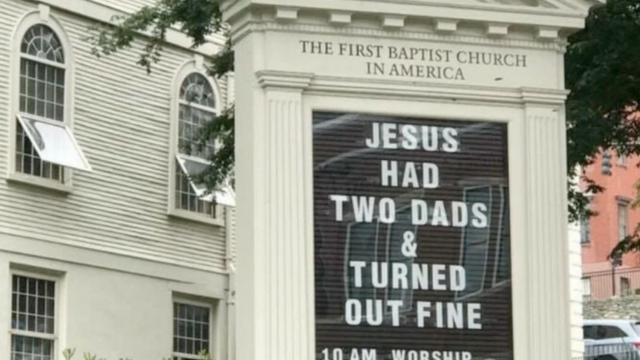 Jesus came from a blended family and he turned out ok.
14. The Catholics have jokes too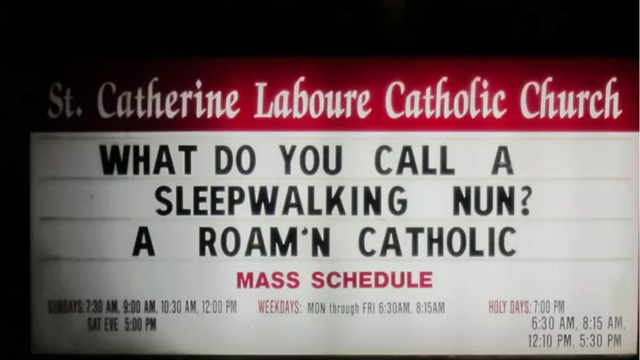 Hopefully, this joke doesn't leave you incensed.
15. I agree to the terms and conditions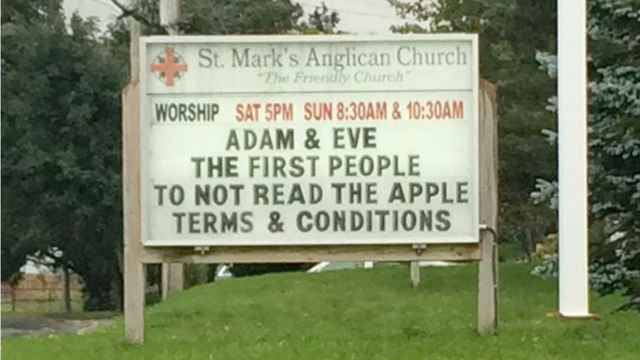 Be careful what you sign up for.
16. It's pretty straightforward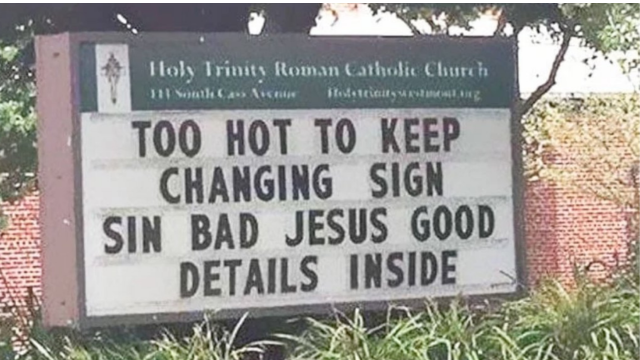 This church doesn't have to spell it out for its congregants.
17. Learn to share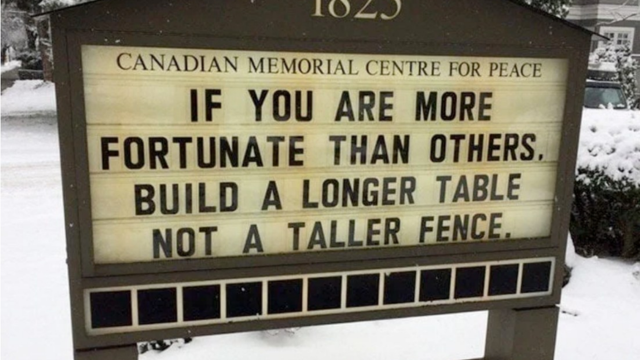 This church believes in sharing not sparing.
18. Only God is perfect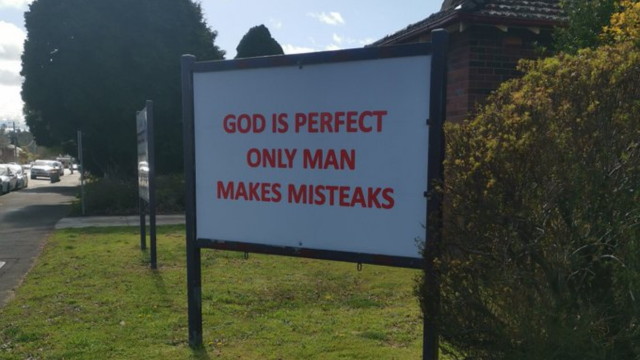 Holy autocorrect.
19. Science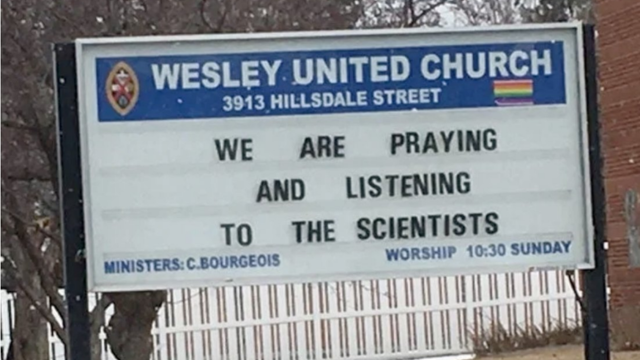 If God didn't want people to know science, he wouldn't have invented chemistry.
20. Read the Bible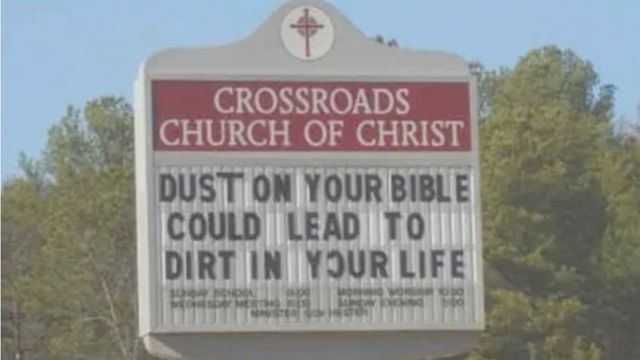 This church is reminding its congregants to maintain a Bible-reading habit.
21. Stolen AC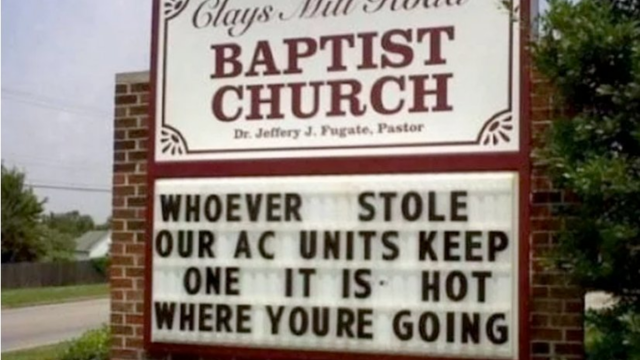 A warning against stealing air conditioners.
22. How to act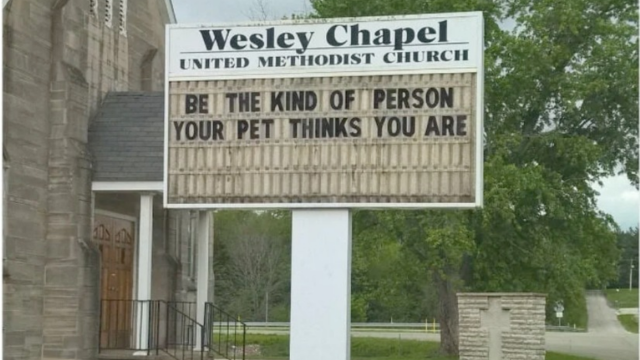 The best way to treat others.
23. Kindliness is next to godliness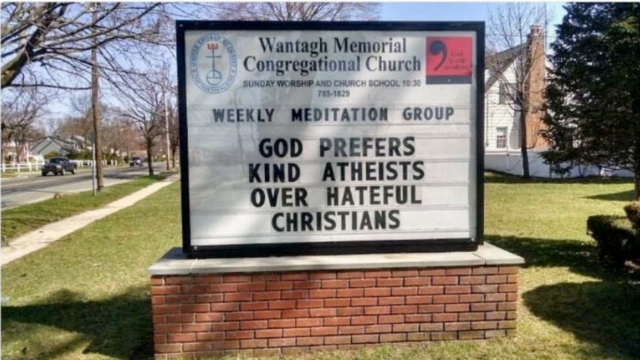 What God prefers.
24. Faith is like Nokia, it connects people 
25. What to expect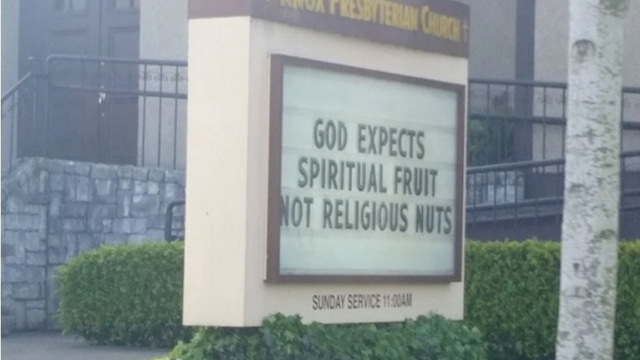 Congregants should be the fruits they would want to eat.
26. It's raining puns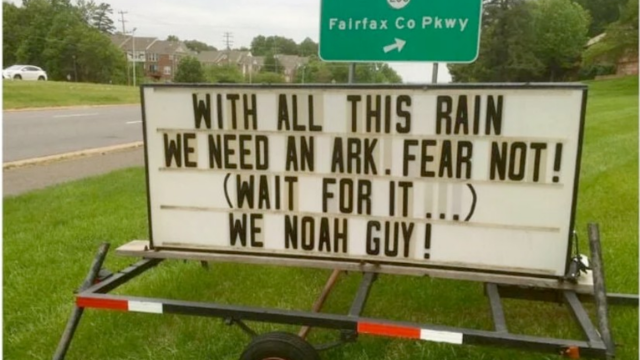 Why haven't they found the Ark? It's Noah to be found.
27. How to get the perfect hot body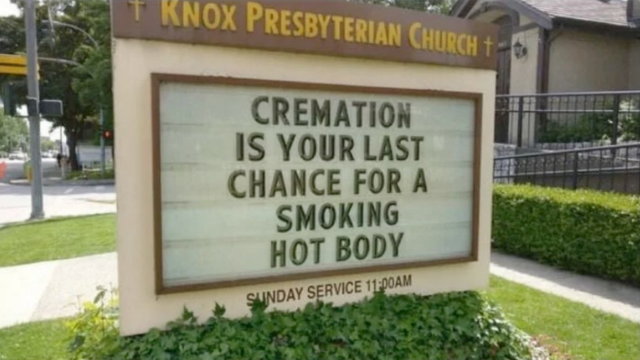 That's hot.
28. Jesus' political status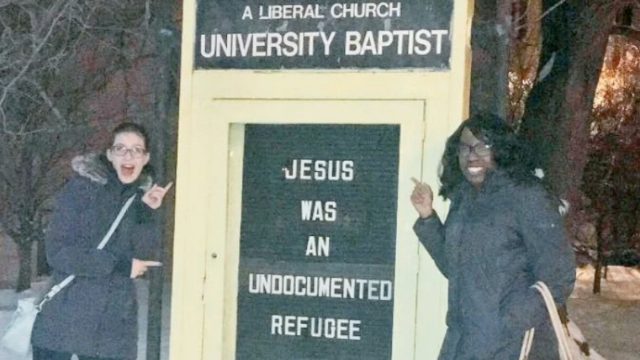 Immigrants matter.
29. Noah and the two termites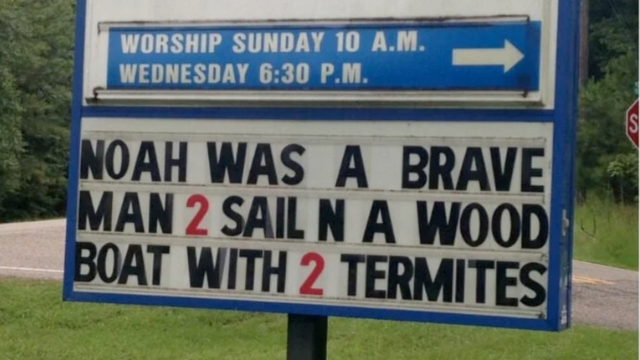 Why did the two worms have to leave their apple to get into Noah's ark? Because they could only go in pears.
30. If Church signs were Tinder bios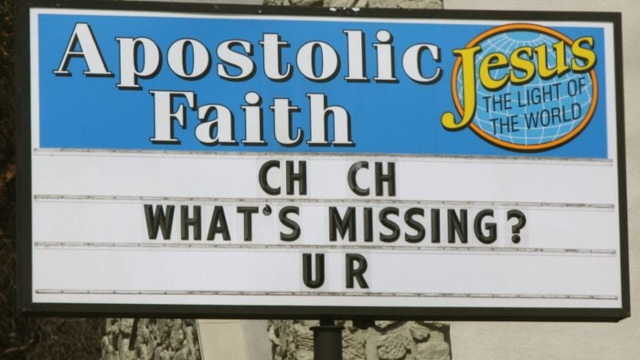 Relationships: Creative Ideas For What To Write In Your Online Dating Profile
Check out:
16 Types Of People You Will Find In A Kenyan Church
Hilarious Tweets About Growing Up With African Parents
Kenyan Mothers Used To Be Very Strict And You Would Be Punished For Different Offenses. Here Are Some Interesting Twitter Responses On Some Of Them
5 Phrases That Are Distinctly Kenyan