A couple of months ago I got some Clinique products for Combination skin to review. Here is a review of some of the products.
The Clinique Clarifying Lotion 3
This is a dermatologist-developed liquid exfoliating lotion that clears the way for smoother, brighter skin. It is a pinkish waterish solution. According to
Clinique
, it is a gentle, refreshing formula that sweeps away pollution, grime, dulling flakes to reveal smoother, clearer skin. It also preps skin for moisturizer. It also purifies pores to look cleaner and smaller and also helps to block blemishes. It also controls excess oil to minimize breakouts.
It is supposed to be used twice a day, morning and night. What you need to do is wet a cotton ball, and use it to wipe your face and neck gently avoiding the eye area and lips. There are 5 clarifying lotions and one is supposed to use the one that suits their skin. 3 is for people with combination skin like me. You can check which one you should use
here
.
Packaging – It comes in a screw-off cap and you can end up using too much product so I think it would have worked better with a pump.
The product is a toner which should be used after washing your face or after using a cleanser.
It has a strong alcohol fragrance but I didn't feel like it stings your face too much.
It removes all the dirt off your face
it reduces enlarged pores
I found it exfoliated the skin without damaging it.
At $16 dollars this is a great deal. It's an awesome product.
Clinique Deep Comfort Hand And Cuticle Cream
According to
Clinique
, Clinique Deep Comfort Hand And Cuticle Cream treat hands to 12-hour hydration, soothing comfort. It is a rich, restorative cream which strengthens skin's moisture barrier against environmental stressors. It even boosts the skin's ability to retain moisture so hands look and feel smoother. It also conditions cuticles and nails.
It is extremely moisturizing and kept my hands and cuticles soft. I also liked that it is a small size that you can keep in your bag. I also like the fact that it not greasy and it has an almost non-existent fragrance.
I think it is a good product but at the price it is being sold, which is 24 dollars, you can probably get something cheaper that can work the same way. Especially if you wash your hands a lot during the day. But if you want something that will give you long term moisturization and you have the cash you should get this.
Clinique Take The Day Off Make-Up Remover
What I liked about it is that it has no parabens, no phthalates and no fragrance.
This is how you use it. You need to shake it well before using because it has two liquids, a watery and an oil one that needs to mix in order to give you the results you need. Use a  cotton ball to sweep on and wipe off. You can then rinse off with cool water before reapplying makeup.
The packaging. I had the 125 ml lavender plastic bottle with a silver screw-on cap with a locking mechanism.
It removes makeup effectively in one swipe, although with long last lipstick you might have to wipe it more than once. It works very well with waterproof mascara. It is not irritating to the eyes. It does leave a slight oily residue so you may have to wash your face or use cleanser or toner to remove the oily residue.
I love the fact that you only need a little to remove makeup so it is well worth the $19.50  you would spend on it. It is fragrance-free which I love and it is not irritating to the skin. Apparently, it is also ophthalmologically tested so it is also safe for lens wearers too.
The one thing about it you have to remember is to shake the bottle for the ingredients to mix. Something I forgot quite a few times in the beginning.
Clinique Chubby Stick Intense Moisturizing Lip Colour Balm – Grandest Grape
Clinique Chubby Stick Intense Moisturizing Lip Colour Balm – Grandest Grape is a creamy lipstick that's not quite sheer but not quite opaque. It is loaded with mango and shea butter that leaves your mouth feeling soft and smooth.
The Clinique Chubby Stick Intense Moisturizing Lip Colour Balm never needs sharpening. All you need to do is simply swivel up to reveal more lip colour balm. Due to its soft texture, you have to be careful with applying it as it can break (mine did).
Packaging – The Clinique Chubby Stick is shaped like a chubby crayon and it has a silver cap and base. The colour of the packaging is the same as the lipstick. It has a twist-up mechanism so it's easy to use.
It has no parabens, no phthalates, no fragrance. It is a really good moisturising balm that has nourishing Vitamin E helps protect against future damage from environmental aggressors.
The shade is a dark berry shade but when you put it on it comes out as purple-pink with a glossy finish. It is easy to apply, and if you want to darken the colour you can layer it a bit more with another application. The gloss fades over time but the colour and hydration stay on. The product lasts longer if you don't eat, around 3-5 hours depending on the weather, and your lips feel hydrated throughout. The product is not sticky and it is not heavy on the lips.
Although it is an awesome product it is quite expensive at 18.5 dollars for a lipstick/balm that's not long-lasting because you eat, you have to apply it again. But if you are looking for something that will really moisturize your lips and keep them looking soft and supple this is the colour balm for you. It also comes in other great colours.
Super City Block SPF 40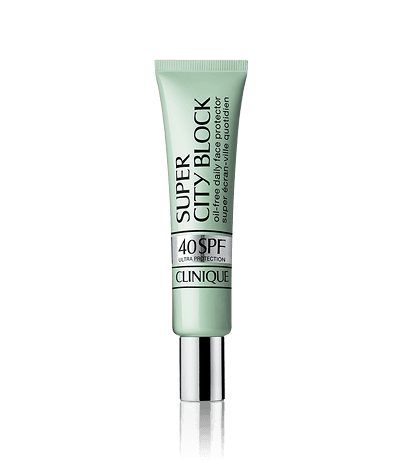 Clinique Super City Block SPF 40 is a high-level daily sunscreen in a sheer, weightless formula. It protects against sun and environmental damage with broad-spectrum UVA/UVB sunblock and antioxidants. For all skins, even the most sensitive.  You can wear it alone or as an invisible makeup primer.
It is an exceptional high sunscreen power to counteract UVA/B rays. Because it is so thick you can use it to avoid the appearance of dark spots. It makes your face look bright.