Sam sat under the dancing sun of Nairobi digging for gold in his nostrils.
"Hii jua ni kali eh?" Njoroge, the matatu driver, Sam's best friend asked lazily. He was dressed in a pair of torn dusty coloured trousers, a shirt begging to return to its original whiteness and the maroon half coat which was uniform for most drivers in this city.
Sam responded with a grunt, his mind elsewhere. He saw a woman pass by, her supple behind bouncing up and down with each step she took. It reminded him of the yoyo he had stolen when he was a boy. He whistled, "Hi beautiful?"
She walked on, barely registering his call. He could try again but the heat drained his energy to give a damn. Njoroge laughed at his efforts. "My friend if I had your looks I would have any girl I wanted in this city, I don't understand why you sit there and struggle like the rest of us. Aki you don't understand how God blessed you. Beauty is power."
Sam smiled. He knew he was fairly attractive. Ma had been half Arab and he had received her soft curly hair. His skin colour always caught strangers' eyes, a shade not unlike that of dusk, intertwined with dark and light. As if you could rub dusty powder off his skin. What Njoroge didn't know was that Sam had found a way to use his beauty as power.
It had been a year to date since Sam had met Godspeed Okeke, a man who would change his life forever. He had laughed when he first heard his name, "Were you named because when your father was done conceiving you, your mother cried astonished 'finished already? My God how speedy are you ohh?'" He teased his new Nigerian friend and mimicked his accent. They became fast friends.
Godspeed was in Nairobi on holiday with his rich, old, white wife. When he first invited Sam out for lunch at the posh Grand Regency, Sam whistled like he did when he saw a fine woman walking down the streets. "I swear to God, I would give up women and miraa for this life of the rich."
Godspeed laughed, "Your miraa, maybe, but women I doubt it. I notice how they are attracted to you like flies to honey. Tell me, can a man truly say no when a woman throws herself at him?"
"Ahh, my friend you exaggerate my relationship with the other gender. I may have looks but what are looks to an uptown girl when your clothes smell like shit and the only place you can take her is to Mama Njeri's for ugali and Sukuma, ama Chapati and beans. Women these days are looking to date money not looks."
"I like you Sam which is why I have decided to help you." Godspeed with a mischievous glint in his eye spoke. "What if I can tell you, your looks can get you both money and women?"
Sam looked at him suspiciously, "Ayiii my man. I have heard about the jigger life but I am not ready to become magic mike for a few extra coins. Believe me, it is not as glamorous as that white boy on screen makes it seem. Also, I would never have made you out to be a pimp." He said with curiosity.
Godspeed burst out laughing from the depth of his gut. His guffaws reminded Sam of hyenas, which was ironic considering he had just revealed he wanted him to be a fisi for a living. After he could finally swallow air, Godspeed wiped his eyes and spoke, "I am not asking you to be a jigger, magic mike. I am asking you to be one that eats jiggers for lunch, a catfish."
Sam was taken aback by his bluntness and it took him a few seconds to regain his composure. Even then he could only ask, "What?"
Godspeed's dark brown skin crinkled upward in a knowing smile. It seemed he was ever smiling with his perfect white teeth. Sam imagined if he faced upward they would reflect the sun.
"Let me tell you a story my friend, the story of a fisherman and his fish. Long ago fishermen would carry sea fish to the small rivers to reproduce closer to home. But there was a problem. These new bred fish of the river were tough and not as tasty as they once had been. Discussing with his fellow fishermen, he came up with a theory. The fish were living dead. This means they solely existed in the small boring river, being born to die. With no excitement in their blood and no adrenaline to pump them, the fish died long before they were killed by the fishermen; metaphorically of course. The fishermen reasoned this to be why their meat had become tough, their taste bitter.
Alas, it wasn't long before a traveller passing by had heard of the news. He came to this fisherman and offered him a solution saying, "I have heard of your problem with the fish and I know of one which can help. It is a fish itself, yet with whiskers like the cat. Fill your rivers with these creatures and your fish will be tasteless no more."  The fisherman thought through what he had heard and decided he had nothing to lose. He bought the strange fish and allowed it to reproduce in the water that brushed his feet. As the catfish grew, being predators of the sea, they chased the other fish round and round, stimulating their blood. When they were caught the fish was no longer bitter but sweet meat between the teeth of the villagers. The fisherman held a feast to celebrate."
Sam looked keenly at Godspeed as he grew silent, his story coming to a close. The story was nice but he was slightly confused, "And?"
"Well, my friend before I tell you what I have in mind you must first understand the catfish does an honourable profession. He uses his strength to stimulate the weak for soft and tender meat. Do you not agree?"
"Uhh, Ndio."
"Good. Then I have another story for you. The story speaks of how I met my wife… I used to be a street boy on the sidewalks of the bright city of Lagos. Nobody likes street boys in Lagos but that's because we are a mean bunch."
Sam noticed he said 'are' instead of 'were' as if it was still ingrained in his identity.
"One night, as the moon danced in her fat glory above me, the wind sang in tongues of cold causing unwanted shivers, a man who owned a twenty-four-hour cyber café took mercy on me and allowed me to enter. He gave me a cup of hot chocolate and said I could use the computers for an hour only. That night I found the internet…"
*************************************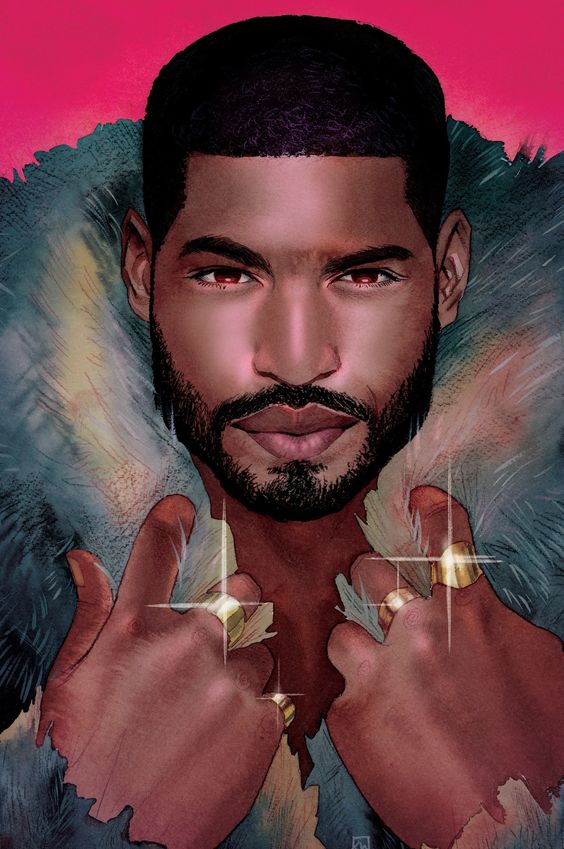 Sam walked out of the restaurant, hands in pockets, mind detached from his body. The street lights in town gave the city an orange glow. The clubs at its centre pumping music hard and fast. Girls and guys walking the streets with smiles as wide as the Sahara desert. Anticipating the night's turn-up. On every other night, Sam would have watched. The watching was blissful contentment for him. The nightlife in Nairobi, is a scene in an unmade movie.
Tonight was different. Tonight his eyes saw without interpreting. Godspeed had given him a number to call and a decision to make. The dinner story had been highly entertaining, Godspeed's journey to success, mind-bogglingly captivating. "He could become an inspirational speaker," Sam thought laughing ironically, "with his perfect teeth, wealthy life, and persuasive speech and stories. No wonder he convinced the rich old hag to marry him." Sam still didn't know if saying yes to this idea would be proof of how desperate he was or an opportunity to show how cunning he could be. Maybe both.
He sat down on a bench near the archives to think about what Godspeed had said.
"You are advantaged my friend. Like I told you before you are a fairly attractive man-o. You don't have to go looking for male models' pictures to pretend to be. If you cleaned up a little, maybe take a shower, and get one new outfit eh? You could make these women worship you. The money would rain down on you."
Godspeed had made it seem so simple. His story had worked out so perfectly. Sam took out his phone and typed out the first web address of the two he had been given. It was private and needed sign-up details. He closed his eyes, did he really want to do this? He had friends who when desperate had gone to extreme lengths to be able to provide food on the table. Paul had become a thief when he got fired from his job at some restaurant. He had mastered the art of taking without being seen. For some reason that had seemed more respectable than those who just grabbed in plain sight, or those who took while a blade shimmered near the owner's throat.
Politicians too were thieves. Standing on their big stages, with their big-bellied frames as if they had swallowed the bribes paid to them, whole. Sam chuckled, if he thought about it, everyone in this country was a thief in one way or another. Some thieves were just more respectable than others. This… ehh, he didn't know what to call it… uhh… opportunity? It was more respectable too. If anything this wasn't stealing, it was preparing to be given. As Godspeed explained, it was merely tenderizing meat into supple flesh.
He opened his eyes as his thumb lightly touched the enter key. He gave his information and signed up. In the 'recommended by?' section he typed in Godspeed's full name and that seemed to do the trick. The forum opened, allowing him to view the conversations taking place. He scrolled through this new space where men and women alike bonded over the stories, successes and failures alike. Most of them preyed on foreigners.
The advice was in abundance. It was harder to trick an African. Africans were wary of their own, and they would want to meet you before they could ever send you money. Westerners on the other hand knew the privilege they had over you the poor African. They knew you would need money to meet them in the first place, to talk to them, and to allow them to feel like they saved you. You, the poor African are exotic to them. There was a whole thread on that.
Another was when you have to trick one of your own gender.
Two males Username: 123icatfishedyomama and Username: 2don'tsayididn'twarnya were having a discussion on the best way to convince a man that you were a woman. One said he got his girlfriend to speak on the phone for him. The other took that to be cheating, to be able to boast of your manipulation skills one needs to be the manipulator through and through.
There was advice on how not to get caught. How to disappear after milking the prey dry. Never ever give your real name. Don't get attached unless you are done with a game. What to do when the police identify you (though most of the time in Africa they have more petty real-time criminals to arrest. The internet was not their forte). In case by some chance, you were caught, having money saved, as a bribe would be the first way to go.
The one common factor in the stories is that they worked. It was like how people went through all the before and after photos on the internet before they started a diet as inspiration. These were living transformation stories. But the transformation was not the thickness of their waist but of their wallets. Sam was intrigued. He was being given the chance to make something of himself. Didn't he want to be an actor when he was younger? Now there would barely be a difference between him and Lupita. He opened a new tab and signed into the second link he had been given, the 'findloveexotic' match website. He answered the about him questions simply with half-lies and negligible truth. The only accurate description was the picture he uploaded of himself the one time he looked decent.
Sam looked at the phone number he had been given by Godspeed. His first attempt at the game. It had all been set up for him. Just try it, the woman was a friend of Godspeed's old wife. Godspeed had said she was on several dating websites and desperate. She was ripe for the picking. What did he have to lose? Sam dialled the number.
"Hello?" Her voice sounded softer and younger than he expected. Sam was quiet. "Hello?" She asked again. He couldn't do it. He cut the phone.
Sam exhaled into the evening, his breath creating fog. He would talk to Godspeed tomorrow. As he stood up from the bench his phone beeped. He opened it to see the new account he had just created with a new message. Someone had hit him up. He opened it,
"Hi". It was the simplest two-letter, one-syllable form of communication ever presented. Yet it was also an invitation. Something stirred something in his gut. He had to prove he could do this. The games began…
********************************************
"Hello, Nigel? Nigel is that you?"
It had been almost two years since that night when he met Godspeed. Sam cleared his throat and was mentally prepared to speak with his most refined accent. The beatings from classes one to seven in English class had paid off. Still the first phone call, the first words were always the hardest. The moments you are most conscious of them recognizing you are a fraud.
"Hello, my darling Mary. Your voice is almost as lovely as you. Just hearing it makes my heart beat faster."
He heard a giggle. It was working. He felt more at ease, "And that laugh! My God, that laugh! A thousand angels singing could not compare to its glorious richness."
"Aww, Stop it, Nigel. It's too much!"
He smiled into the phone. They made it so easy. "No my pendo, you're too much."
She stammered, "Pe-pen-pendo? I know that word. I think I've seen it somewhere."
"It means my love." He said softly, accentuating the 'v' to make it more romantic.
Her breathing through the phone came out like soft clashes of waves, "I can't believe we are finally talking in person! I've been so excited, telling my friends about you and they think you are not real but I knew you were. I did!"
He began to tango, this game of words comfortingly familiar to him. His voice took on a wounded tone, "How could you ever doubt me, dear Mary?"
She became defensive, "No, no. It's not like that! I would never doubt you! It's just my friends, you know? They're concerned for me I think? There's been a lot of stories going around about these conmen… uhhh… and they were… uhh, just… questioning, uhm, me talking to you."
He chuckled nonchalantly, "The conman industry has always been in Western Africa, not here in East Africa. You should know that, or is this one of those stereotypes you white people have about all Africans?"
He could almost see the frown on her lips through her words, "I don't like it when you say you white people. We should be blind to colour, it's so pointless constantly bringing it up."
He would have cut the call then. He thought "Were your people blind to colour when they treated mine like the dirt you trample on? Did they not see my grandfather's black skin when they killed him for speaking out against the wrongful detainment of Harry Thuku? I think not."
He could have let these words spew from his mouth like spit from a baby but instead, he inhaled the cool, night Nairobi air. He had to remember what he had learned from Godspeed. Channel annoyance/anger into a tool for exploitation. "Mmhmm, I understand completely Mary. We are all just one," he allowed his voice to carry lust in its melody, "my dear you need to know how much I just want to hold you, to run my fingers all over the smooth skin that wraps around your core, competing with it for your attention. Our WhatsApp conversations are not enough for me. I need to see you. "
She gave a low gasp, "Ohhh, Me too!" Her annoying Western accent sounded more like a whine than the sexiness she was attempting to achieve. He had seen her pictures. She was in her early forties, with plain dark hair, and stagnant features. As if they had been sketched onto her face at the beginning of time and like a sculpture never moved. Her mouth a thin line, her nose too sharp, her cheeks too drawn in. She was plain, to say the least, but her eyes were the one feature that stood out. They were a greyish blue, the only part of her that shifted. He had learned to see them, not just look at them. These women were his livelihood; Well, mostly women.
He cringed as he remembered the one time. The one time he had been desperate, the calls, the attention, the cash, it had become almost like a high; a quick fix. He had taken his girl out for the weekend of valentines.
They were staying at a cosy cottage by the beach in Malindi. Rates were down, tourists were scarce, it was perfect… It would have been perfect if it had remained just so but as they were exploring the city on Saturday he got caught leaning out of the tuk-tuk to take pictures. It was such a stupid petty thing, but the cops were unrelentingly demanding. His girl was freaking out in front of the three-wheeled contraption. The driver had conveniently gone silent, leaving just him and the police to sort it out.
'Nielewe bwana. Sita fanya hio kosa tena."
The two cops smiled like lions having caught their prey, the one with crooked yellow teeth spoke in his lazy Coasterian accent, "Ndugu tumekuambia utulipe, ama uende jela."
Sam had no choice. By the time his feet trudged into the wooden cottage, his girl in arm, his pockets were empty. He left her watching a movie with a glass of red wine to calm down. He smirked because she had become those people who needed red wine to calm down. Kama angekuwa Kawangware bado, ange kunywa whatever the hell was available with alcohol in it.
He was spoiling his girl, but he didn't care. Let her go back and tell her friends about her boyfriend who spoilt her as they would enviously complain as the house helps of Kawangware that sijui how their baby daddies have not paid anything for their little babies. She would see them and never leave him, knowing she had it good. He had never been in love before and this girl, she was growing on him. Maybe if he ever decided to settle down…
He went into the room and picked up his laptop with the list of names. He had exhausted the women on his list. He had told them they shouldn't bother trying to reach him as he would be out of town for the weekend, if he tried calling any of them now they would be suspicious and he didn't have time for mind games, with bae downstairs and all.
He saw it. The name 'John Smith' with the words "only when desperate" written beside it. He laughed at himself. Hell, he was desperate now. He only had the ksh500 note he had left in his suitcase between him and poverty. He had also missed the beauty and art of the game, the manipulation, the turning of people into mash in your hands.
He removed his special phone for the con game from his suitcase and dialled the number.
"Hello?" The old man's voice on the other end creaked with the bitterness that comes with regretted years passed and unanswered what if's?
Sam knew what he had to do. He cleared his throat and forced his vocals to modulate. This time it was a game of snakes and ladders, his voice had to keep climbing. If he didn't, he would be caught by the snakes.
"Hey, babe." In his mind, he tried to imitate every girl's voice he had ever heard but what came out was a half screech/half whine. It was difficult to deliberately feign femininity with his naturally base voice. Hopefully, the white buffoon was too old and deaf to tell the difference.
"Sorry, who is this?" The British accent sounded muffled and swallowed up.
Sam forced his now female voice to sound hurt, "How could you not know? It's me, Adiella. After everything I've sent you, after all the deep chats we've had you don't even remember my name?"
"Ohh. I… uhh… I didn't know it was you! I just, I gave up on the thought of you calling. After I tried to call you severally and you never picked up."
"I told you, my boyfriend will get mad if he catches me talking to you. I can't talk to you all the time. Even now he's probably going to come home soon, and I'm so tired." Sam sniffled and attempted to moan in anguish as he had seen his girl do when she was crying for attention. "Mr Smith, John, he hurt me. I need your help. I want to come to visit you in the U.K."
There was a second of silence before he spoke, "Adiella, why does your voice sound funny?"
Shit. His friend Linda, the one who catfished men was back in Nairobi. The two times he had called John before it is Linda who had seduced him. Linda was good, and she had a voice that just made men drool. He was on his own on this one. Sam had become a pathological liar. This was easy. "He hit me and hurt my voice box. The doctors say I need an operation."
"Okay… I'm sorry about that my dear. How… how can I help?"
This was what Sam was waiting for. The invitation, when they believe it was their idea to sponsor you, you have them. He attempted to make his female imitation more realistic.
"Well, Mr. Smith I want to be with you. I will come and be yours. I know you will never treat me like this jerk I have been with. I know you will take care of me, won't you? I just need money so I can fly over to the U.K"
Sam heard shuffling from somewhere but he ignored it. He was enjoying this. The pictures he had used online to fool this old man were of a busty Western African model so he knew which strings to pull. Regardless of his age, he was a man after all.
"Mr Smith? Do you hear me? I also need some cash for the surgery so that you don't think I am ugly, beaten, and used when I am with you. I want you to hold me in your arms and love everything you see. I want you to rub…"
"Sam!"
The screech fought its way out of her mouth into the empty room. He had nearly dropped the phone as he turned around to face her.
His girl was fuming. "What the hell are you doing?"
He wished the ground would swallow him up at that moment as he imagined the scene from her perspective. Her coming in to find her macho, provider boyfriend on the bed with his legs crossed, talking in a feminine voice on the phone with a stranger about how he wanted to be rubbed…  God knows what else she heard!
"How… " His voice was still high. "How long…" He cleared his throat, "How long have you been standing there?" was all he was finally able to stammer out.
"What's going on?" The voice on the receiver end spoke into the phone. "Is this a man? What's happening?"
Sam had forgotten about Mr Smith, he tried to go back to his high voice to answer the phone, "No, no John I'm still here."
His girl seethed, and he brought his voice back low, "Babe it's not what you think. Just chill."
Back to the phone, "Mr Smith?"
He had forgotten to go back to his female imitation. A string of expletives left the old man's mouth as he cursed him.
"Do you take me for a bloody fool? I will go to the police. You will be charged! Mark my words I will find you," the old man was shouting now.
His girl started screaming at him at the same time, "Mwanaume ni? This is so disgusting! I can't believe I was dating a wimp who pretended to be a woman for money. You are nothing. I'm going back to Nairobi. I don't ever want to see you again or be embarrassed by your antics."
He was pissed then but she walked off before he could react. The phone cut as he sunk to his knees. Everything was a bloody mess!
Sam snapped out of his memory, the cringe-worthy nostalgia reminding him he wanted to be done with this life. He remembered the story Godspeed told him about meeting his wife. He had asked him how he had been okay leaving the game to settle with an old white wrinkly lady.
Godspeed had said, "Sometimes it is tiring. Being a manipulator to so many people in so many different situations, building so many different personas. I realized it would be easier stimulating the blood of just one fish until it is tender and sweet enough that it would feed me for the rest of my life." He had smiled, his perfect smile then. "I found my fish Sam, but all the same we are catfish. It is in our nature to chase."
Was he ready to settle down with just one fish? To give up the chase? Well, this woman was wealthy and she wasn't that old. He could do this somehow. He spoke into the phone, "Mary, I think you should come to Kenya to visit."
"Oh, Really?" He could hear the hardly contained excitement in her voice. She paused for a little and spoke so softly it was almost a whisper, "I was scared you were going to ask for more money. I promised my friends if you did I would stop talking to you."
He knew what he would do. He would buy her a ring. He would propose. She had a good life in Sweden, probably the best out of all the candidates on his list. "My love, I told you. Don't doubt me my darling. I told you I needed the money for a business deal. I will pay you back I promise."
He would make her happy. She might annoy him but her money would more than make up for that. He knew what he had to do next, "by the way Mary, my other name is Sam. That's what people call me here. They don't know Nigel is my middle name, in case you get confused."
"Sam," she tested out the word on her European tongue as if it was the most exotic flavour instead of the one-syllable word it actually was. "Sam Nigel". I like it."
"Great then why don't you come to see me next month? You said you are taking leave days off of work?"
"So soon?" She sounded surprised. "You actually want me there?"
Sam smiled, what made this job so easy was their insecurities. "Yes, Mary. I do. I have fallen in love with you and I can't wait to see you. Don't you want to be with me? I want to introduce you to my people, I have already told them about you."
They finalized the details of her flight and Sam walked out of the Java he had been sitting at whistling Juliani's latest song. He was happy. He was done. He was going to settle down. He needed to make arrangements to borrow a house from a friend for a month, one of his friends had moved to Europe and had a mansion he had built with money from his rich wife. He needed Mary to think that he was rich and he didn't need her money. She would be convinced that the money she had "lent" him was for a legit business. He would propose then tell Mary that he wanted to move to Sweden to be with her. He needed a clean start. One or two years in Europe and he would be set.
His phone rang.
"Stephanie" was written in bold. She was the one from South Africa. She was just ripe for the picking. Sam hesitated for less than a few seconds. The lure was too strong to resist. He accepted it.   It seemed this catfish had a few more fish to sweeten before he was done. He picked up his phone, cleared his throat, deepened his voice and answered the call.
"Hello, Darling?"
Check out
He Was Using Her Money To Entertain Her While She Thought She Bagged A Rich Guy
Our Love Burned Hot And I Was So Happy. I Did Not Know I Was Being Set Up For A Con
He Hadn't Planned To Become A Criminal But When The Opportunity To Make Some Good Money Came His Way He Took It
Her Husband Of Many Years Conned Her And Run Off With Her Millions
For Years She Lived In Blissful Ignorance But One Day She Found Out That Her Husband Wasn't Who She Thought He Was
The Classy, Independent Woman Conned Him Out Of His Chama Money
Village Posho Mills, Naked Pictures And The Catfishes Of Nairobi
She Met A Good Christian Man On Social Media Who Ended Up Being A Facebook Swindler
This story first appeared as The Making Of A Conman Catfish: The Beginning,  The Making Of A Kenyan Conman Catfish Part 2 and The Making Of A Kenyan Conman Catfish: Time To Catch A Big Fish