About a year ago, Twitter user Asaad, Quincy Okoth, put in a deposit of Ksh. 15,000 to purchase a bodaboda from WATU Africa. After 390 days, he had finally worked enough to pay off the bike. The loan repayment amounted to Ksh. 235,000. Okoth then concedes it was the worst financial decision he had ever made. On May 11, 2023, Okoth got home at 5 pm. At 9.30 pm, he moved the bike to the parking area within his residence and parked it behind two other motorbikes. At 4.30 am the next day, when he went to start his day as a bodaboda rider, he realised the bike was missing. The security guards were asleep and clearly unhelpful.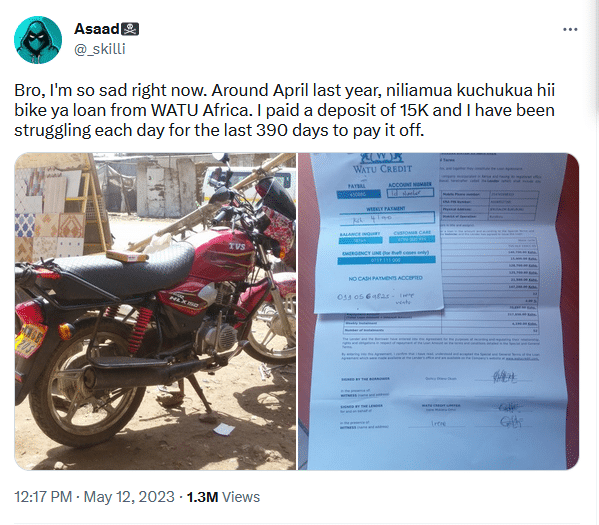 The WATU Africa organisation has a helpline which Okoth called at 6.07 am. They advised him to report the theft to the nearest police station. By 6.30 am, he was at Jogoo Rd Police Station to file a report. While there, Okoth was shocked to learn that another victim of theft was there to report a missing bike. They, too, were a client of WATU Africa who had just cleared their loan repayment.
Okoth realised that this might have all been a machination by WATU to reclaim their bikes and sell them to another unsuspecting client. The motorcycles have trackers because the company finds the bodaboda riders when they default on their payments. He also knows they have trackers because in December 2022, when he loaned the bike to a friend, he called WATU Africa to report the bike missing, and they notified him it was in Nakuru. In this instance, all WATU Africa did was tell him that they'd placed his case under the care of an investigator. The company has refused to disclose information about where the tracker was last seen. What exactly is going on?
What is WATU Africa?
WATU Africa is an asset financing firm. On their company website, they claim to help young people achieve financial empowerment by only paying a deposit of Ksh. 15-20,000 for a motorbike or Ksh. 50,000 for a tuk-tuk. Approvals can take as little as two hours. Once approved, you become the bike owner and will repay the bike's value, with interest, within 24 months. Each loan comes with insurance and GPS tracking.
Asset financing is a growing practice in Kenya where financial institutions assist clients in acquiring moveable assets, such as trucks, pickups, bikes, lorries, or buses. Many banks and other creditors offer hire purchase options, leases, or loans which clients use to get the asset that they can use to generate profit and make payments to the financier. The programs mostly target people who are unbanked or small businesses.
Is bodaboda asset financing safe?
Like every enterprise in the country, there is always the risk of malicious intent. Like Okoth, many others have also been victims of rising motorcycle theft in the country. Research shows that the most common crime faced by bodaboda riders is the theft of motorcycle parts. This has an 86.5% chance of happening. Robbery and robbery with violence have a prevalence of 85.2%. The main perpetrators of crimes toward bodaboda riders are other riders. However, owners of the bikes could still be the perpetrators.
There are more stories about people who signed up for asset financing for bodabodas but had their bikes stolen after clearing the payments or when they were about to. If the client hadn't made payments when the bike is stolen, the creditor tells them they've defaulted. This highlights the dire situation facing the clients.
In addition to the risk of theft from unseen thieves probably working in collaboration with creditors, clients often face exorbitant interest rates. Used bikes can retail for as little as Ksh. 90,000, while new bikes can cost around Ksh. 150,000. Unfortunately, many desperate Kenyans don't have the means to raise the capital to buy a bike. With no extra money for savings, they're forced to approach asset financiers with a cheaper deposit and then repay the price of the bike at a fee every month. But with these institutions, there is no regulatory oversight. This leads to a predatory scheme where clients are forced to default on their loans.
Uber Chap Chap
The same thing happened with Uber Chap Chap, where taxi drivers who signed on for the scheme defaulted due to increased ride competition and high-interest rates. Newspapers were inundated with notices to auction the Suzuki Altos that drivers had defaulted on. Uber's model which required drivers to send in specified amounts of money every quarter, failed to consider the operational costs and hurdles operators face. Just like WATU Africa, the financier would repossess the vehicle if the drivers defaulted. So why didn't WATU Africa tell Okoth where the motorcycle was last seen?
What can be done to fix it?
Clients can't rely on such companies' good faith and ethics to safeguard their livelihoods. Microfinance lenders aren't properly regulated, but the Consumer Protection Act does prevent lenders from increasing interest rates without notifying the client or charging them exorbitant rates. Section 44A prevents banks from committing usury, but smaller lenders and creditors don't fall under the same law.
1. Legal safety and insurance
There needs to be a legal framework that prevents microfinance companies from charging exceedingly high-interest rates. These vehicles should also come with theft insurance which provides a new vehicle to the client, especially if they are blameless in the act—if the vehicle isn't recoverable.
Okoth lost Ksh. 235,000 and an income and has to now start from scratch. Some bodaboda riders were also killed when the lenders illegally reclaimed their bikes. In Migori County, bodaboda riders stormed a loan facility that they accused of conducting murders on borrowers who had completed their loan repayments. Some riders are also missing. When the payments default for two months, the facility tracks the motorcycle. But the company is no longer communicative when they are stolen, specifically after loan repayments. Who is there to protect the borrowers? Practices such as this show the high cost of poverty, and government leadership does little, if anything, to ease the financial burden.
2. Awareness
Kenyans need to enhance their awareness of predatory lenders. Desperation drives poor citizens to these institutions because they sometimes lack the financial history to qualify for a bank loan. Companies such as WATU Africa and other fintech companies can easily exploit the inexistent regulatory oversight to con borrowers. A good rule of thumb can be to seek other testimonials before signing on for a loan. It's also better to consider saving rather than applying for expensive loans. Using SACCOs or chamas rather than banks is a less complicated way to secure funding.
Migori: Boda boda operators assault loan facility, blame it for multiple deaths pic.twitter.com/KTeVAUpuCX

— K24 TV (@K24Tv) May 15, 2023
Check out
Finances: The Pros And Cons Of Hire Purchase And Paying In Instalment Options
Financial Wellness: Understanding Your Finances Is The Key To Growing Your Wealth
Finances And Investments: How To "Plan" For The Things We Cannot Plan For To Avoid Being Blindsided
Not All Debt Is Bad. How To Use Debt To Grow Your Wealth