A spa night is one of the best nights you'll ever experience. What's better than relaxing at home? Well, relaxing at home with your close friends or significant other. If you've hosted a spa night before, you know things get disastrous without ample planning hence defeating the purpose of the night. From appropriate attire to making spa stations, here are some tips to use for your home spa night.
Plan Ahead
You want to make sure that everybody's on the same page. Ask your friends when they're available. Keep your guest list intimate to have a relaxing night for both you and your guests. Make sure that you pick the ones most interested and in need of a spa night. Tell your guests what supplies they should bring for the night such as robes, slippers, shower caps and other beauty supplies.
Buy The Essentials
One of the reasons for having a spa night at home is to save on costs. However, spa items are expensive. You should invest in a deep conditioner, face masks, foot scrub, nail polish and of course, a good moisturizer. Additionally, you can DIY some spa recipes using everyday ingredients which can replace store-bought products.
Create Space
Choose an area in your house with the most space and is the most convenient to set up. For instance, if you have an en-suite bedroom, this will be ideal. You need somewhere with easy access to water to avoid drenching the entire house with water. However, if you have privacy, you can create an outdoor spa experience and avoid the mess altogether.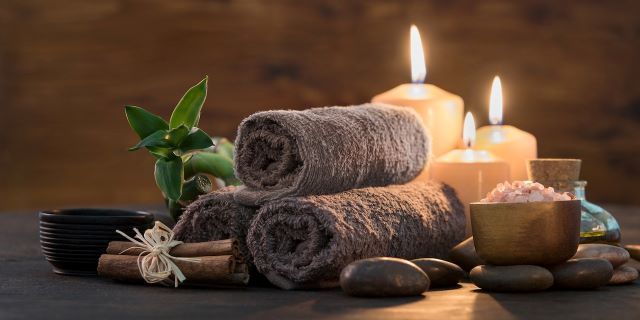 Set Up
It doesn't have to be extra-luxurious but it definitely has to have a spa-like ambience. Start by lighting some scented candles and dimming the lights. Get a playlist with soothing music. Ensure that your designated room is rid of any clutter. Get some comfortable chairs or couch. Prepare some clean towels that you'll place on each station.
Serve Drinks And Snacks
Keep your guests feeling refreshed and satisfied by serving healthy drinks and snacks. There's a wide range of tasty, healthy snacks you can serve at your spa night such as yoghurt, avocado toast, fruit salad, herbal tea and lemon water. The aim is to fill you up without bogging you down. Try adding refreshing herbs such as mint, peppermint and chamomile in the beverages. Remember to give spa presentations and serve your friends in between treatments.
Give Gift Bags
People love taking something home. It doesn't have to be anything extravagant. It could be two or three spa items in travel sizes. You can shop for cool, inexpensive gift items at stores like Miniso and Game. This wraps up your spa night on a high note and leaves your guests with a lasting memory.  Additionally, it's a satisfying feeling to give and receive gifts.
Both you and your guests should be relaxed after a successful spa night.
Check out more Things To Do On A Girls' Night In
Foot Therapy: 5 Ways To Soothe Your Tired Feet After A Long Day