The Maasai Market is an open-air market where people can buy African or Afro-inspired art, clothes, utensils, fabrics, curios and jewellery. It's a place where locals and tourists gather to buy authentic artefacts. The market is a great way to get unique, durable, affordable items that elevate the beauty of your home and wardrobe.
The Maasai market has multiple pop-up locations within Nairobi. Although, curio shops do operate in areas frequented by tourists such as View Point, along the Nairobi-Nakuru highway. The pop-ups happen on weekends, and public holidays, and within certain establishments, specific weekdays are allocated for the vendors to display their wares.
How to find the Maasai market
The most famous market is within the central business district. The vendors use the county parking next to the High Court along Harambee Avenue. It's next to the Hilton Hotel and Kencom bus stage. It opens every Saturday and Sunday, with the vendors starting business as early as 9 am.
Sundays are the best day to visit the CBD pop-up because there is less foot and motorist traffic within the city. Sometimes, prices are even lower because of the fewer customers. For anyone looking for a bargain, approach the market near closing time which starts from 5pm.
On weekdays, the Maasai market pops up at different malls. It's available on Tuesdays at the Westgate Shopping Centre, Westlands. On Wednesdays, it appears at the Capital Centre Mall on Mombasa Road. Thursdays it's available at the Junction Mall, Ngong Road. Fridays it's found at the upper parking lot in Village Market, Gigiri. It's also available Tuesdays and Thursdays at the Prestige Plaza, Ngong Road. And on Fridays, Saturdays, and Sundays at the Galleria Mall, Lang'ata South Road. It's also available public holidays and weekends at the Yaya Centre, Argwings Kodhek Road.
You can also get some jewellery, paintings and curios at the Hilton Hotel Arcade. Find out more information here. Jewellery: 5 reasons why the Hilton Arcade Curio Shops are a great alternative to Maasai Market
What can you buy at the Maasai market?
1. Art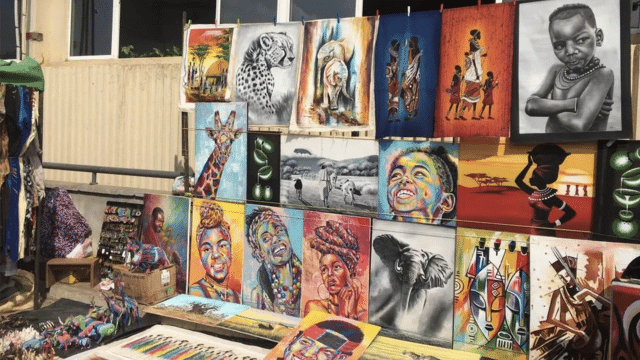 Art is one of the more prominent objects you can buy. The art available in galleries and stores can be overpriced. However, the art found at the market is often sold directly by the artists. The carvings, sculptures, and prints are authentic East African art that can't be replicated elsewhere. The art includes paintings, carvings, baskets, dolls, and winnowing bowls.
2. Fabrics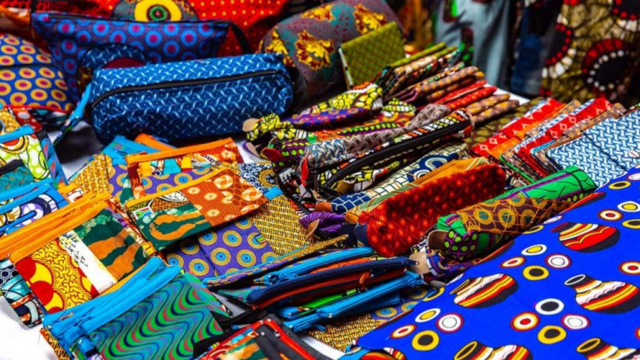 From kikoys to Maasai tartan blankets to Ankara fabrics to be later tailored into flattering outfits, buyers are spoilt for choice at the Maasai market. Kikoys are great for tying around your waist when doing chores or to add an extra layer of warmth. They can also be fashioned into clothes. Maasai blankets are thick woollen fabrics with the same patterns as the traditional fabrics that Maasai pastoralists, herders, and elders wear. They are colourful, vibrant and keep you stylishly warm whether out on the town or in the comfort of your home. There are also Kikuyu-inspired shirts and dresses adorned with cowrie shells.
Read also: Fashion: 10 Ways To Gram Up Your Ankara Looks
3. Shoes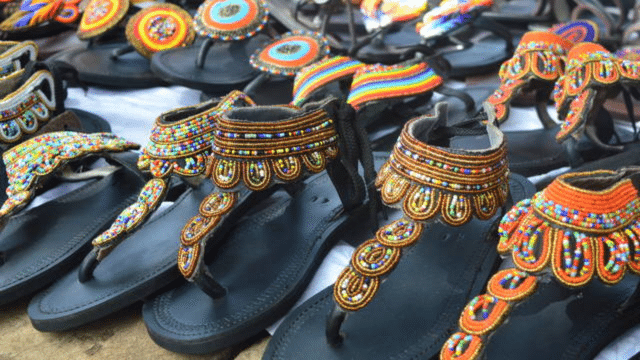 You can get a great variety of shoes with Ankara accents, but it's one of the best options for buying sandals. There are beaded sandals and specialty sandals made with leather or recycled tyres. They have varied designs that are durable and versatile.
4. Jewellery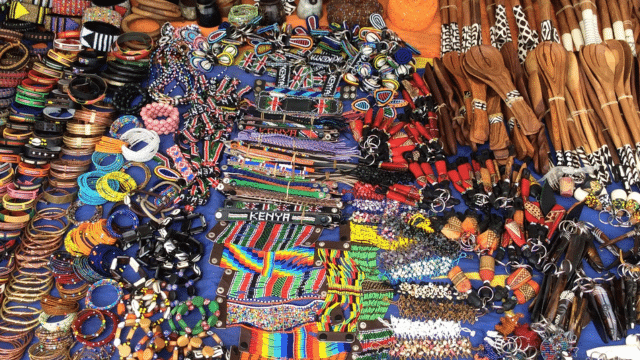 Perhaps the most popular items bought at the market are beaded headwear, earrings, necklaces, bangles, armbands, waist beads, anklets, and rings. They are also made from metals, obsidian, marble, wood, plastic, beads, or leather. Some are also custom-made to add a name if you want something more personalised.
Read also: 6 Effective Ways To Clean Brass Jewelry
Tips for the Maasai market
Bargaining is a common practice in the market. The best way to ensure you're getting value for your money is by exploring all the aisles available. The more competitive prices will give you a better idea as to the value of the item. Always ask if the price is negotiable. Another way to get discounts is to make bulk purchases. Buying more than one or two pairs of earrings is one of the best ways to get them at a bargain.
It's always best practice to remain safe. Like every crowded place, you have to be careful with your phone and purse. Be careful about taking money when paying. Pickpockets can easily grab your wallet or phone. While most vendors allow mobile money payments, carrying cash is always best. The Maasai market doesn't accept credit or debit card payments.
The market only accepts local cash. Foreign tourists travelling into the city, they can change their currency at border points, airports, banks or bureaus. In addition, if the crowds are a problem, it's better to go to the mall-based Maasai markets, but there's always a chance merchandise will be more expensive.
Check out
6 Hilarious Myths About Waist Beads
Fashion: 10 Ankara Outfit Designs To Inspire Your Wardrobe
Fashion: 8 Ways To Style A Head Wrap
Travel: Domestic Tourism Offers Great Possibilities for Kenya #TwendeUshago
15 Things To Remember When Buying Second Hand (Mitumba) Clothes