The girl was spiteful and she didn't know it or did she?
I met Jolene during the second week after joining campus. We hit it off mainly because we liked the same thing. We were also both pretty and light-skinned. Before Jolene, I had never been part of a mature friendship. This was partly because I moved around a lot and the rest because it took a while before I became vulnerable to anyone. However, Jolene showed me how to be vulnerable. This was by her constantly initiating topics about her past boyfriends and occasionally letting me in on her darkest secrets. I liked her for that and much because she broke the walls I had built over the years, from the fear of not being able to fit in.
Days passed and our friendship grew stronger. It would take only months before we crossed the invisible bonds, of race, colour and common likes that had once joined us. We were just blood shy away from becoming relatives considering now we referred to each other as sisters. We also cooked together, matched the outfits we would wear and even analysed our potential boyfriends based on haves and have-nots. We didn't even think of money because most students on the campus were broke and this meant few options. Think looks, ambition and of course the faculty that the potential boyfriends belonged to.
We liked the engineering guys. Mostly because their title communicated smartness, and this was the only place you could find the dark, tall and handsome package. Therefore aside from constantly hanging around the vicinity, we made sure to make quick friends who would introduce us to the more good-looking guys we had eyed but had dared to tell no one.
Our plan was working and in the following weeks, our network grew. You could say we were popular because then we started meeting and making friends outside the engineering department, which was once considered our gold mine. Why limit our options right?
I also started paying visits to my girlfriends who were in the art department. For one, I did it because we connected over similar discussions, and secondly, because this is where different guys would frequent. I didn't mention how I relished being the new face in the group. After a few visits, "the light skin girl" kind of became my brand. Jolene was busy too and she had met a few acquaintances from her department, which reassured us that the universe was conspiring to keep us in the limelight.
Life was good and thus far no one could dare say otherwise. Jolene and I met in the evenings to compare notes and also to low-key compete on who had met the most guys in a day. Of course, none of us would dare admit that we were competing. That was too petty. But only a deaf ear could miss out on the constant bickering over whose acquaintances were more good-looking or refined or well-off and connected.
These types of arguments would go on for so long until we started hiding bits of information from one another for fear of being on the losing end. Jolene did so under the guise that some details were unimportant while I did because a certain rendezvous I had come to be part of was spicier if it remained a secret.
Marvin was his name. I had met him during one of those visits I was now frequently making to my other friends' hostel. But no sooner had we exchanged looks did we started hanging out. Right off the bat, I knew that Marvin would be the secret I would never let anyone uncover. You could say it is because he was dark, tall and had Asian eyes that dared not reveal much than they needed to. Or maybe it's because he stole my number from one of my artsy friends – who was somehow his girlfriend at the time, then started messaging me anonymously. I liked the mystery and he had that going for himself.
It wouldn't take long before I discovered that he was the one texting me. But then before my dopamine could recede he made me feel like the most-priced gem that he dared not own. I wondered why he thought I was out of his league when he had all these qualities going on for himself. Although not an engineer, he was the most popular guy in the school. He was also the most coveted, which is something I would come to realise later from how I would hear girls mention his name as if trying to outdo one another on who knew him better. In such discussions, I wouldn't contribute much. As far as everyone around me was concerned I didn't know the guy.
Days went on and his narrative didn't change. We would pass each other like strangers if we happened to meet in public then laugh like best friends seconds after, via text. That was the era of Safaricom's unlimited texts and so we knew we could say to each other all we wanted and still have the means to text some more if something else came up.
Absence makes the heart grow fonder they say and truly mine did. I had gone past wanting to keep him a secret to wanting everyone to know about him and me. Not once had I been tempted to reveal him to Jolene and I hated that I had to hold back. But then sooner than I thought my wish came true.
I can never forget that day because it was after I had made a fuss claiming that he was hiding "us" because he was a player. Not willing to respond to or deny the accusation, he had left my texts unanswered making me feel like I was in a boxing ring with my hands tied. I mean I was in full-on fighting mode and he'd just gone MIA leaving me with a wounded ego and making me question my decisions.
But then a day later, there he stood. At the front of the door was where he leaned with a sultry smile that made his Asian eyes squint beautifully revealing the faint lines on the corners of his eyes. A subtle dimple revealed itself at one side of his cheek and looking at his masculine form, I could not question if he was the guy for me. Marvin was enchanting and above all, he was my secret.  He leaned forward to hug me and I met him halfway feeling like a small girl with a tiptoe on it.
A month went by. Jolene was oblivious of my secret and Marvin was coming over only when gossipers were not around. His friends knew me but that's because they were his closest and once they were sworn to secrecy none could utter a word unless permitted by their master. I was feeling myself and enjoying every bit of this honeymoon stage. But who knew that reality held something else in store?
Marvin and I had planned to meet on a certain evening before proceeding to a house party that was being hosted not far from the school premises. I was delighted, anxious and looking forward to it since it was our first public gathering. You wouldn't believe this was years BC (before Corona) but the feeling was still the same as if our destination hid unknown discoveries, a hint of danger and unknown risk. That to me made the whole evening even more special and I just couldn't wait to get into some trouble. But first I had to fetch Marvin.
He wasn't in his room. Had I come earlier? I asked myself. I pulled out my phone to check what time we'd agreed to meet and seeing that I was on time, I did the next practical thing. I asked around and one guy confirmed that he'd seen him.
"Marvin ameshaishia kwa party ya kina Mo," he said absentmindedly. I assumed that one of his rowdy friends had dragged him to the party early. However, something from this guy's tone told me to keep prying and so I asked him if Marvin had left with someone or not. I couldn't believe my ears. At the mention of Jolene and Marvin in one sentence, I shut down. Hurriedly I composed myself and then headed towards Mo's house which is where the party was at. I was praying that my assumptions wouldn't come true because then I'd have to confront my friend and boyfriend and then myself which wasn't easy.
As thoughts kept running in my mind I couldn't help but wonder when had they met. Why had Marvin never mentioned Jolene to me and why had they left together? Was he cheating on me? There was only one way to find out.
Mo's house wasn't far from Marvin's and although the night was approaching my focus and sense of direction were as good as of a guy answering a bootie call. So I reached and without caring to make small talk with the people who were at the door I darted inside. Jolene and Marvin had all the crowd's attention; dancing and grooving as if they'd just arrived from the 90s.
Jolene had Marvin's cap on while Marvin seemed to be having the time of his life with no cap and no girlfriend – whom he seemed to have long forgotten – in sight. One step, two step, I started out towards them when suddenly the lights went out. But that didn't happen before I saw Marvin. Instantly people had their torches on and as I tried to locate where my two targets were, I saw Marvin approach me. He had on this silly smile and I could've wiped it off if only I was tall to be sure of the impact. But before I could let out a word I heard, "Before you say anything let's go. I will explain." I too was eagerly waiting to hear of what emergency could've befallen him that he had to leave for the party without me. Then he gave me the explanation.
Turns out Marvin and Jolene had met weeks earlier after Jolene and I started drifting apart and started establishing different friendships. Jolene took a liking to Marvin but he could only reciprocate with friendship since I was in the picture. To Marvin, Jolene was his friend although only a fool could miss how excited she got whenever Marvin was around. But when I asked Marvin what Jolene meant to him, he just brushed it off and made light of the situation so I could get more jealous. I hated this about Marvin but I confirmed that he was telling the truth because I had done some background checking without his knowledge.
Nevertheless, the explanation that it was no big deal going with her to the party and leaving me behind didn't give me the consolation I needed. My bubble burst and with it, a bit of trust was broken.
Jolene didn't hide that she didn't acknowledge our relationship. To her, I was as good as a friend and it would only take a couple of convincing tricks and girly charms to show me that she meant more to Marvin than I did. I was uncomfortable. So I started avoiding any encounters that would mean Marvin, Jolene and I would be under the same roof. Marvin and I still hang out though, even though most times we ended up arguing and fighting over Jolene. Luckily, the unlimited texts would come to our aid a few moments later, and we would be planning for our next adventure.
But there was this particular time. A week had gone by without us fighting or talking and I wondered if we'd entered the ghosting period. His stubbornness and ego could only be surpassed by mine and so no one even dared say hi to check on the other. So I went along with it. But as I was busy doing some chores and trying not to check if he'd texted, I happened to pass by in the kitchen area where Jolene was busy washing utensils. Instantly, she let out a laugh. This was the type of laugh that can only be compared to the kind of silence people assume when you catch them talking about you. I paused to acknowledge her presence. Upon seeing me, she greeted me in a manner you could say was hoity-toity then proceeded to ask how my relationship was fairing.
Apparently, Marvin had paid her a visit the previous evening and they had shared some drinks with friends who now believed that Jolene and him were in a relationship. It was by luck that I happened to hear the news from my arts friend who the previous night had been cursing and letting us know that aside from the good looks Marvin had nothing else to offer. So at that moment when Jolene asked about my relationship,  I knew what Jolene was hinting at. But I couldn't give her the satisfaction. "Well, we talked this morning," that's all I said as I turned around to leave. "Why didn't you come together last night? He was at my place and we had so much fun." She couldn't miss a beat.
"I wasn't feeling well…" But before I could continue making excuses, a thought crossed my mind so I responded. "Hey, by the way, Alex has been on my radar. I'm sure you wouldn't mind if he and I started hanging out. I had to ask because you know you once had a crush on the guy."
At the mention of Alex, both confidence and composure escaped her. I pretended not to notice by rinsing the basin that I had held on to so tightly when she'd asked if Marvin and I were okay.  She went completely silent and she didn't say anything. I let out a joyless laugh. I  reassured her that I was only joking and that I had said that to see her reaction then turned to leave. It is true, at first I had said so to see her reaction. But then her spite made me want to make due on my promise. I wondered, Would she like the taste of her own medicine?
As I went back to my room I also considered my relationship with Marvin. I knew the little trust that was left between Marvin and me was already gone and so without further hesitation, I texted him. "Can we talk?" He responded instantly as if he knew what I would say next.
"We should take a break." He responded.
None of us was fond of beating around the bush and so I responded, "Yeah, I think we should."
We broke up just around the same time the semester was almost over. In only a few weeks everyone would be busy with exams. This came to me as a relief because I figured my mind would be too occupied to care if Marvin was visiting Jolene or not. But, more than Marvin who I tried to avoid whenever I was out, Jolene didn't leave my mind. Then there was the insinuation I had blurted out right there in the kitchen which kept provoking me and igniting some malevolent instincts that I didn't know existed. Don't they say give to Caesar what belongs to Caesar? Perhaps, the coming break would bring some insight, I deduced. But I knew one thing for sure. Only time would tell if Caesar really deserved what Caesar was due to get.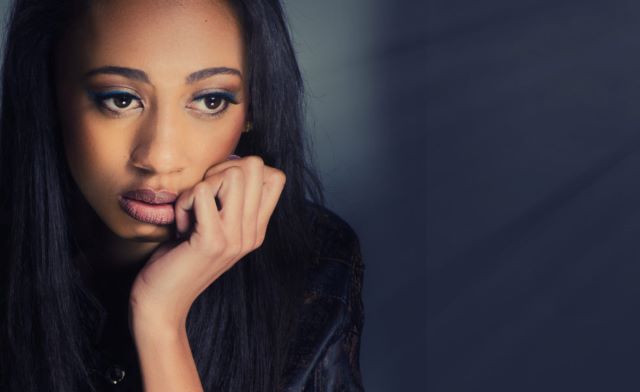 ****************************
Give to Ceasar what belongs to Ceasar is a saying that has stuck in my mind ever since I found out that Jolene had a thing for Marvin. I didn't care much (ok I did) that they were in a relationship but it hurt to think that Jolene had chosen him over me. Besides I couldn't stomach her condescending attitude which was fueled by the fact that she thought she was the chosen one. I can't deny that she had won the battle but little did she know I was in the race to win the war or so I thought.
Alex was the guy few knew and dared to talk to. With almond-shaped eyes, a high nose bridge that complemented the fullness of his mouth and a face that many would love, I knew where my bets were placed. The problem was that he and Jolene were sweethearts, at least on occasions when Jolene wasn't busy speed dating or competing over Marvin. A few times I wondered while Jolene was busy with other guys what was Alex doing. This though wasn't the only thing I had been curious about. I was also curious about Alex, particularly the glances he darted at me whenever he came to visit Jolene.
Our school was on a break. Students had left the university premises and only a few students in other schools remained behind to carry on with their studies. Alex fell in this category. Being an engineer he remained behind because his semester was still far from over. But for me being an art student I was supposed to have left the school if not for the clearance that was taking forever to finish. I had seen Jolene leave while I was busy running my errands and for Grace's sake had bid her goodbye. She cared for my pleasantries as much as I cared for hers but since we were not animals in a jungle, ignoring each other was no option.
Two days passed and finally, I had only a night left before I could also break for my holidays. I had packed and I only needed to grab a snack for dinner and then call it a night. The following day, I would be travelling. But just as I was tucking myself into bed I heard a knock on the door.
I wasn't expecting anyone, and I wasn't about to start engaging the hostel's matron who would make such impromptu visits, especially at night. But before I could switch off the lights, I heard another knock so I went to open it. Alex was at the door. I couldn't hide the surprise on my face but the tiny butterflies in my stomach I could. I was nervous. What was he doing at my place, I wondered. Before the silence turned any more awkward, he started,
"I know it's late but can I come in?"
I was lost for words but I was curious. So I let him in and offered him a seat. Without hesitation, he asked, "Are Jolene and Marvin a couple?"
Is that a real question? I quizzed silently then proceeded to say, "I know they are good friends."
Alex continued to explain why he thought Jolene and Marvin were more than friends, how he and Jolene were constantly arguing because of Marvin and before all my sighs could run out he changed the subject.
"Anyway, that is not what brought me here."
"What brought you here?" I asked.
"I have been meaning to tell you that it's been a while now since I started feeling attracted to you."
Wasn't he fussing about Jolene a second ago? This was getting interesting so I continued to listen.
"I know you have caught me checking you out not once, and I have seen the way you look at me…"
I admit that Alex was hard to ignore. But whatever he assumed, I couldn't wait to find out.
"So tell me am I wrong?" he looked at me hopefully.
"Yes, you are wrong." I hoped that I could mask my excitement with some explanation about why we couldn't be or that I wasn't interested in him, but before I could finish my sentence he was already by my side and he leaned in for a kiss.
***
Three months went by without us seeing each other. We communicated through calls and the occasional texts which Alex would send when he was not too caught up with his work. Alex had gotten an attachment in Nakuru and my being in Nairobi almost made it impossible for us to meet as frequently as we would like.
He'd made it clear that he'd broken up with Jolene partly because she was cheating on him and mainly because he had feelings for me. I was rolling with the punches and often felt exhilarated for having served Jolene a taste of her own medicine.
But something else was pricking me though. Jolene's attitude towards me had changed and she was back to the little goody two shoes she had once been. She made sure to check on me, and what I was doing during the holiday and even dared confess that she was just infatuated with Marvin. According to her, Marvin was just a friend and she hoped that deep down it would work out between us. I dared not ask more because I wasn't sure if she was baiting me or fishing for information. In the back of my mind, I wondered if she was sincere and if I had just become the villain for dating her boyfriend out of spite. I hoped I was wrong!
School opened and we went back to the boring routine of going to class, and back to the hostels. I had more free time on my hands and Alex was almost done with his attachment. Perhaps I should've been happier but meeting Jolene made me feel anxious.
She would talk about Alex, saying how she intended to get back with him and that it wouldn't take long because their friendship was still intact. What Alex had failed to mention through the past three months we couldn't see each other, was that he was still in contact with Jolene. I felt mad and at the same time relieved because, if they managed to patch things up, I would be less guilty of breaking it in the first place. So I thought.
But who would take away the anger and jealousy that was growing each time I heard Jolene mention Alex? One time as if she was speaking to me, she insisted on showing me all the tokens of love, pictures of them together and souvenirs Alex had given her. Perhaps Jolene hadn't changed at all, the thought had crept into my mind. She just wore a coat of many colours, accentuating only what was convenient as per the situation. I concluded.
Walking out of her house the last time I was at her house, I was determined to show her how it felt to be betrayed and made fun of. So without any hesitation or doubt, I made the call. Alex picked me up and we made plans for him to visit me during the weekend. It didn't bother me that Jolene would find out about us I hoped everything would be out sooner rather than later.
Saturday came and so did Alex. It was the second time I had seeing him ever since we shared that kiss three months ago. He looked even sexier than the first time I saw him. I couldn't help but think that I was falling for him. Perhaps being away from everyone and having two girlfriends had that effect on him. I welcomed him with a kiss and we started catching up.
We talked laughed, ate and after one hour too many, he started fidgeting with my buttons. The room was beginning to heat up and it could only be matched by the hot blood that was running through us. I could hear movement outside, and laughter as some of the girls in our hostels went on with their business. So I stood from where I sat and proceeded to get some water in a bid to put a distance between us. Alex wasn't far behind, and just as I turned after pouring myself a glass of water he planted a kiss on my lips with vigour and passion I hadn't felt before.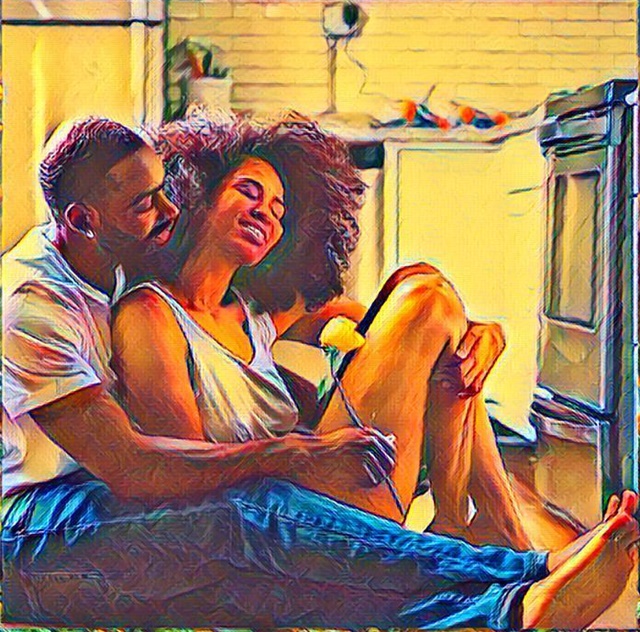 My mind went blank. I couldn't think nor could I hear the noise from outside or the glass that went shattering down the floor. All I thought was that I could enjoy that moment for days on end. Alex removed his shirt and then unbuckled his belt joining my top was already on the floor. We were getting hot and heavy, and just as he was pulling off my pants, I heard my name. For a moment I assumed that it was my guilty conscience calling but then I heard it once again.
She had a habit of shouting my name way before she reached my door. So I heard her calling my name once, then a second time, but before her steps could reach the door I knew there was no other way to tell her that her boyfriend was my new boyfriend.
Shit!!! I had sort of wanted this but I was also regretting it. Jolene was here.
************************
They say water spilt never returns to the bowl and this was one of those melodramas you see in a soap opera. Now that we were caught in a manner of speaking, I decided I was not going to hide our relationship anymore. I hurriedly dressed and went to the door looking dishevelled. I opened it and let Jolene in.
It was clear what was going on. I wasn't going to bother hiding it. "What's good for the goose, is also good for the gander!" Let Jolene get a taste of her own medicine.
Once Jolene realized the situation she had walked into, she stood in shock looking at us with disbelief, while Alex stood at the far end composing himself. I couldn't understand his reaction and I swear that for a moment I had seen a faint smile brush across his face. Was the guilt too much that I was deflecting what I was supposed to be feeling? In all honesty, I didn't feel as happy as I had thought it would feel to get back at Jolene. Her reaction was even more worrying because she stood there paralysed and looking like a wounded cat. Had I gone too far? At that moment I remembered Marvin and some of the guilt lessened. Before I could even utter a word, Jolene closed the door and ran out.
"What have we done Alex?" I began panicking. "I thought everything between you guys was over? Why did it seem as if she caught her boyfriend cheating?"
Alex was in no hurry to respond. In fact, the mixed reactions, emotions, the sense of guilt and pain that transpired between me and Jolene didn't seem to be a big deal to him.
He was calm and ready to continue what we had started. Where did he get the courage? Had I been a supporting cast in a play I authored? I had so many questions and so before Alex could go on disguising that stupid smile I asked him to explain what was going on.
"Are you and Jolene still in a relationship?"
"No!" "As I had told you, we broke up 3 months ago before you and I started seeing each other. If you recall my relationship with Jolene had been in a rut for quite a while so we could say that we had broken up long before."
"But that is not how it seemed." I snapped. "In fact, it seemed as if you guys had been seeing each other and Jolene was not aware that the relationship had ended."
I paused. Trying to clear my thoughts.
"Alex, are you telling me everything? Wait a minute… What was that picture of Jolene that you had on your social media just a few weeks after we had kissed? Were you still seeing her then, because as far as I know Jolene has very recent memories of you and I'm wondering if she is crazy or just out to make me jealous?"
I hadn't known that staying in touch with Jolene would give me leverage and right here and now I had receipts which Alex couldn't deny. Now I understood why in movies the friend who's dating her friend's ex, is always reluctant to break off the friendship or spill the beans. Maybe staying in the friendship is her only way of knowing that the former lovers aren't back together and the man isn't playing her with her former lover.
Alex started, "We met not too long ago while I was in Nakuru. She had come hiking with some friends and so we happened to meet by chance because I was in the area."
"I get that, but did you happen to get back together by chance? What really happened?" I was getting even more impatient.
"Jolene hadn't accepted that we had broken up and so she kissed me!"
I was really in a drama of my own making. This was the part where the guy said, 'she kissed me, I didn't kiss her' or 'she slept with me, I didn't sleep with her' or the worst excuse ever 'she became pregnant, I didn't make her pregnant'. Perhaps Jolene had even married Alex while he didn't marry her.
"How beautiful," I said sarcastically, "Tell me what else did Jolene do to you that you didn't do to her?" I sounded more like Jolene's friend than her nemesis who she'd just caught making out with her ex/boyfriend.
"Baby quit the sarcasm, I swear nothing else happened. I just want you and no one else, and even if Jolene came back I would tell her the same." Alex was doing that thing again. There was a way he would look at me with a rogue stare and yet innocent look, that had me dropping all my defences.
My heart calmed for a minute. "Are you sure nothing is going on between you and Jolene?"
"Should I prove it to you?" With that remark, I was a goner.
Our evening went well as if hours ago we had not broken every code there was. Thoughts started crossing my mind and I started to wonder who had even initiated that so-called girl code. So was I to stop my happiness so that I could abide by rules that I didn't take part in making? What are the rules anyway?
Funny how days run fast when you're having fun or when a deadline is approaching. To me, both cases applied. It was fun to spend the weekend with Alex, but soon enough he would be gone and I'd have to face Jolene, every girl/society code there was, plus her gang of minions whom I knew she would share her ordeal with. I wasn't ready for that so I optimized my weekend as if it was my last.
As you may have guessed for the coming week and a few months after I was walking on eggshells with everyone referring to me as the bitch from apartment 23. I was the major side chick who girls were notified to keep their boyfriends from because apparently, I was on a boyfriend-stealing frenzy.
I felt misunderstood and school was no longer a conducive environment for me. I needed an escape and Alex was right there when I needed him. When I wasn't in school for classes I would be at his place far away from judgmental eyes and pious condemning attitudes.
I was glad that at least I had school and my eros love going on. Because as far as friendships were concerned, I was the housefly who no one dared let spoil their soup.
Months went by and the environment began to change. Mouths had stopped yapping and school was again a place I could walk without being frowned upon. However, you can't have everything, can you? As soon as my social status began to take a positive turn, my relationship with Alex began to deteriorate.
We would fight constantly to the point where if a day went by without us arguing, I would feel as though something was missing. He was constantly away without any explanation and when he came back he expected me to not ask anything. Slowly the communication between us was almost non-existent and the chemistry that once was fizzled out.
We couldn't table our cards or resolve the constant arguments that were mostly influenced by external voices. I felt guilty for being happy and Alex didn't want to confront issues or see the situation for what it was.
To society, we were in a forbidden relationship and slowly I started believing so. This took a toll on our trust and the feelings we had for each other. Sometimes I would ask myself 'what if Alex was seeing somebody else, or even talking to Jolene behind my back?' So one day while he was taking a shower I took his phone. What was once an unlocked device now had a password.
My heart was heavy. What if my suspicions were true? Instantly a message came. There was no text but an array of love emojis and whatnot. They say pictures are worth a thousand words, and right then I knew it would take me some investigating before I dropped the idea that Alex wasn't cheating.
He'd heard the notification sound and so as soon as he came out of the shower he took his phone from where I'd returned it to check. I was keen to see what was his password and as soon as he unlocked I knew what was left was getting an opportunity to complete my mission.
When he left his phone charging and went to the shops to buy some things I decided this was an opportune moment to snoop. Was I slapped in the face to see that Alex had a thing on the side with a student from the engineering department? However, the text that stood out to me was what came before the emojis I had seen that morning. It read, "I had a good time yesterday, we should do this again."
What did they say about revenge and digging two graves? That was the moment I learnt the true meaning of that saying. Confronting Alex was no use because he wouldn't care to deny it. In fact, the girl he was seeing was his first love, the only ex he had before he met Jolene. Apparently, when he'd met Jolene they had broken up and he was just moving on. Had I heard that before? What's more, is that he and this first ex shared a child and a culture which Alex was very keen on.
Who was I to compete with that? I remember thinking, I am not mad at you in fact I am mad at myself for getting tangled in a web of my own creation. Alex never found out that I had read his messages but he was intrigued as to how cool I was about our breakup. To think that I was taking revenge on Jolene only to end up saving her from a serial cheater. How's that for a bad joke?
Months went by without Alex and I talking and slowly Jolene and I began talking again. After a few days of us hanging out, and lessening the tension that was between us, we were talking. She told me, "I visited Alex and he wanted us to get back together."
"Did you know he has a kid with a girl from his village?" I blurted out even before her words could settle. Jolene was more shocked than I was. It was time to compare notes.
As it turns out, Jolene had seen the girl who had come to visit Alex when they were still dating. Jolene hadn't read anything into it and since she didn't feel threatened, she had thought that the girl was just Alex's homie. It never crossed her mind to ask why Alex was so adamant that Jolene had to call before showing up, whenever that girl was around. Nor ask why she always went shopping as if she was the woman of the house or as if the mother-in-law sent her.
"Could it be that Alex was betrothed and we had just been part of his entertainment while he was in school? What was he? King Henry of Scotland?"
The statement I did you a favour by dating him, couldn't sound any truer than in my situation with Jolene. In the end, what had started as tit for tat is a fair game, ended as a lesson of once bitten, twice shy.
Check out
Sam Was So Jealous Of Mercy's Success That She Decided She Was Going To Kill Her Best Friend 
She Was My Childhood Best Friend But We Were Also Rivals. Our Relationship Went Downhill When I Fell In Love… With Her Brother
My Best Friend Broke My Trust And Left Me Heartbroken But Then On The Same Day I Bonded With A Differently Abled Handsome Stranger 
My Relationship With A Colleague Proved That Business And Pleasure Don't Mix
My Crazy Ex Threatened To Beat Me Up After I Broke Up With Her
Bound By Words: Their Professional Relationship As Editor And Writer Started On A Bad Note & Will They Find Common Ground?
Caught Between A Rock And A Hard Place. Could Darius Save Himself From The Demands Of His Predatory Female Boss?
This story first appeared on Potentash as Our Friendship Turned Into A Competition Then She Stole My Man, Our Friendship Turned Into A Competition Then She Stole My Man Part 2 and Our Friendship Turned Into A Competition Then She Stole My Man Revenge Part 3.