Period pain commonly happens during your cycle. It occurs in your lower back, abdomen, and thighs. The contraction of the uterus walls to shed the endometrium also causes cramps. In some instances, menstrual cramps become extremely painful. This isn't normal.
Extreme pain during your period can be a sign of
Read Also: Health: Signs Your Period Or Menstrual Cramps Are Not Normal
You need to see a doctor when your menstrual cramps are too painful. If, after an ultrasound, pelvic exam, or blood tests, you get no diagnosis, there is a chance you may get severe cramps because of a magnesium deficiency. Twitter user @ImaniDH posted that many users who suffer from severe menstrual cramps should try magnesium supplements, evening primrose, and raspberry leaf tablets.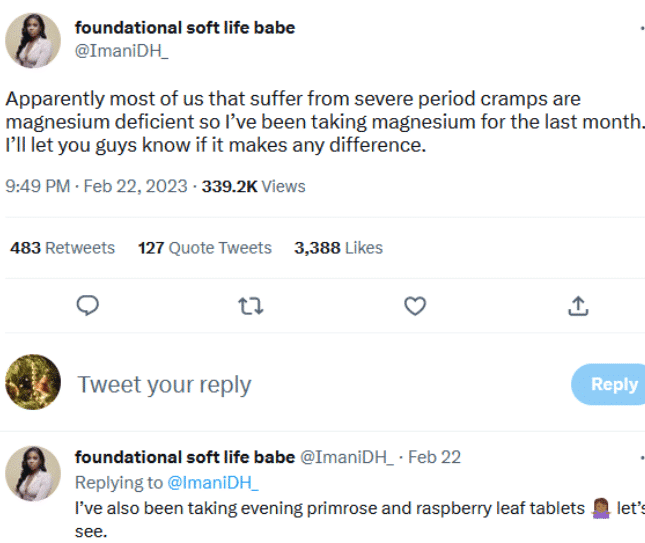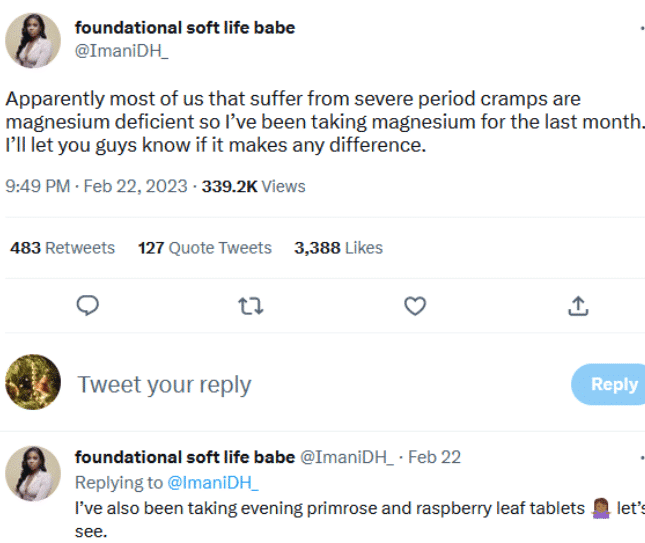 Read Also: Health: Magnesium Benefits And Food Sources
Studies show that magnesium can help reduce pain. In most instances, magnesium is used to treat migraines. It can also prevent migraines and reduce symptoms. Research shows magnesium can help prevent period pain, premenstrual syndrome, and migraines. This could be because magnesium levels in your body deplete during your period. Low magnesium levels worsen premenstrual syndrome symptoms. Studies show that taking 250mg of magnesium daily helps reduce bloating, depression, and anxiety.
In addition, magnesium can also reduce the number of prostaglandins released. This is the hormone-like substance that influences contractions in the uterus and inflammation.
Read Also: Health: Managing Period Pain
Other remedies for period cramps mentioned are evening primrose and raspberry leaf tablets.
Evening Primrose
An older study shows that evening primrose oil can help manage period symptoms such as depression, irritability, and bloating. Scientists believe that women experience period pain and other PMS symptoms because they're sensitive to prolactin levels in the body.
In another study, supplements containing vitamins B6 and E and evening primrose oil can relieve period pain. However, there's no clinical evidence to confirm why evening primrose oil helps.
To effectively manage period pain using evening primrose oil tablets, take 6-12 capsules up to four times daily for ten months. Start with the smallest dose, then increase if symptoms don't clear. However, whether long-term use of evening primrose oil is unsafe is unclear.
Evening primrose oil can lead to upset stomach, stomach pain, headache, and diarrhoea. If you experience these side effects, reduce the dosage. In rare cases, it can cause an allergic reaction, like inflammation of the hands and feet, rashes, breathing difficulties, and wheezing. Avoid taking it when you're on blood pressure medication or blood thinners.
Read Also: Here Are Foods To Eat And Those To Avoid During Your Periods
Red Raspberry Leaf
Red raspberry leaf is rich in antioxidants. It has also been used to treat period pain and may benefit pregnant people. Red raspberry is native to Asia and Europe. Herbal tea is rich in nutrients and may help induce labour.
More research is needed to confirm how red raspberry leaf helps people manage period pain. However, it can help reduce cramping, vomiting, and diarrhoea.
Red raspberry leaf can cause diarrhoea. Take one cup each morning during your period.
Check out
6 Things You Should Do For Regular Periods
Retrograde Menstruation And Other Things You Need To Know About Periods
Health: Signs That You Need To See A Gynecologist
What The Kenyan Government Can Learn From Other Countries Period Laws
6 Reasons Your Periods Changes In Your 30s
Dos And Donts When Exercising During Your Period
Wellness: Delaying Your Period & How To Do It And Potential Side Effects
Should You Swim During Your Period? What You Need To Know To Remain Safe And Healthy
Wellness: Delaying Your Period – How To Do It And Potential Side Effects
The Four Phases Of Your Menstrual Cycle And What You Need To Do During Each Phase