Lamu is a bewitching place, so addictive that when you visit once, you never want to leave. Once you arrive, you understand why so many have fallen in love with this beautiful archipelago of islands. Lamu is like a siren, playing havoc with the plans of travellers, who might have temporary plans for a few days' vacation but end up feeling like Lamu is home. During the Lamu Cultural Festival, Lamu comes alive as the town gets numerous visitors and the ocean is decorated with dhow sails fluttering in the wind.
The Lamu Cultural festival celebrates the island culture and traditions. It features dhow racing, donkey racing, street food, music and dance that showcases Lamu culture which has been enriched over the centuries by the explorers who have come to trade or live in this beautiful part of the northern coast of Kenya. Lamu is a World Heritage site (UNESCO), and it is the oldest surviving Swahili Town in East Africa. This year the festival was celebrating its 17th year.
I hadn't planned to attend the festival, but the festival had been on my bucket list for ages, so I decided on impulse to join up with the Turnup guys. There is something about Lamu, that makes you drop your financial inhibitions and makes you say you must visit the beautiful coastal town by hook or crook. My wanderlust for Lamu had not been sated by my visit for the Lamu food festival in 2016, in fact, it had only made me want to do a longer trip, so this time I was going to be staying for 5 days and 4 nights.
I booked my flights for Lamu with Skyward Express who are awesome by the way, and by the time I was booking most of the flights were booked and the seats remaining were quite high (book early people) so there were no tickets even for the day I wanted to come back. This is the price that those who are impulsive like me have to pay. I was quite surprised to find the guys of Routes Adventure at the airport and we managed to take a transfer boat together (organized by Swahili gal). They were staying on the mainland, so we dropped them off and I was staying in Shela.
Even before we started the #LamuFestival @just_sham_it of @RoutesAdventure summarized the magic of #Lamu. #TembeaKenya #Travel #Kenya cc @Turnup_Travel @swahiligal @Jammyeljabry @MagicalKenya pic.twitter.com/ZDYGgyhjM1

— Rayray (@potentash) December 9, 2017
I was staying in two different places, the first was Baitil Aman which is a Swahili type Guesthouse.  I stayed there on Thursday and Sunday night. Swahili gal had organized the accommodation for me, so all I had to do was call the owner to confirm that I was coming and to confirm payment details. On Friday and Saturday night I stayed at the Jannattan (which is down the street) with the Turnup guys. Both places had their own charms, Baitil Aman is more Swahili type, with no windows but reeds stitched together that let in fresh air, and kept out the sun. The rooms were more spacious, and the breakfast is more generous.
The Day bed at Baitil Aman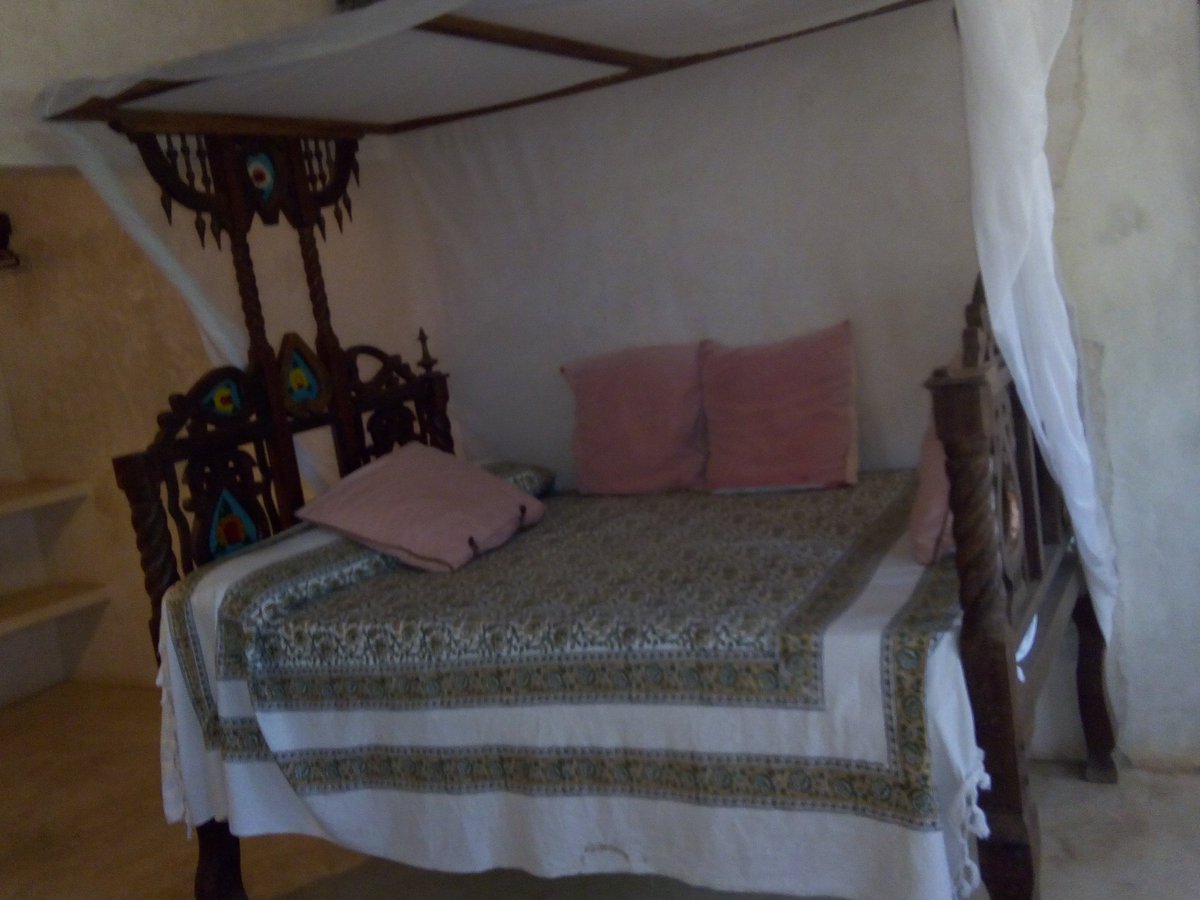 I stayed at the Baitil Aman from 2 nights while I was in #Lamu for the #LamuFestival. It's a Swahili type guesthouse, with no windows but reeds stitched together to let in fresh air. It has its charms and the breakfast is good #TembeaKenya cc @swahiligal pic.twitter.com/GV29D4e4En

— Rayray (@potentash) December 9, 2017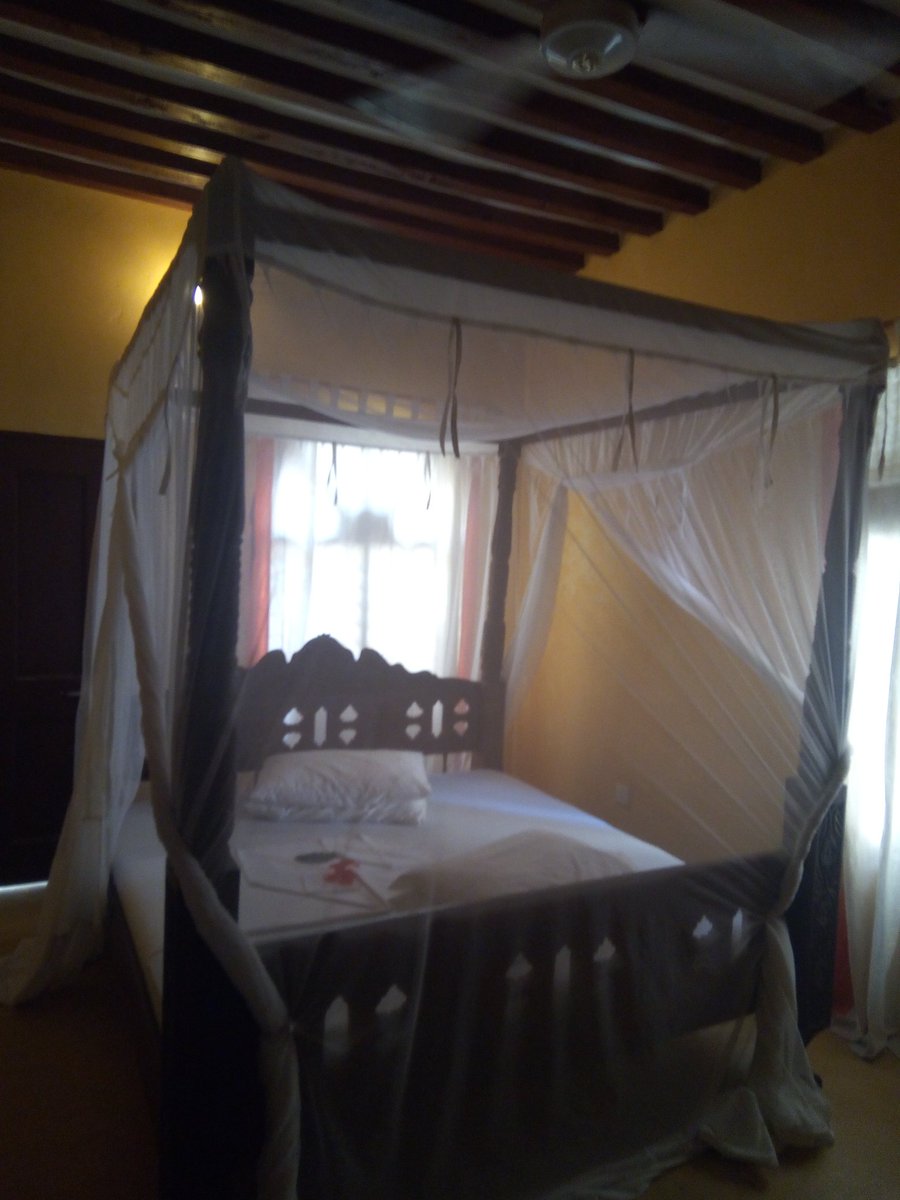 Jannattan is a more modern property, and one of its greatest draws is the fact that it has a swimming pool. The breakfast is basic but I think the pool makes up for it.
Our accommodation for Friday and Saturday was at Jannattan which is a pretty awesome place with a swimming pool. #TembeaKenya #LamuFestival pic.twitter.com/3zihve8YAp

— Rayray (@potentash) December 5, 2017
Both places had great staff, and the service was awesome. I would recommend both places to anybody who is looking for accommodation. The only thing is that they are not on the beachfront but that is not a problem because it is very easy to get to the beach. One thing you have to be prepared for is the noise from the donkeys braying at night which you don't hear if you are on the beachfront.
Once I got settled in I met up with Swahili Gal and Jammy of Life in Mombasa to check out what was going on on the main land. The easiest way to get around between Shela and the main Lamu Island is by taking the water taxis. They are quite expensive if you have to take one alone, it costs around 1000 for one person or 500 per person when you are two. You would rather take the boats that are like matatus that cost 100 bob (after 7-8 pm you are likely not to get one of these so you will have to fork out more money).
Our public boat taxi captain decided to give us a treat, the first of the dhow races was on Thursday afternoon and our captain took us to where the action was. We followed the dhows as they unfurled their sails, and let the wind power their sails. Watching those dhows as they raced from point to point was just breathtaking, it would be hard to describe the feeling of watching those dhows sail through the waters in a line across the ocean. I felt like I was in a Moana moment, when all the people were out on the sea in their boats out to explore new lands. The dhow race is a noisy affair with the sailors in the different dhows singing songs, psyching themselves up. The dhow that wins gets a chance to do a victory lap along the shore, pulled by a speed boat as people cheer. Some brave souls show their adventurous nature by choosing to hang off the ropes on the boat and water ski with their bare feet.
This year, according to the Daily Nation, the local tourists outnumbered the foreigners who attended the festival. Around 80% of the tourists were from the coastal region and Nairobi. "People are normally surprised that there is a town on the Coast, where instead of enjoying fancy rides in automobiles for transport, people prefer to use donkeys. This particular aspect of our culture continues to attract people from all around the globe," said Mr Miji, the Lamu Cultural Promotional Group Secretary general said.
There was so much to see, there were many corporates who had set up tents along the main street. Some of the exhibitors included Safaricom (people were not resisting) where I got my Mpesa bands, Skyward Express, NHIF, Communications Authority Of Kenya and the US Embassy Kenya.
After running around it was time to go back to Shela. Swahili Gal took me to Labanda to get some fish and I bought some bhajia from one of the street vendors and that was my dinner. Total – Ksh. 300 for the fish and Ksh. 50 for the bhajias with ukwaju sauce. Finger licking good.
Friday
The Turnup guys were arriving on Friday morning and I was moving to Jannattan that morning after a leisurely breakfast hanging out with Kim who had arrived the previous evening by car. Kim is amazing, he has travelled around the country by car and he has even done a road trip to South Africa (when I grow up goals I tell you.).
Thanks for the sunscreen hookup @NiveaKenya. Now I can play and explore #LamuFest no stress #LamuTamu #DiscoverLamu cc @Turnup_Travel @MuthuriKinyamu pic.twitter.com/HMCDyiL1Ta

— Rayray (@potentash) November 17, 2017
After guys had checked in and we had all gotten some sunscreen on – Thank you Nivea for the sunscreen spray we went down to Msafini for lunch. Msafini has great views, and it is a beautiful place to look out to the ocean. I had some fish and chips – cost 800. I have to say I was a bit disappointed because although the food was fresh, the meal was not outstanding – very average. I think they needed to season it with something. The fish I ate the night before was tastier, and at a third of the price. I guess we were paying for the view. I have to say though that their mango salad is excellent, and I loved it.
Afterwards we caught a bit of the dhow racing, then we split in different directions. Some of us went to explore the streets of Old Town Lamu. I am in love with the curved doors of Lamu, so I spent a lot of time looking for them. We also went to a Silver shop where Jammy bought some earrings.
I am in love with the Swahili style type of furniture and especially the #Lamu Doors. We went to old town and saw some beautiful doors – house goals #LamuFestival #TembeaKenya pic.twitter.com/dVkPx6DV0i

— Rayray (@potentash) December 5, 2017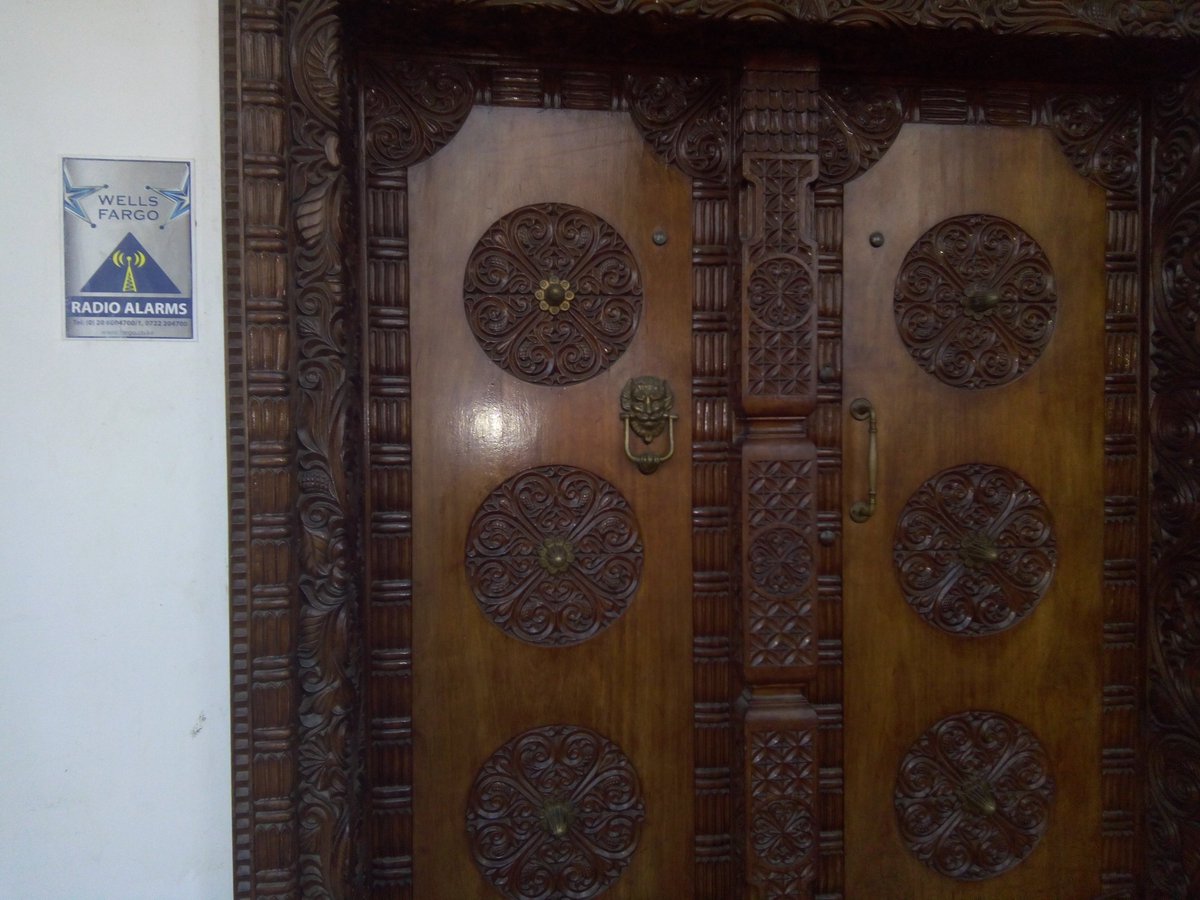 Later we went back to Shela. The turnup guys were having a pool party at Jannattan with dinner being served there. I had gotten an invite to the governor's party on the mainland so that's where we went. We came back to find the pool party still going on at around 10 pm and it was still happening after midnight. According to guys dinner was fantastic, so if you are staying there I guess you can try out the dinner.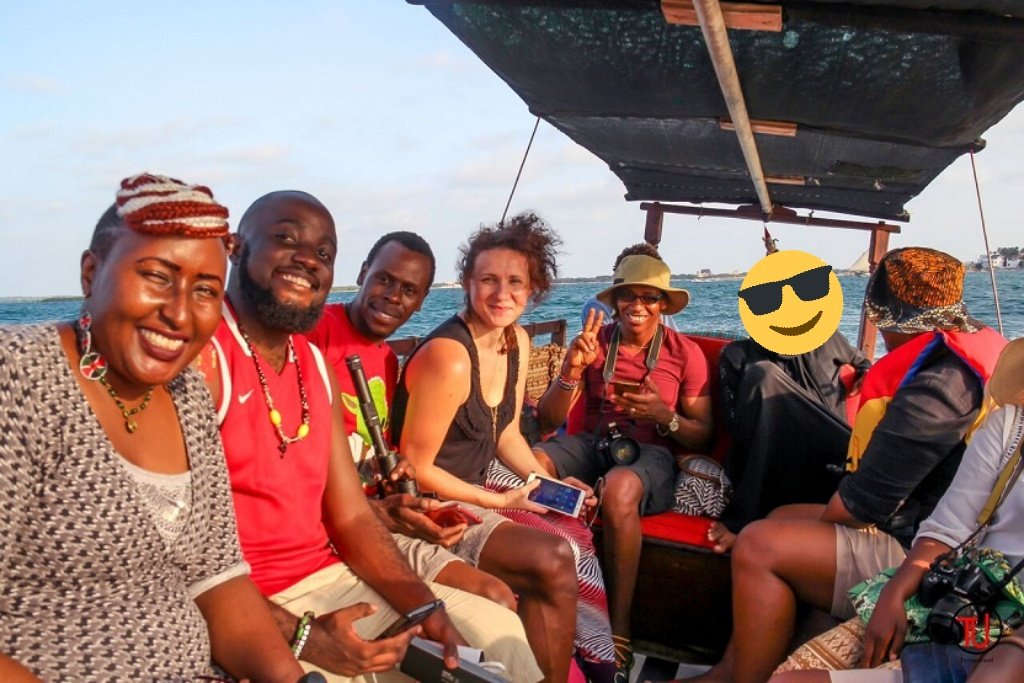 Some of the highlights of the festival
The Donkey races
The donkey races are held on the sea front in Lamu Town. I didn't manage to watch this, but it is an interesting experience for those who are interested in that kind of thing. It is important to note that Donkeys are the only form of transport on Lamu (there are only two cars) so the donkey race is a big deal for Lamu residents.
One of the things you can do while in #Lamu is take a donkey ride. Or watch from the sidelines. This time I was content to watch from the sidelines as @RooneyNjeru tried it cc @Turnup_Travel @MagicalKenya @swahiligal @Jammyeljabry #TembeaKenya pic.twitter.com/e0eXzpiVHi

— Rayray (@potentash) December 5, 2017
One of the things you can do while in #Lamu is take a donkey ride. Or watch from the sidelines. This time I was content to watch from the sidelines as @RooneyNjeru tried it cc @Turnup_Travel @MagicalKenya @swahiligal @Jammyeljabry #TembeaKenya pic.twitter.com/e0eXzpiVHi

— Rayray (@potentash) December 5, 2017
Food
There were different vendors selling food on the streets throughout the festival. There were Swahili delicacies like their desserts, viazi karai, bhajia, and even drinks like cold ukwaju juice. My favourite things were the milk Kool ice creams that I sampled on the first day and I never saw that guy again. There were also other vendors selling milk ice lollies but they were not as good as the guy who sold us kools on the first day.
I ate a lot of street food, mainly the bhajias that were hot, fresh off the pan with some ukwaju sauce. I also drank a lot of Ukwaju juice. If you are looking for something filling then I recommend the street bhajias, they are delicious plus they cut down your budget drastically.
Depending on your budget you can get street food from Ksh. 10 shillings upwards for a few bhajias. You also have the option of going to a restaurant to enjoy a meal.  I would recommend Labanda where I have had meals during my two visits to Lamu. Their prices are reasonable (by Nairobi standards) and you can get a meal for around 500 including fish, a starch and a drink.
Entertainment
On Friday night the governor of Lamu had a dinner at the Lamu Fort. The dinner was followed by entertainment, with dancers sponsored by the Indian High Commission entertaining Lamu residents. The Gotipua dance is a dance by men dressed as women – they look like women when they are all made up. It was interesting to watch the dance, and see how other cultures do things. On Saturday night Offside Trick was the main show.
Sunset Dhow Cruise/Floating bar
No trip to Lamu is complete without a dhow cruise. Turnup Travel and Swahili Gal had organized a Sunset Sail/Night sail with a seafood dinner on Diamond beach. It is one of the most beautiful things to be out on the water with friends watching the sun go down as you move around the islands. When it gets dark you watch the twinkling stars unobscured and everything is right with the world. We were in the ocean for about 3 hours, with a bathroom stop/drinks stock up at the floating bar.
Ah the floating bar is one of the places you need to check out. The floating bar is an interesting concept, it floats because of drums tied together. During the day you can jump off the floating bar into the ocean if you are brave enough. At night they play some pretty cool music, on Sunday night I got to hang out there for a couple of hours.
Although I loved the experience of going around by boat, I am not quite sure I love the experience of travelling around by boat at night (I can't even lie – I freak out inside. If your boat capsizes at night who will find you?) but I always managed to do it. Clearly though I don't see myself going on a cruise anytime soon – water watching is good from the shore thank you very much.
Dinner and dancing on Diamond Beaching
For dinner we were having seafood. We landed on the Diamond beach and found a bonfire going on. Dinner was a feast for the eyes, and senses as well. Dinner was excellent, with different types of seafood to give guys a chance to sample different things. Delicious was an understatement, and I was so full I was unable to leave the warmth of the bonfire for hours. Guys went dancing at the Diamond Beach club but some of us preferred to sit near the bonfire, and stare at the stars and water for hours.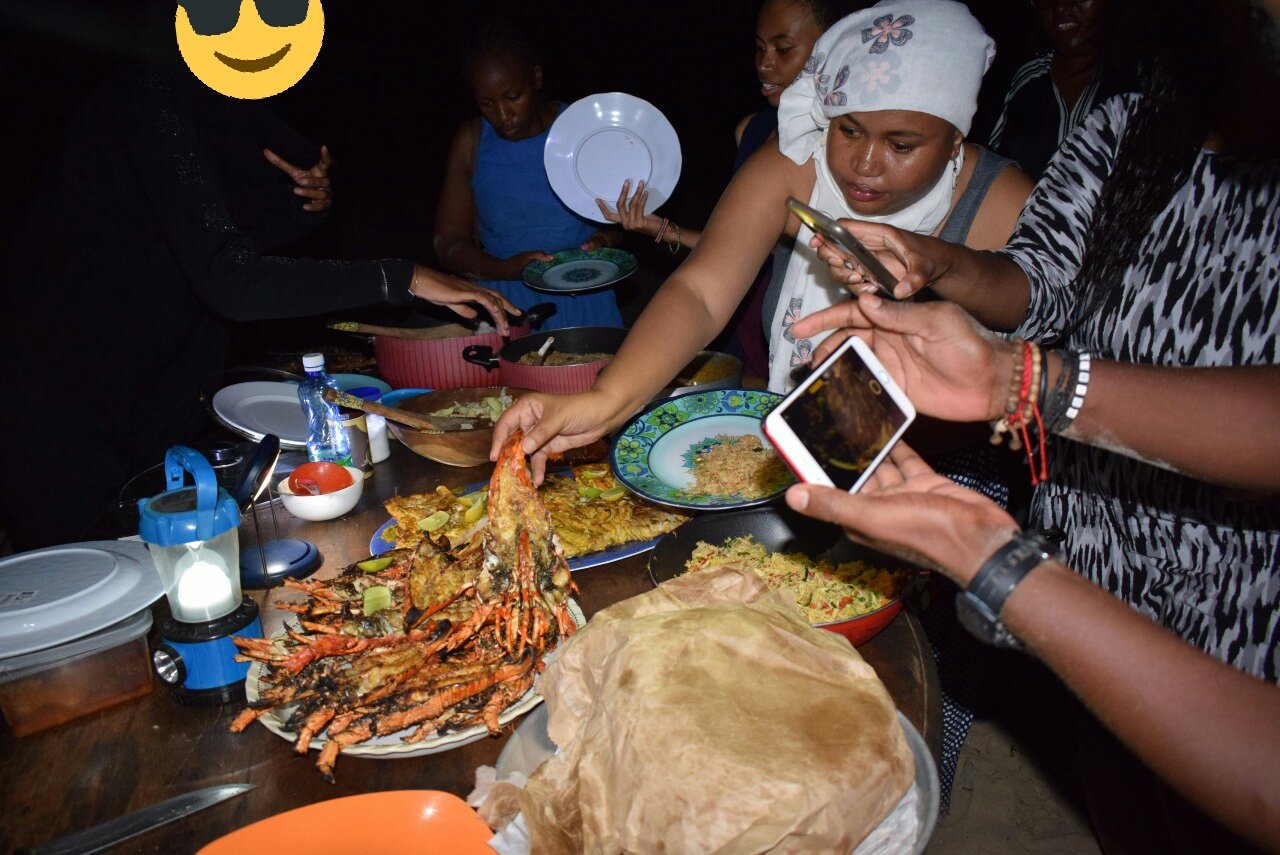 Delicious seafood in #Lamu after our sunset dhow cruise. @swahiligal @Turnup_Travel know how to organize a dinner on the beach. Ginger crab, vegetable crab, grilled lobster, vegetable rice, coconut rice, chapati, prawn curry, and salad. Yummy #LamuFestival #Tembeakenya pic.twitter.com/fpxqxbOOaD

— Rayray (@potentash) December 9, 2017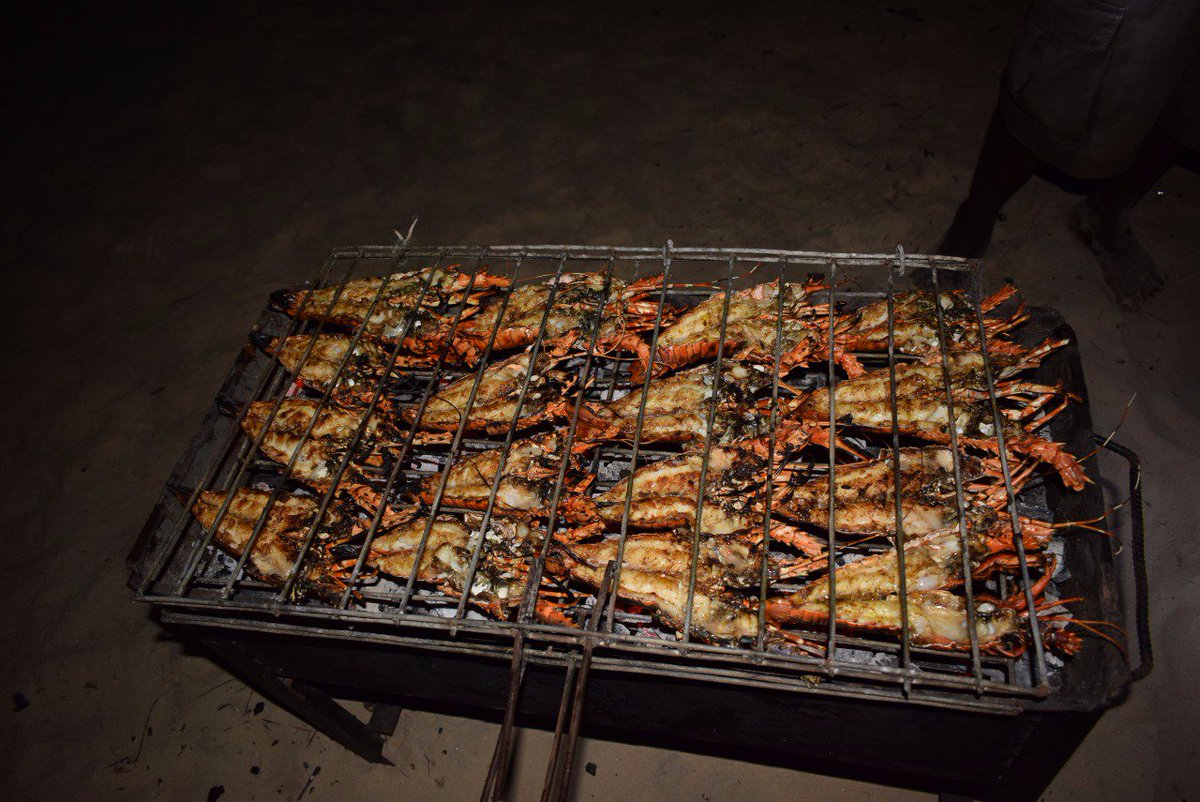 Henna tattoos
On Sunday most of the guys were leaving on the morning flight. One of my friends was leaving in the afternoon and Sunday morning was our chance to get our henna tattoos done.
If you are one of those people who cannot leave the coast without a henna tattoo (like me) there were some ladies available ready to make your body a canvas. We got a lady to do our henna at Ksh. 200 per hand/leg and I went crazy. I got tattoos on both my legs, hands and my neck. I love henna tattoos and it is also a way to support the local economy, by supporting the ladies that do the beautiful henna designs. You can decide to let them do their own designs or you can also show them designs that you like, and they will make that for you. I did a combination of the two, and I got some beautiful henna tattoos.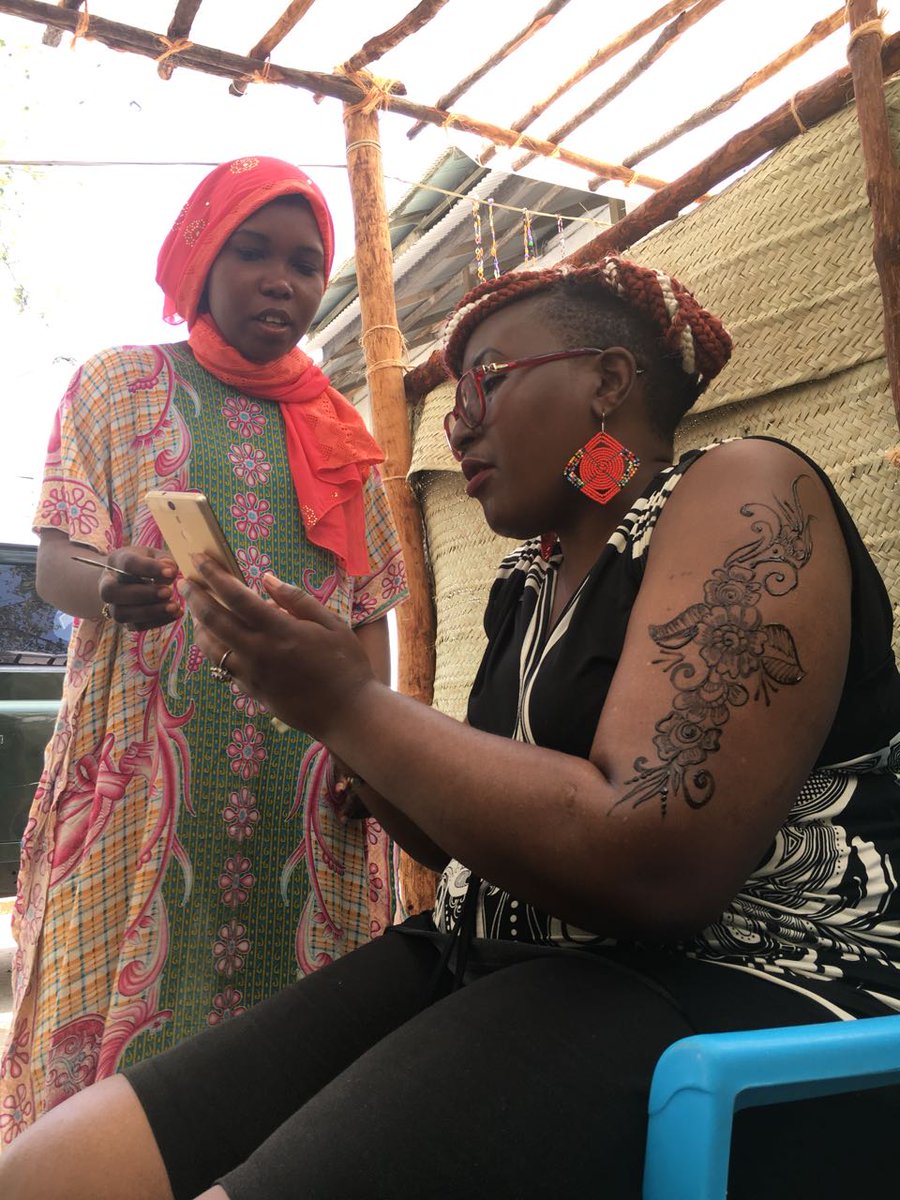 I got some henna tattoos in #Lamu. Aisha is really talented. I got her number so if you are ever in Lamu and need to get some henna done I got you covered. Holla cc @swahiligal #LamuFestival #TembeaKenya pic.twitter.com/bGb2GffSbN

— Rayray (@potentash) December 9, 2017
The neck henna tattoo is not for the faint hearted. You have to hold your neck at a certain angle for more than half an hour so that the ink doesn't smudge. It was an experience #LamuFestival pic.twitter.com/rSAE0Vmpc1

— Rayray (@potentash) December 9, 2017
By Sunday evening there were only two of us left, so we went to get some supper on the mainland and we passed by the floating bar to have a few drinks.
Sunday
My Skyward Express flight was at 1130 am so I had quite a bit of time on my hands. One of the henna ladies had offered to make me some fish if I bought the ingredients and paid a bit for labour. Who was I to pass up the chance to have some homemade fried fish? Also, this was a chance to support these women's hustle and I am all about helping other women, so I was like yes. So, I had an early breakfast and checked out of the Baitil Aman.
I was in Lamu town by 9 am and I met Aisha and Sheha. We went to the fish market where we bought a kg of tuna then to the market to buy garlic, chillies, and other ingredients. Sheha took me to her house and taught me the secret to fish that tastes good but doesn't have that fishy smell. Use a lot of garlic, chillis, black pepper and turmeric – these she ground with a pestle and mortar made from stone. After giving me some of the delicious pieces to try, she wrapped the rest and I carried it with me to Nairobi. If you are ever in Lamu and need to cook fish for a big group you can talk to her. If you are interested holla and I will give you her number.
On my last morning in #Lamu I hooked up with one of the ladies who had done my henna. She took me to the fish market to buy fish, and then she took me to her house where she cooked for me the tuna. I carried it to Nairobi #LamuFest #TravelTuesday pic.twitter.com/QN9V3kOzdX

— Rayray (@potentash) December 5, 2017
I met Sheha at the stall in #Lamu where we had our henna done. She offered to make me Tuna in the Swahili way. We went to the market, I bought fish & spices @ she cooked it for me in her house. Delicious ?. Lamu people are so friendly & hospitable. @swahiligal #LamuFestival pic.twitter.com/HMQQvRgSeW

— Rayray (@potentash) December 9, 2017
Soon it was time to leave and I had to bid Lamu goodbye. There are lots of things to do in Lamu, and it is pretty hard to do them all in 2-3 days because if you cram everything you need to do into those few days you can end up leaving your holiday with you needing another holiday when you get home because you are so tired lol. The festival is a great way to experience the culture of the Lamu people, and it is also a great way to people watch. For the cultural festival I really got a feel of the Lamu people, because everybody was out, and there was a festive feel to the festival. I did not get this when I was around for the food festival, so I would recommend that if you can only go for one, go for the Lamu cultural festival. I had a fantastic experience thanks to Swahili Gal and Turnup travel, Thank You Guys.
Check out Swahili Gal's Video Living in the Moment, Lamu Festival 2017
Also check out Farhana Oberson's video  LAMU CULTURAL FESTIVAL 2017
The Lamu Cultural Festival is a feast for the senses, there are so many things to try (heavenly for potato lovers and those who have a sweet tooth), there is a lot to see and most of all it is a wonderful way to experience Lamu at its best and pretend for a day or two that you belong. Because when you leave, Lamu will still be calling you in your dreams, asking you when you will be back because once you experience Lamu, things will never go back to usual. You will long for its beaches, its calmness and friendliness, its food and just the feeling of leaving your tension behind. It's like when you reach Lamu, you get a new skin for a few days, and you rejuvenate and leave your old life for a few days, only to pick them back at the airport. Lamu is a witch, an enchantress, but she is a good one and her magic will live with you even when you are far away. Its magic will call you in your dreams, ask you when you are coming back, and you will find yourself planning another trip to experience its magic yet again.
Follow @SwahiliGal's for more information on whats happening in Lamu. Check out Jammy travel's coverage of the Lamu Cultural Festival as well, she really brings out the festival in photos.
Travel: Lamu Food Festival – A Chance To Explore Lamu Tamu