Over the centuries the term "cat lady" has taken on a derogatory meaning. The definition of the term in the popular Wikipedia: A cat lady is a single woman who dotes upon her pet cat or cats. The term is usually considered derogatory, although now it is being embraced more as more people get cats as pets.
I have experienced the wonderful side of relationships, the sharing that goes on, the companionship, the warm hugs, and an all poetic messaging life. To be honest there is that longing to be with someone that remains. Finding a partner with whom you have sexual chemistry and you can also have sex with seems to be the cherry on the cake.
I just got out of a relationship a while back. I am thinking maybe it's time to build my life now, to really look at what I want to do, to embrace being single, to give up on the dream of being with a man to cuddle with during the cold months of July and sweet messages of I love you during valentine's day.  I've found some joy in singlehood before. It is quite unfortunate, that whenever I start enjoying myself as a single lady well let's say a single crazy cat lady, I always end up in a relationship.
Recovering from yet another relationship breakup, I am slowly getting my groove back. That relationship was so promising! I thought I really had found The One (probably a good rebound) this time! And then, poof, it all blew up. I am that spontaneous chick. Although I am almost 30, my life is centred on two things: my work and my cats.
Dating today is a tricky business — whether you're looking for love on the inter-webs or meeting people the traditional way – you meet, like each other etc.   People ghost you, and sometimes you are not sure what happened. Was it you or them?
So, this is one of those stories.
I got set up with a guy through my crazy girlfriend from the office friend (always a risky situation with her involved) but we were going to go on a double date, so I felt a little bit safe with her around. The four of us wound up going to a film screening at the Alchemist Bar on this particular Tuesday and, of course, my friend and her date left the two of us alone so we could talk and "get to know each other better" * wink wink* while we were all waiting for the film screening to start.
The one-hour 57-minute film is full of a lot of romantic scenes and I was like, I felt like it was an intentional thing to come watch this particular film. [Who cares anyway? Well maybe my hormones?], so after the end of the movie, I exchanged contacts with the guy (let's call him Sam).
We exchanged lovely messages over the next couple of days, and he asked me out on an exclusive date at a cool restaurant in Westlands.  We met for drinks at Budhaa Bar and started off with some light beers. Word around town is that Tusker Cider is the best. A few sips here and a few chats there and we were on drink two, the waiter comes around to ask if we needed anything else. Before I could say anything, Sam ordered two sour whiskeys and to my great surprise two shots of tequila. Being stubborn and always wanting to prove I could hold my liquor, I took the shot.
At this point, I should have gone home, but I made the silly mistake of following a guy I had recently met on a club-hopping spree. By the time we got there, I told myself I would only have one beer and then go home.  When we arrived at Brew Bistro bar, I told my date to order me one beer as I rushed to the restroom to answer the call of nature. When I returned, he had, in fact, ordered my Tusker Cider beer, but guess what else was standing next to my tall bottle of tusker? Another tequila shot!
Fellas, when on a first date, ordering surprise tequila shots totally wins over a potential date. I knew this is it, one more drink, and I am going to hurl. So, I signalled it was time to bounce from the club and call it a night. We hailed a cab and he insisted on accompanying me in the cab as he thought I might be harassed, assaulted or even blackout and forget my way home… (these have never happened in my lifetime of all my drinking sprees).  I tell the cab guy where we are going.
In the cab, we opted to seat at the back together. In the cab the guy was making all the right moves, putting me in the mood for something more. He held my hand and caressed it, kissed my neck, and gently touched my thighs and I was subdued by this car loving. When we arrived, I begged him not to leave me (yes laugh, I had cleared cobwebs from my cooch (so I was kind of on a mission-ish).
We were like on a sexual high, we got to my flat and dashed in quick, as we breathed heavily from the sexual tension, as we undressed each other and kissed madly on the living room couch. He picked me up and he started moving, like a genius he discovered where my room was as we hysterically looked for a condom (got to use protection). Then crazy shit went down, he sneezed like a billion times and started pulling away. He started itching a lot and his Mandingo goes down… and suddenly one of my cats jumps out of nowhere onto his back. Like a mad kid, he squeaked…  "What the hell?"
So, I live with a couple of cats, and cats literally own my house. Turns out Sam is allergic to cat fur. His reaction to it, is crazy, to make matters worse my cats don't give a hoot who he is and don't bother to give him space on the bed. I advised him to take a shower. I was really in the mood, but he looked too annoyed to even do any crazy shit in the shower. It was about 3.15 am and by the time he left the shower his eyes were bloodshot, and he had crazy swellings all over his body. I kinda felt sad for him.  He politely asked to leave as he hailed the cab.
We kissed goodbye and he whispered, "next time basi". I was left high and dry. My cats seem unperturbed by the drama that went down and were busy meowing for a refill for their favourite treat.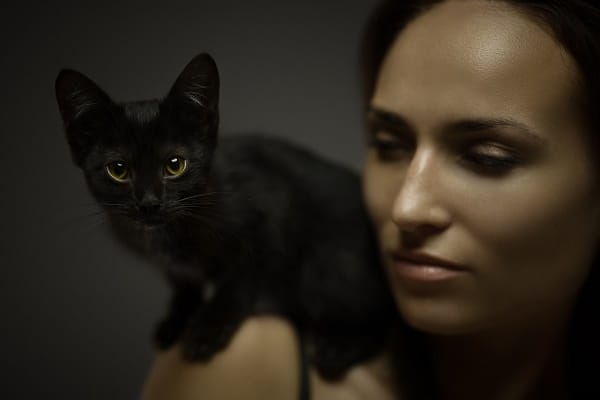 Communication between us went down south after that. Sometimes I feel like texting him and telling him that I will come over to his house, but he never texted me to tell me when the next time will be… So, I am here petting my cats and wondering…
Related
The Singlehood Series: My Ex Asked Me To Get Rid Of My Dog Because He Hated Pets
Single lady in Nairobi: when bae goes MIA
Single lady in Nairobi: Have you met the Muthaiga Map Guy?
Single Lady In Nairobi: Looking For Love On A Trail Of Breadcrumbs
Single lady in Nairobi: When he makes you tiptoe around a mansion
4 Ways To Get Over The Fear Of Cats – Ailurophobia
Creative: A Day In My Life (From My Cat's Perspective)
***Single lady in Nairobi is a collection of real life stories and opinions from different women. It looks at the current world of dating in Kenya and the experiences that ladies have gone through. The views and opinions expressed here are those of the contributors and do not necessarily represent or reflect the views of Potentash.com.