Road trips are a great way to: see your country, experience new destinations, support local tourism, sample different foods, immerse yourself in different cultures and sometimes it is also a chance to make new friends. This is why I was excited to be going on a road trip to the Rusinga Festival 2016. We were making the trip by road with the Kenya Tourism Board (KTB). We had been invited by Anne Eboso, who is the founder of the Rusinga Cultural Festival. Anne is one awesome lady who is working hard to ensure that the Suba culture does not die out so she created the festival to celebrate the Suba culture and also bring tourists to Rusinga. We started out at the KTB offices in Upper Hill which was our meeting point. There I met the guys who would be my companions for the next couple of days, there were some new friends to be made and some old friends to make the trip interesting.
We have just left @MagicalKenya offices and heading to @RusingaFestival #TembeaKenya #RusingaFest2016 #TembeaRusinga @bonnybonnita @fardee86 pic.twitter.com/dnrc0ztx7t

— Rayhab Gachango (@potentash) December 20, 2016
The @MagicalKenya #TwendeRusinga Team going on a roadtrip to @RusingaFestival #RusingaFest2016 #TembeaKenya. Cc @bonnybonnita @EbosoAnne pic.twitter.com/aio2fo42mq

— Rayhab Gachango (@potentash) December 20, 2016
At the Great Rift Valley viewpoint. #TwendeRusinga #TembeaKenya #RusingaFest2016 cc @MagicalKenya pic.twitter.com/z0agrFhZSj

— Rayhab Gachango (@potentash) December 20, 2016
At the Great Rift Valley viewpoint. #TwendeRusinga #TembeaKenya #RusingaFest2016 cc @MagicalKenya pic.twitter.com/z0agrFhZSj

— Rayhab Gachango (@potentash) December 20, 2016
We left Nairobi at around 10, we were using the Bomet route which is 4 hours shorter than the Kisumu route which also requires you to board a ferry, and if you miss it you have to wait two hours for the next one or wait until the next day if you arrive late (which is what would have happened to us because we arrived pretty late). We spent the hours bonding, getting to know each other and doing some social media updates. The thing about road trips with strangers is that if you don't bond on the first day it can sometimes be hard to have a great time together because as much as it is about being on the road, it is also about the interesting conversations and laughter that occurs when people let their guard down.
We had a late lunch in Sotik at a place called Silent Hotel. Their fries are good, and the service is excellent. We had some kienyeji chicken (wet and dry fry) and there were also some samosas that came with the dry fry. There is an interesting waitress there called Chebi who said she liked our company, maybe because we were having a great time there.
We reached Rusinga at around 730 PM. We were staying at the Blue Ridge Hotel in Rusinga and when we got there it was looking good all decked in Christmas lights. After checking in we went to freshen up and met downstairs for dinner at 9. One funny thing is that when you check in instead of asking you where you live so that they can put in the details on your check in reservation info sheet, they put the details at the back of your ID. I asked them about it and they insisted that is the way it is done (but like seriously, if something happens to you and they have to look for your next of kin and they have put the details of where your grandparents came from and they probably don't live there, your village chief doesn't know you how will those details help them? Anyway it was the start of an interesting relationship with the hotel). The rooms are quite spacious, with a queen sided bed that is very comfortable. There is also a table and chair at the corner if you need to work. I was on the first floor next to the stairs.
The food at Blue Ridge is good, although it tended to be cold by the time we ate it (I don't know what is the point of having warmers if you don't use them), they have quite a variety of foods for the main meals and for breakfast as well. Afterwards we went to relax at their bar. On one side of the compound is the hotel and the other side is the bar area, they have the main bar, and they have some nice bandas made of stone where you can go seat as a group for some privacy. The prices at the bar are reasonable and the place was packed most of the nights when we were there.
In the morning we set out for a boat trip to Mfangano Island, and Takawiri island. I have to talk about Takawiri because it is a beautiful place. It has white sandy beaches like those you will find at the coast, although the sand is not fine. It is great place for a stop over to have have a drink and a swim. There is a resort on the Island and we got a tour of the rooms. The facilities are good and if you want to stay there they offer transfers to and from Mfangano Island. And the view from the top of the hill is just beautiful.
Rusinga Island in pictures: 1. Takawiri Island, a white sandy beach. 2. Boat ride in L. Victoria 3. Boat bay 4. Bird glancing #RusingaFest pic.twitter.com/NGiz4rvi9W

— Kenya Tourism Board (@MagicalKenya) December 27, 2016
We went to the Abasuba Peace Museum where we learnt about the Suba Culture. The Suba stories are fascinating and we were able to see some of their artifacts and get the history behind them. I will do a separate post on this but this place is a must visit. There is lots to learn about the Suba Culture. We did not make it to visit the Mawanga cave rock art as it was getting quite late and we needed to go and eat. We planned to go the next day but unfortunately, we were unable to make it.
Abasuba peace Museum in Rusinga Island pic.twitter.com/0aLzUTCHtF

— Kenya Tourism Board (@MagicalKenya) December 27, 2016
For our late lunch, we went to Kolunga Bar and restaurant, Kolunga Beach on Rusinga for some delicious fish. I initially had some fried Tilapia but when I tasted the Nile Perch I had to have some. They brought me a good portion and it is finger licking good. I would recommend Kolunga Bar if you are on Rusinga. The food is really good, the prices are reasonable – starting from Ksh. 150 and the service is good.
Afterwards we went back to the hotel, and after going to our rooms to take a shower we met downstairs for dinner. My friends Owaahh, Leah and Kasichana arrived while we were upstairs (they had come by road) and Magunga and Abigail had arrived a couple of hours earlier (they had taken a flight to Kisumu then taken the ferry.) While we were having dinner, and catching up with the guys who had arrived, a member of staff came to ask me for my key to check my shower because I wasn't getting any hot water. Instead of giving out my key I decided to go up with the guy and get my camera phone which was charging so that I could send out some social media updates (they have good Wi Fi). After he had checked the shower I reached out to get my Tecno Camon which was charging and I couldn't find it. I looked everywhere for it, but I couldn't find it. Then I realized my purse was open and my money was gone. That is when it dawned on me that my room had been broken into. Checking my bag, I found my back up camera phone, which they seemed to have missed because it was inside my scarf. I looked for my laptop and it was gone. I went downstairs to report to the receptionist and she just looked at me blankly and did nothing.
I went to inform my friends and guys rushed to their rooms to check whether it was an isolated incident. Everybody on first floor who had left anything of value in the rooms was robbed. It is important to note that none of our rooms were broken into, the thieves seemed to have keys, because our locks were not broken, our keys were workings and none of us had left our rooms open. My pals Leah lost her camera and laptop, Kasichana lost money and her iPod and Mark lost all his camera equipment. It seems they had also started on second floor because my friend's door showed signs of breakage but it appears that when I raised the alarm the thieves stopped and fled. After going downstairs and asking the receptionist again to call the police and her doing nothing, I asked her for the numbers of the cops. Nothing. It is after we caused a scene that management came to deal with the problem and call the cops. Note this is more than half an hour after I raised the alarm. If they had done something at the time I raised the alarm, then we might have been able to catch the thieves as there is only one door leading outside the hotel and it is through the reception area.
The cops came after almost 2 hours after we had raised the alarm and asked us what was missing. They looked around but there was nothing to be done as the thieves were apparently long gone. At some point we sat on the floor between our rooms and ate Kasichana's graduation cake (she had graduated as an advocate and this trip was supposed to be her graduation present to herself). When you are depressed cake does seem to somewhat make things better. We were too depressed to go back to our rooms so we hang out in Leah and Kasichana's room. How do you feel safe in your room when your room has just been robbed and you have no idea how they did it? We did suspect that it was an inside job but we are still waiting for the CID report. At one point, we joked that this story would be a good story for Owaahh to cover on his blog. That was one long night of making phone calls to tell relatives and close friends to inform them of what was happened and updating on social media what was going on. Read more about it How Not To Get Yourself Robbed In A Hotel – Part 1 .
The next day was spent at the hotel. The group that had arrived on Wednesday checked out and went to a different hotel but us guys were still staying at Blue Ridge. Not much happened that day apart from the cops getting our statements and us guys getting some much needed rest.  The festival was starting that day but nobody was in the mood to go there. We did get to go check out the sunset at the bridge joining Rusinga to Mvita and it was spectacular. At night, we went into town where a well-known Luo musician (I can't remember his name) was performing and we had a chance to check out the local night life and dance a little.
A touch of nature #RusingaFest2016 #magicalkenya @potentash pic.twitter.com/ysrmf8Y4ko

— Kenya Tourism Board (@MagicalKenya) December 22, 2016
Waiting for the sun to set in #Rusinga. #travel #wanderlust #TembeaKenya cc @magicalkenya @bonnybonnita @eomenda9 @RusingaFestival pic.twitter.com/bhe4LIKRQ7

— Rayhab Gachango (@potentash) December 26, 2016
Want to witness the sun set in the most artistic way? Add Rusinga Island to your bucket list. #TembeaKenya #Travel pic.twitter.com/Q3oAKmqQcj

— Kenya Tourism Board (@MagicalKenya) December 27, 2016
On Friday, we went for the Rusinga Cultural Festival. At the festival grounds performers started off the festivities then we went down to the lake for the boat races.
I was having a good time at #RusingaFest2016. A moment in dance #TembeaKenya cc @MagicalKenya @RusingaFestival @theMagunga @Owaahh @njooro pic.twitter.com/aFZS5gDoHj

— Rayhab Gachango (@potentash) December 24, 2016
This was one of the highlights of the festival and I have written a post about it here. We had traditional dancers lead us down to the lake, and we had a good time by the lake. Bonita and I joined in the festivities and had a fantastic time dancing and making merry with the dancers.
The beat kept going on and on and on and on .Long live Rusinga Festival.#RusingaFest2016 #TwendeRusinga#MagicalKenya#Wanderlust pic.twitter.com/xzM9hPjHsn

— Bonitaonsafari (@bonnybonnita) December 24, 2016
Dancing in the lake #RusingaFest2016 @RusingaFestival @Canduh_ @RizzBee @theMagunga @Owaahh @MagicalKenya @njooro @bonnybonnita #TembeaKenya pic.twitter.com/juseodf6c9

— Rayhab Gachango (@potentash) December 24, 2016
Dancing by the lake.These guys were fun to watch. #RusingaFest2016 @RusingaFestival @MagicalKenya @Owaahh @theMagunga @Canduh_ #TembeaKenya pic.twitter.com/MHGCsxguSx

— Rayhab Gachango (@potentash) December 24, 2016
Ata mimi nilidance kiasi @RusingaFestival #RusingaFest2016 #TembeaKenya @MagicalKenya @eomenda9 @Owaahh @theMagunga #Culturaldances pic.twitter.com/962RIVkblq

— Rayhab Gachango (@potentash) December 24, 2016
Travel: Row, Row, Row Your Boat – The Rusinga Boat Race https://t.co/a8bqZAiZCM @RusingaFestival @MagicalKenya #TembeaKenya #TwendeRusinga pic.twitter.com/Ci9EWIek94

— Rayhab Gachango (@potentash) December 31, 2016
Check out this guy dancing in Lake Victoria. Cultural dances #TembeaKenya @MagicalKenya @bonnybonnita @RusingaFestival #RusingaFest2016 pic.twitter.com/poiwZiEGmP

— Rayhab Gachango (@potentash) December 24, 2016
Last day of Rusinga Festival 2016!The Suba beats, boat race, exhibitions and the crowd was pulsating.#RusingaFest2016 #TwendeRusinga pic.twitter.com/ZAejIByLAg

— Bonitaonsafari (@bonnybonnita) December 23, 2016
Rusinga Festival in the eyes of an old man.#Rusingafest2016#TwendeRusinga#MagicalKenya pic.twitter.com/WUV7gbLS5Q

— Bonitaonsafari (@bonnybonnita) December 23, 2016
Later the crowd moved back to the festival grounds where there were cultural performances (dances and songs which was sponsored by KTB). Check out the article Travel: Immerse Yourself In The Magic Of African Cultural Dances.  There were opportunities for the crowd to take part in dancing competitions and show off their moves. In the afternoon the crowd were entertained by watching some eminyiika (traditional wrestling) and taking part in the tug of war.
.@RusingaFestival @EbosoAnne @Canduh_ @Owaahh @potentash @AbigailArunga @theMagunga @MagicalKenya #RusingaFest2016 pic.twitter.com/9h7EjrfUzg

— Kasi Mumba ✊ ???????? (@RizzBee) December 23, 2016
The Rusinga Michael Jackson #Rusingafest2016 #TembeaKenya https://t.co/sKyMlNYJaz

— Rayhab Gachango (@potentash) January 2, 2017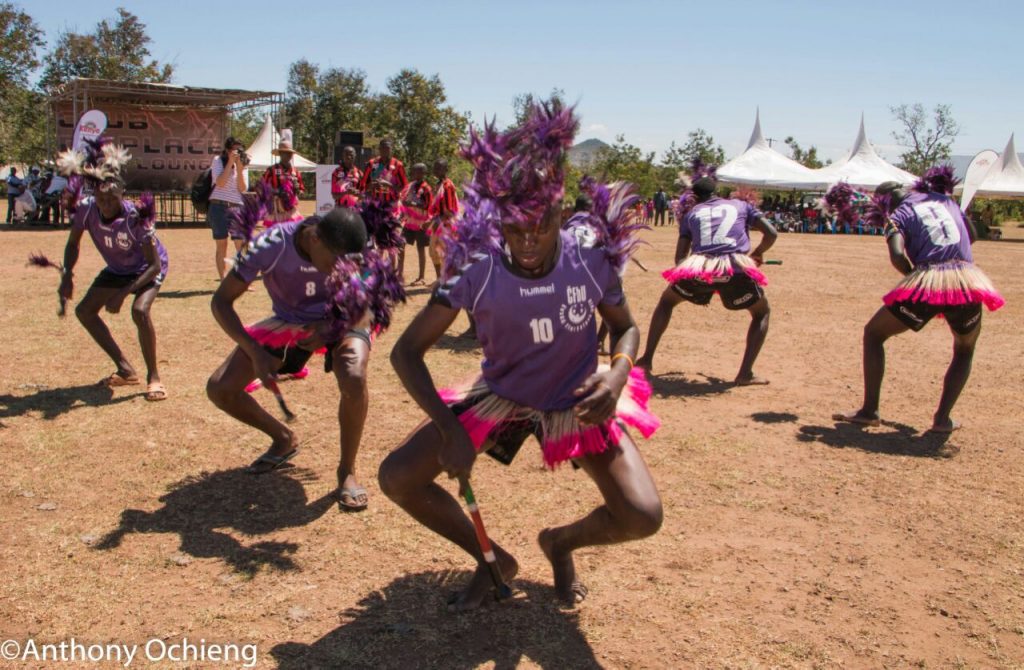 After a late lunch at the hotel we went to Ruma National Park which is a mix of woodland and savannah vegetation. The Ruma National Park was established in 1966 to protect the declining population of the rare Roan Antelope. We didn't manage to see any during our visit but we saw some Zebra and Obiri Antelopes.  On a good visit you can find Black Rhinos which were translocated here and the globally threatened Blue Shallow. There are many animals to be seen here including the Roan antelope, Leopards, Buffalos, Hyenas, Rothschild Giraffes, velvet monkeys, bush pigs, Impalas, and honey badgers. There are also 400 species of birds to be seen. Should I also mention that according to the KWS site Ruma has an exceptional snake population. At Ruma you can go bird watching, have team building activities, go on game drives, and go sightseeing. There are also two campsites the Nyati and Fig Tree. The park is not easily accessible so you would need to have your own transport there.
In the evening, we were supposed to have a briefing by the hotel management on what the cops had found out but they hadn't gotten any significant information so we didn't meet. We were told that management was dealing with the issue and that they would brief us though Anne even when we are in Nairobi. We are still waiting for management to get back to us and they said we give them until the 2nd of January which is today.
Although we were supposed to stay for the 3rd day of the festival and leave for Narok on the 24th, we decided to leave early and go straight to Nairobi. We did not manage to go to some of the attractions like the Tom Mboya Mausoleum and the Rock Art of Mfangano Island.  These  are a must visit when you go to Rusinga. We had lunch in Bomet at a place called Savanna bar and restaurant. If you are ever in Bomet check it out, the food is good and the service is excellent. The manager even came to talk to us and find out if we were satisfied with the food. Talk about great customer care.
Having lunch at Bomet with @potentash @bonnybonnita. On our way to Nairobi from #RusingaFest2016 pic.twitter.com/f4NF2uWUxC

— Fardosa Hussein (@fardee86) December 24, 2016
Check out the highlights of the trip in this @MagicalKenya tweet.
In the small Island of Rusinga, beauty lies. @EbosoAnne @theMagunga @Owaahh @bonnybonnita @potentash @CurateKE #TembeaKenya #WhyIloveKenya pic.twitter.com/xtDlN00AyU

— Kenya Tourism Board (@MagicalKenya) December 25, 2016
It was a great trip theft withstanding. Here are some tips on How To Minimize Your Chances Of Getting Robbed At Your Hotel. Also check out these important tips on 12 things to consider when choosing a hotel.  I had never been to Rusinga before and this was my first visit. It did not disappoint. The Rusinga Festival was a fantastic way to find out more about the Suba culture and also get to visit the attractions around the islands. I would recommend you check out the festival at the end of the year. I know I will definitely be there this year.
Save
Save
Save
Save