Users are more conscientious about the materials their phones are made of. There is a growing popularity in buying affordable phones with long-lasting materials so that they don't need to worry about constantly replacing parts. But users don't want to sacrifice the looks of their devices. In addition, people want materials that protect their devices and are durable.
People often have to buy heat, scratch, or impact-proof cases, but they aren't always perfect. Aesthetically pleasing cases may not be scratch-proof, and they still block users from seeing the unique design of a phone. They can also be bulky and often collect grime and dust, becoming easily discoloured and needing replacing soon.
As a result, TECNO has launched cutting-edge material to be used on the bodies of their best phones. In a video, 'Don't Stop Creating: Magic Skin for a Better Design,' TECNO announced the new Magic Skin technology. It will be in the African market for the CAMON, SPARK, and POP series. This guarantees that African users will have access to the latest global trends in smartphone design.
Magic Skin technology is a leading innovation in smartphone trends worldwide. The design promises to be fashionable, modern, and functional. TECNO has won countless awards for premium texture design, including the iF Design Award, MUSE Product Design Silver Award, CMF Design Gold Award, and the Sustainable Design Award.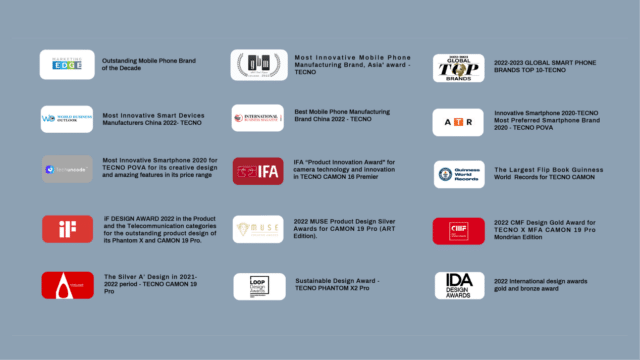 The Magic Skin from the "Don't Stop Creating" Spirit
TECNO has a stop-at-nothing brand spirit and uses this to create a design that is easy to clean and grip. The cover has a unique blend of polymers and micro-particles. It's practical and great-looking to appeal to modern and sophisticated phone users.
Magic Skin has a dense molecular structure that makes it resistant to stains. If you spill any coffee or lipstick, it can be wiped off without leaving any residue. It can also withstand temperatures of up to 70℃ and is water and abrasion-proof. Users can pull their phones in and out of their jeans pockets without worrying about scratches.
TECNO is committed to creating advanced technology that combines practicality and good looks. This will usher in a new era of utility and visuals, making the smartphone experience more enjoyable.
This cover design is frequently used in the interiors of high-end yachts and cars. The texture is also soft, making it less likely to irritate the skin when users hold their phones all day. The future is determined by how products are designed rather than just their base function. TECNO's "Stop At Nothing" philosophy has enabled success in delivering end products that push boundaries. The "Don't Stop Creating" mantra is a driving force in creating the Magic Skin.
In addition, Magic Skin proves the company's commitment to innovation and meeting new heights in design. It also harkens a journey where TECNO discovers new creative frontiers and pushes the envelope in innovative design. It also establishes the company as an industry trailblazer.
Check out
TECNO Joins The Foldable Phone Market With The PHANTOM V-Fold
Phone Review: The TECNO SPARK 10 Pro
The High End TECNO PHANTOM X2 Series Was Launched This Week. Here Is What You Need To Know