If you need a new smartphone but can't afford to buy one because of the cost, you can use the Safaricom Go Monthly device plan. Getting a phone is now easier and budget-friendly because you only need to make a deposit and then make small monthly payments for a set period.
During this time, your phone will be automatically on postpay until the payment period ends. The contract must be finished to finally choose if you want to move to prepaid or remain on postpay.
Eligibility
The PostPay device plans will be available to pre-scored customers based on their usage of Safaricom services. In addition, each customer will have 2-3 different options tailored to them.
To see which devices are available to you, dial *544# and select Go Monthly.
How To Access Safaricom Go Monthly Phones
Dial *544#, select Go Monthly
Select Best Deal then choose PostPay + Phone
You will receive device options
Select your preferred phone and payment plan
You will receive a prompt to enter your email for billing
After accepting the terms and conditions, you will receive a prompt to pay the deposit via M-Pesa
You will get a notification when your request is successful and advised which shop to collect your phone from.
Devices available on the Safaricom Go Monthly Plan
Some of the devices available include a Samsung Galaxy A23 with 64 GB internal memory. For only Ksh. 8,000 deposit and Sh5,000 monthly instalments over an 8-month repayment period. During this time you will get 1500 minutes, 25 GB, and 3000 SMS each month.
Affordable phones
The Samsung Galaxy A03 32GB is available at an initial deposit of Sh3,000 and then Sh2,500 a month after 12 months. You will get 400 minutes, 5GB of data, and 1000 SMS.
The Samsung Galaxy A13 for a downpayment of Sh6,000 with subsequent 12-month payments of Sh4,000 monthly. You will get 1000 minutes, 15GB of data, and 2000 SMS.
You can also get the Samsung Galaxy A53 5G for a downpayment of Sh16,000 and deposits of Sh8,000 monthly for 12 months. It comes with 2500 minutes, 45GB, and 5000 SMS.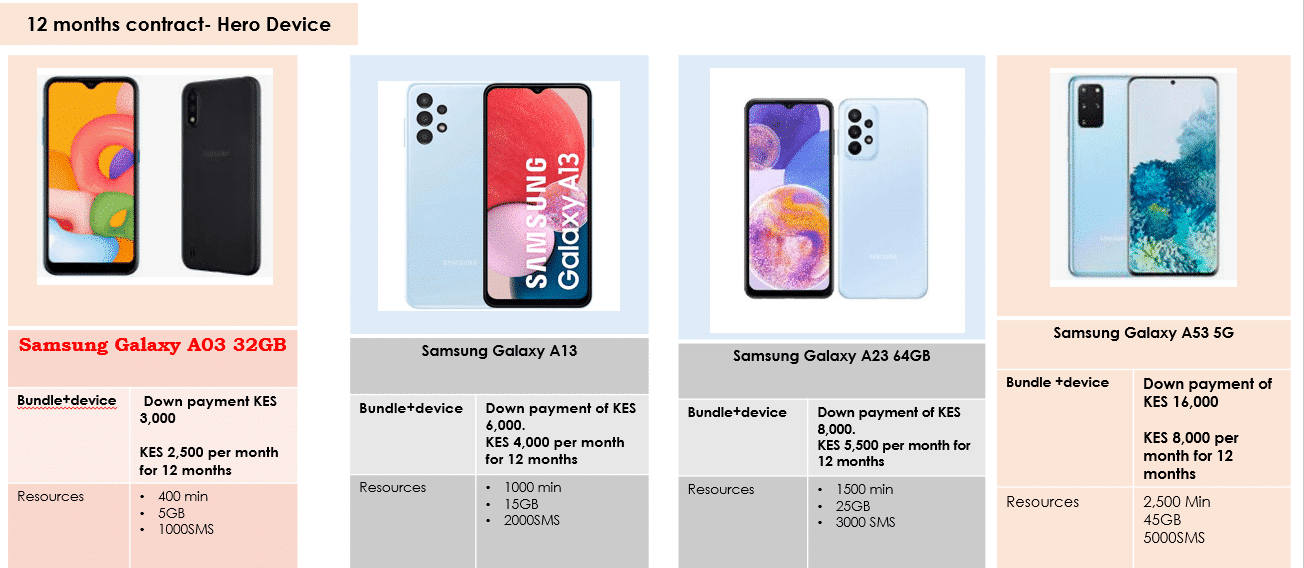 High-end phones
This flexible plan makes it easier to purchase a mid to high-tier smartphone. Higher-end devices like the Samsung Galaxy S23 require a deposit of Sh30,000 deposits of Sh10,000 for 24 months. You will receive 2500 minutes, 45 GB, and 5000 SMS.
Other high-tier phones include the Samsung Galaxy S23 Plus. The initial downpayment will be Sh40,000, and subsequent deposits of Sh10,500 for 24 months. It comes with 2500 minutes, 45GB, and 5000 SMS.
The Samsung Galaxy S23 Ultra is also available at a downpayment of Sh70,000 and instalments of Sh12,000 for 24 months. It comes with 2500 minutes, 45GB, and 5000 SMS.
In addition, you can get the Samsung Z4 Flip with a downpayment of Sh40,000 and instalments of Sh10,000 for 24 months. With this, you receive 2500 minutes, 45GB, and 5000 SMS.
And finally, you can also get the Samsung Z Fold 4. It has a downpayment of Sh100,000 and monthly payments of Sh13,000 for 24 months. You receive 2500 minutes, 45GB, and 5000 SMS.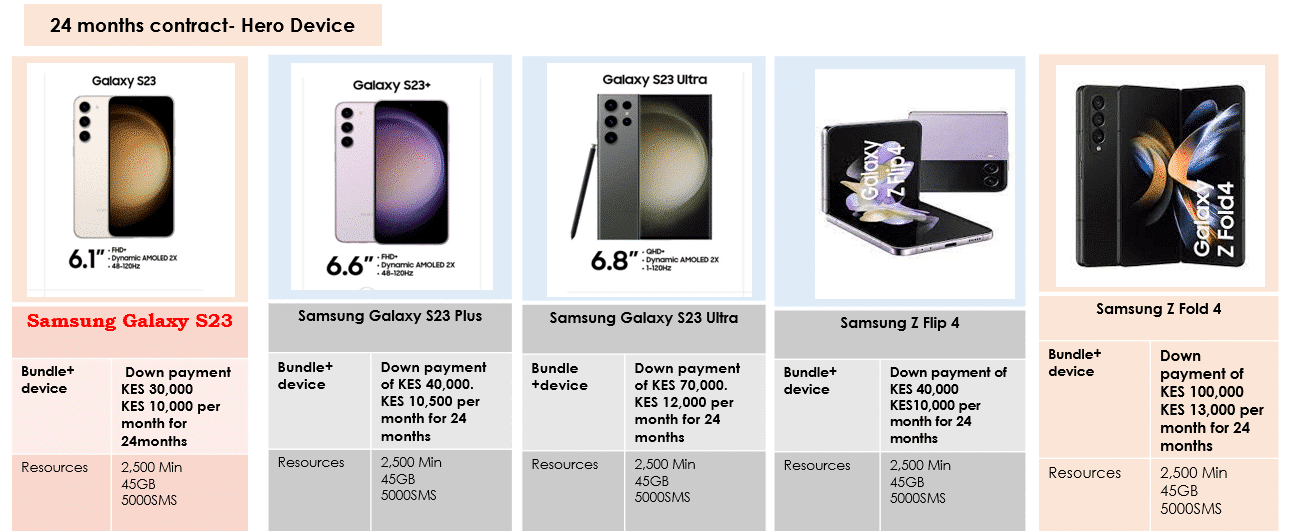 The monthly bill will be emailed every 3rd of the corresponding months. Each bill must be settled by the 16th to avoid disconnection from the PostPay tariff. The bundle will renew every first of the month.
The Safaricom Go Monthly tariffs will make your life easier. You can choose the one that best suits your lifestyle. If you have any questions check out the Safaricom Go Monthly FAQ page.
What else do you need to know about the plan?
The Safaricom postpay device plan makes it easier to afford a new cellphone if you need one urgently and can't afford to pay for one outright.
The device comes with postpay bundles of minutes, data, and SMSs that renew monthly during repayment. This helps you reduce connectivity costs. You can also use your credit limit or airtime to buy a new Postpay bundle when your resources deplete.
You will also be notified when your resources are almost depleted. For minutes, you will be notified when your balance is at 60 minutes and 2 minutes, and for data at 75MB and 2MB.
The SMS bundle can't be used for charged services like SKIZA tunes or roaming. You'll need to top up prepaid airtime or use Paybill 200200 and use your phone number as an account number.
Only data bundles can be shared with up to three phone numbers.
Check your balance by dialling *544*44# or *200#.
If you're unable to make payments, the device will be disconnected.
Check out