The common issue most people experience when it comes to sunscreens is getting one that doesn't form a white cast. But more than this, the hassle is often getting a sunscreen that doesn't clog your pores, trigger acne and one that feels weightless underneath your makeup.
These were some of the factors I was considering before I invested in a sunscreen. Additionally, I  wanted a product with SPF 50 and above, and one with a PA mark of ++++. As you can guess that is how I ended up taking a risk on a product I'd never heard of or used before, which is the Holika Holika Aloe Soothing Essence Sungel.
Product description
A waterproof sun gel containing aloe vera leaf extract from Jeju. It protects the skin from UVA and UVB and is to be applied to the face and body before exposure to UV.
Caution: For external use only. Keep out of reach of children. Do not use on hurt or irritated skin. Avoid contact with eyes.
Packaging
The Holika Holika Aloe Soothing Essence Sun Gel comes in a 100ml green tube that has a tight lid. The tube feels light in the hand and it is very convenient to have, especially for outdoors reapplication on a sunny/cloudy day. With how it is sealed you don't need to worry about it spilling. What you will love actually is the applicator, which allows you to squeeze out enough product without wasting.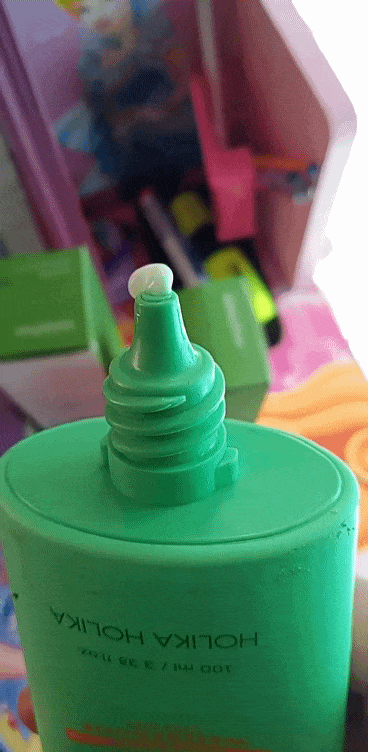 How to use
I usually apply the sunscreen at the last step of my skincare routine. In correct order of application, it follows after I have applied my moisturizer and eye cream. Aside from applying it on my face, I also use it on my body, especially on areas that will be exposed to the sun. A Breakdown Of My Korean 10 Step Skincare Routine
My experience
Did I mention that another factor which led me to buying this sunscreen was because it comes in a big tube? 100ml of sunscreen is quite a substantial amount if you compare the Holika Holika sun gel with other sunscreens on the market that have similar features. However, before we discuss the price point, I should tell you why I fell in love with this product.
For one, it is light on the skin and its part of the newly upgraded sunscreens that don't leave a white cast. Even though it has titanium dioxide the particles are so micro that they disappear seconds after application.
I won't tell you that I wasn't sceptical about it at first. This was mainly because I had been using somewhat a similar sunscreen that promised heaven but delivered a chalky matte feel that I hated. Add that experience to the fact that it was hard to wash off – because it was waterproof – I couldn't be any more sure that sunscreens were a  tough nut to crack. However, this experience led me to discover what to look for/consider before investing in sunscreens and what to avoid. The Benefits Of Sunscreen And How To Apply It Properly
I have to say the Holika Holika aloe soothing essence sun gel is one of a kind. If you're like me and you fancy a dewy glow on the skin rather than a matte feel then this would be the product to grab. It is soothing, calming and it blends seamlessly with your skincare and makeup. It is actually a very good base for your foundation and neither will you feel it on the skin even if you layer more products on top of it.
It doesn't trigger acne or clog pores which could be attributed to it being a gel rather than a cream or lotion. However, its worth to note that even though it is very tempting to opt for the Holika Holika Aloe soothing essence Sun Gel due to its lightweight texture, it may not be the ideal sunscreen of choice, if you have oily skin.
I will mention that ever since I started using the sun gel, I am confident of being protected from the harsh sun rays. I am no longer wary of sunburns, hyperpigmentation or uneven skin tone. This is whether I am out on a sunny day, or caught up in a time of day when the sun is scorching and there's no escape.
In case you're wondering, the Holika Holika aloe soothing essence sun gel has the scent of aloe.
What I liked
It's waterproof. This means it doesn't come off easily when you sweat to leave you unprotected.
It's lightweight.
Has a subtle scent.
Doesn't leave a white cast
Blends easily with foundation.
Leaves your skin glowing.
Ingredients
One of the best ingredients the Holika Holika aloe soothing sun gel has includes;
Salvia hispanica seed extract – Hydrates, moisturises and prevents premature skin ageing.
Centella Asiatica extract – Its an anti-inflammatory, anti-oxidant, anti-cellulite and anti-ageing active ingredient.
Houttuynia Cordata extract – A humectant that also serves as an antibacteria, anti-inflammatory and as a skin hydrant.
Anthemis Nobilis flower extract – Also known as Roman chamomile is good its soothing and anti-inflammatory properties.
1,2 hexanediol – A humectant that's known for its skin-plumping benefits.
Echium plantagineum seed oil – Has regenerating benefits and is hailed for its enhanced anti-microbial defense activity.
Sunflower seed oil – maintains the skin natural barrier
Avocado fruit extract – great moisturiser and skin hydrant. protects the skin from UV rays and against sun damage.
Calendula Officinalis flower extract – used for its antifungal, anti-inflammatory, antibacterial properties.
Cardiospermum Hailacabum flower/leaf/vine extract – Hails from the balloon plant and is good treating, inflammations and skin prone to eczema.
Aloe leaf extract – Treats sunburns, hydrates the skin and best for addressing mild acne.
In short, using the Holika Holika Aloe Soothing Essence Sun Gel is like applying flowers and all nature has to offer on your skin.
Pricing
For the price point of Ksh 1650, for a 100ml tube of sunscreen, I would say this was a steal. That is considering how effective it is. I wouldn't say it is the most affordable sunscreen, but its worth every penny for its quality and longevity.
I got mine from eBay, but you may check if it's available in outlets that specials in Asian skincare here in Kenya. Skinrepublik is a place to start or you can check at Kbeautykenya
Verdict
Sun protection: 5/5
Moisturing/glowing effect: 5/5
Packaging 5/5
Cost: 4/5
Would I recommend the Holika Holika Aloe Soothing Essence Sun Gel? Definitely and basically because it doesn't form a white cast on the skin. It is high in SPF and it protects against both UVA and UVB rays. Besides, you will enjoy months of worry-free with a big bottle of sunscreen instead of a mini one. Holika Holika Aloe Soothing Essence Sun Gel is the product I will be repurchasing once the gel I have is finished.
Check out 5 Ways You Are Making Your Sunscreen Less Effective Without Even Realizing It