Travelling is strenuous and utterly demanding. From the exorbitant airfare especially if you are travelling within Africa to the lengthy and completely unnecessary Visa processes it is important that we get it right and finally get to enjoy your trip.
Packing is an essential part of any trip and what to pack varies with the nature of the trip. Shorter trips demand less packing, unlike trips that might go on for a few weeks and additionally packing for domestic travel is not the same as packing for international travel.
Researching the place you are visiting is essential in ensuring that you pack as required for example the need for warm clothing in colder regions without forgetting appropriate attires for different travel reasons be it business or for pure leisure.
Travel documents, cash, and cash equivalents
Different destinations have different pre-requisite requirements, however, there is the bare minimum that cut across almost every other place you will visit. Most countries require that you have your Visa and through corresponding, with the involved embassies one can either get one online or by visiting an embassy.
In other countries, your Visa is on arrival e.g. Singapore (for Kenyans)  so research will help in clearing this up. A yellow fever card is a requirement and most importantly your Passport which serves as your identifier. Your national Identity card comes in handy in cases of emergencies not forgetting any relevant travel permits as might be required for different people. Travel Insurance cards come in handy as well as your printed itinerary and hotel reservation details.  Having photocopies of all these details is a life-saving tip to prepare for the worst-case scenario.
Credit/debit cards are required without forgetting to contact your bank and notify them of your travel plans lest you are stranded money-less in the middle of nowhere. Notably, if you are carrying Cash have it in US Dollars as it is easier to convert it into any other currency and remember to disclose amounts exceeding $10000 if in cash otherwise you might get arrested for money laundering.
These include your clothes, hair, shoes and beauty products, and the bags to use. Abiding by the luggage weight restrictions is important and therefore is in itself limiting which means packing only what you need whilst leaving space for purchases made while on the trip.
Remember to pack with the weather and occasion in mind. Experimenting with new products might be detrimental so pack your own of course abiding with the quantity requirements. Toiletries are included here and one can contact the hotel in advance to see what they provide in their room then you don't have to pack everything. Check out this ultimate packing list.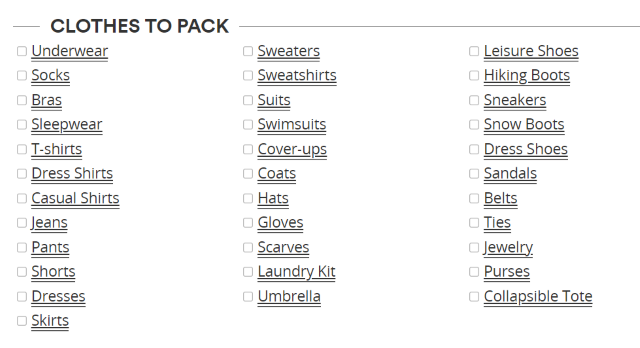 Your laptop, camera,  chargers (travel chargers), speakers, travel apps to aid in navigating, your phone, cables and even portable WiFi boosters gadgets if you are headed to places with problematic internet.
Some international flights are very long and might include long airport layovers. This means that you should carry a few magazines and/or book(s) to keep you company. Also, travel cushions come in handy for your neck and back. A water bottle is essential plus the eye masks not forgetting noise-cancelling headsets for your peace of mind. Travel: 5 Things You Should Have In Your Carry-On Bag
Travel requirements vary from one person to another but there are the mere basics that cut across for everyone. Travelling with kids or as a group brings forth new dynamics that need one to adjust as required but this checklist will provide a starting point for everyone.
Check out Travel: 5 Things To Consider When Choosing To Work Abroad and Tips To Help You Travel Lightweight On Your Next Trip
Travel: 17 Common Packing Mistakes That Could Ruin Your Holiday
7 Things To Prepare For When Moving Abroad
Travel: Awesome Packing Hacks That Will Make Your Life Easier