"Every day, you reinvent yourself. You're always in motion. But you decide every day: forward or backward." —James Altucher
"Reinventing," sounds like a really weighty word. As my friend put it, it sounds like the equivalent of jumping back into your mother's womb and popping back out again- I use the word 'pop' because somewhere in my very imaginative mind, I am hoping for a miracle that will make childbirth switch from 'hell-bound excruciating pain' to 'just popping out'. I digress. Reinventing oneself is basically changing yourself and your approach to life. Simply taking a step back and evaluating your life and deciding to change it for the better.
Most people reinvent themselves after big events in their life. It could be the loss of a job, going through a painful breakup or divorce or even after relocating to a new place. Truth is, you can reinvent yourself at any moment. Reinventing yourself allows you to take a step back and look at your life with fresh eyes, figuring out what is working and what is not and taking steps to become better.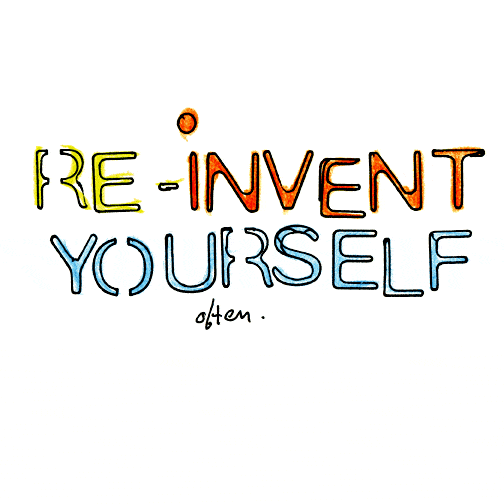 Know the why
Figuring out why you need to reinvent yourself is the first step of the process. This way, it becomes easier to map out the changes you want to make in your life. As I had stated before, people reinvent themselves after significant occurrences in their lives. However, reinvention is important even without those events. You could be feeling unhappy or unfulfilled at work, stuck in a slump or the things that make you happy cease to do so anymore.
According to the psychologist, Ravena Helson, human beings have ever-changing identities- they evolve into versions of themselves. Thus, they need to modify their identities as they go through life. So whatever reason you feel you need a change, identify it and start from there.
Plan
Once you have figured out why you need to reinvent yourself, you need to set goals and targets to help you transition to the person you want to be. The thing about reinventing yourself is that it allows you 'unbox yourself' so to speak. It allows you to extend your boundaries- explore ideas you would have otherwise thought too extreme before. Simply lay all your cards on the table.
For example, reinventing yourself after losing a job can make you rethink your career prospects. You may decide to venture out as an entrepreneur or jump into a whole new job sector. If so, you will need strategies, goals and targets to help you be the best version you can be.
Take Action
Do you know that book with those long lists of unaccomplished goals and targets? We have all had that list one time or the other. So you have decided the path you want to follow and set your goals- it is time to get to work.  It is often recommended that you break down the goals into small workable tasks. This way, you can easily accomplish these tasks one day at a time and ultimately get to your end goal.
Get Support
Just like most things in life, reinventing oneself alone can be tough. Have a support system. It can be your spouse, friend or even parent. Find someone who understands why you are doing what you are doing and wants to support you through it. Reinventing oneself is not a one-day or one-week event, it is a long process. It requires change which is not always easy and having a support system helps to keep you grounded and on track.
Additionally, strive to have visual reminders of your end goal. It can be reading inspirational books, listening to inspirational podcasts or just a small message on your phone-anything to remind and motivate you towards your goal.
Evaluate
This can be every day before you sleep, after a couple of months and even after a year. Look back at what steps you have taken to accomplish your end goal. This also acts as reminders. Human beings are forgetful creatures. Our brains are designed to forget, it is just how our bodies function. Having constant reminders is key to progressing in any journey. You will encounter resistance along the way as you reinvent yourself, either from yourself or from external influences. Honestly speaking, you may question why you are doing what you are doing in the first place- it is only human nature to do so. That is why it is important to keep evaluating yourself from time to time. This article Maybe You Just Need to Reinvent Yourself has some great pointers on how to start.
Generally, reinventing oneself requires commitment and resilience. It is choosing to stray from the path you had walked for a long time. It can be scary but if done the right way, it can be the best thing that has ever happened to you.
Vision Future: How To Stick To Your Goals In The Coming Year