Social media has rapidly evolved to remove barriers to enable more people to generate content. When it comes to video content, YouTube held a monopoly for long-form content and required investments such as cameras, microphones and editing software. But platforms like TikTok along with the affordable smartphone boom, have enabled content creation that doesn't require much effort except a phone. Safaricom has noticed this unique confluence and is now using the platform to gain more traction with its audience.
Safaricom joined TikTok in 2021 to cut the middleman when engaging with younger users of their products. The telecoms network currently has almost 52,000 followers and 235,000 likes. Users are able to engage with Safaricom more directly because TikTok removes an element of formality and makes it easier to build a rapport with consumers.
Why TikTok
Of all the apps that allow users to post videos, TikTok has the easiest algorithm to crack. It also has a very user-friendly interface. TikTok isn't as complicated as Instagram when getting engagement. Because of how TikTok's For You page works, it's easy to gather an audience.
How the TikTok algorithm works
The TikTok algorithm is a system that curates tailored content for every account holder based on their interests, geographic location and data mined from other apps. Every user gets different videos on their FYP. The TikTok recommendations page works differently because it rotates a variation of creators based on your likes, comments, search history and the people you follow. TikTok tries to keep out spammers, and tries to prevent gaming the system.
TikTok is also unique because it doesn't just use your user history. It also sees the sounds you've saved, hashtags, effects and trending topics you linger on. This way it doesn't recommend duplicated content, videos you've already seen, spam, or graphic content. In addition, it also promotes content that doesn't have a high engagement rate to give every video you could be interested in a chance to get your attention.
Why Safaricom's content is perfect for TikTok
Because TikTok is one of the most democratic platforms for content creators, it makes it rewarding for users to create content on the app. TikTok comes with inbuilt video and photo editing features. Inbuilt mobile phone editors such as CapCut also allow users to edit footage specifically to suit TikTok.
Safaricom's Corporate Communications Manager Vivienne Ethangatta noticed TikTok's versatility and how it's enabled Kenyans to be creative on the app. Opportunities that would have otherwise been out of reach for content creators who can't afford filming equipment. This capacity for creativity was also noted by the 2022 Reuters Institute Digital News Report. With an internet penetration rate of 85%, Kenya is one of the leading global users of TikTok. 43% of Kenyans of all ages use TikTok for entertainment while 16% use it for news consumption.
Safaricom is using TikTok's unique playful content aesthetic to get more engagement regarding their events and promotions. By using creative edits with catchy audio, their posts have a higher chance of reaching more eyeballs from non-followers on TikTok than any other platform. For instance, their sports and entertainment content has a growing viewership. From the Jazz festival to the Golf Tour.
@safaricomplc

Beautiful people at the BC International Jazz Festival.
The #ChapaDimba tournament is a youth-based sports event with periodic updates on TikTok where other young people interested in football can directly find the content. It allows more young people to gain awareness and potentially participate in upcoming events. The TikTok posts, which also have a personable host, create a sense of community where instead of a brand, it's a person communicating to viewers about the tournament.
@safaricomplc

In this new season of SafaricomChapaDimba, in a bid to improve players performance as well as opening up scouting opportunities, we have introduced the use of GPS Wearable Vest powered by AI, in partnership with IMG and Catapult #ChezaKamaWewe
Safaricom also partners with TikTok stars like Priscilla wa Imani to help promote the Gomoka Na Go Monthly promotion. In addition, it's worked with other TikTok influencers such as Ajib Gathoni, running campaigns parallel to global holidays like Mother's Day. In 2021, Safaricom collaborated with Wowzi, a creator commerce platform where premium users generated content for the telco. Incentivised users became micro-influencers for Safaricom and its products.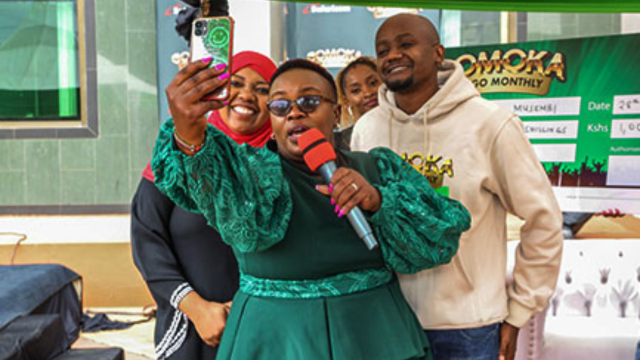 Baze
This is an all-in-one mobile-only entertainment platform launched by Safaricom in 2021. It's a subscription where users can watch short-form videos on demand from some of their favourite creators such as Flaqo. Collaborating with Gen Z TikTok sensations is Safaricom's way to encourage more people to subscribe to Baze. Other artists on the platform will get a 60% cut of the revenue while Safaricom takes a 40% cut.
To subscribe, users can dial *544*55# to subscribe and buy a bundle. Access to content costs Kes. 10 daily. Users can also pay Kes. 20 for daily Baze access and an extra 200MB of data. Users can also use the MySafaricom App to subscribe. Baze is in the Discover Tab.
Tiktok Bundle
Safaricom also launched the TikTok bundle in May 2023. Through this, users can pay as little as Kes. 10 to get 1GB of data valid for an hour of scrolling on TikTok. You can also pay an additional Kes. 10 for an extra 150MB for 24 hours. This is meant to target users who are live-streaming. 7 Tips For Beginners Who Would Like To Try Their Hand At Live Streaming
Check out:
Find Out Why The Safaricom Go Monthly Device Plans May Work For You
Safaricom's Go Monthly Plans: Here Is What You Need To Know
Safaricom Partners With Nairobi City County To Create The "My Nairobi App" That Will Digitise County Services
When Companies Invest In Young People Through Sports, Education And The Arts They Make A Difference In Communities – A Case Study Of Safaricom
Safaricom's Digital Transformation Has Changed How We Live And Work. Here Are Some Of The Ways The Company Has Made Kenyan Customers' Lives Easier
From Stairs To Ramps: Why I Find Tiktok To Be A Great Platform For Disabled People
Her Captivating Smile Captured Our Attention – Find Out More About Azziad The Kenyan Tiktok Creator