Artificial intelligence is becoming an easy solution for people who need art for their content. If you search online for a suitable image and can't get any that is perfect for what you're looking for, AI can help you. AI art generators are software that creates images from user text prompts. AI art can be as vague or detailed as you like. In addition, AI art can be great for branding, social media content, vision boarding, flyers or activation on a budget. Here are some free AI art tools.
Read also: The Rise Of Artificial Intelligence: Dangers, Benefits, Realities And Opportunities Of AI
1. Bing Image Creator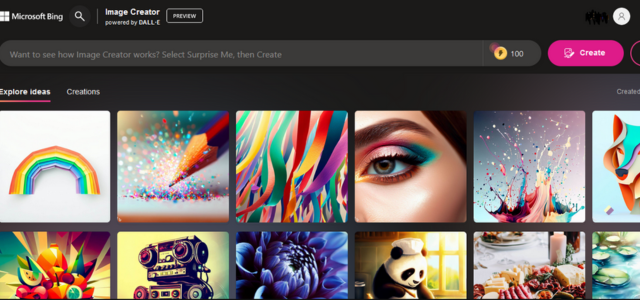 This is powered by the Microsoft search engine Bing. You can access it via the Bing chat option and the search engine. It releases four images per prompt. You must sign in with your Microsoft account to create your art. DALL-E powers the images. You can also use the Bing Chat option to send a request for the image you desire.
2. Nightcafe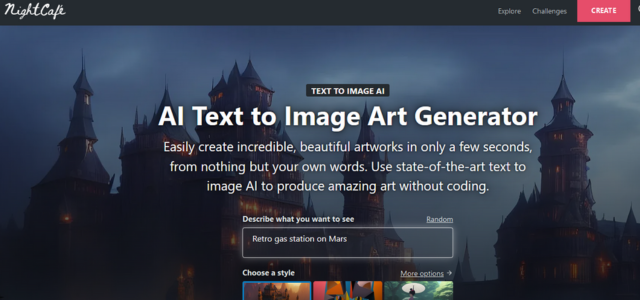 This is a web-based image generator that also has an app. After signing in, it prompts you to type a simple sentence and turns it into a painting. You can choose your preferred artistic style from cubism, steampunk, or Renaissance. The platform also allows you to choose which model to use, such as DALL-E or Stable Diffusion. However, it only generates one image.
3. Starry AI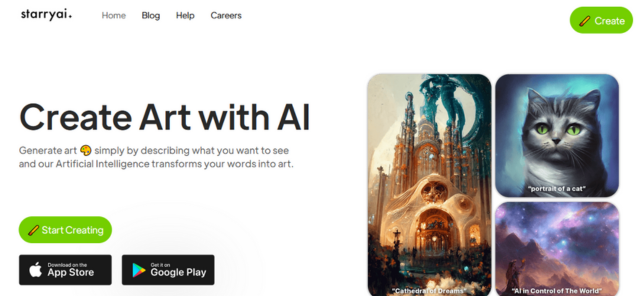 Starry AI is a web and mobile-based app that turns text into images. However, unlike other apps, it enables you to personalise the images. You can choose the image type, whether you want art or a photo. When generating art, you can choose the style, canvas size, and run time and add a starter image as a baseline. The same goes for photos, but you can't choose a specific style. You get five free credits, and every image you create consumes a credit. You can earn more credits by watching ads or sharing your images on social media. In-app purchases are also available.
4. Dream

WOMBO powers this AI image generator. You can access Dream via mobile and desktop apps and don't need to sign in. You can get one image with the free version and up to four with the paid version. It got first place in the Google Play Store 2022 awards for best app. You can choose different design styles such as abstract, fantastical, or ink.
5. Craiyon

Craiyon is an open-source AI. You can make free unlimited prompts on the website, and you get six images from each prompt. It does everything DALL-E 2 does with less precision. The quality isn't as high as DALL-E 2. However, you can tweak the images with unlimited prompts until you get the standard you want. It also allows you to add what you don't want in your images. There are no further enhancements offered within the website.
6. Pixray

Pixray is a text-to-art that you can run on a browser. Pixray has a simple interface with a customizable AI engine, and you can also add custom codes. Once you add your prompt, you can choose different AI renders from the drawer. Pixel generates pixel art, vqgan generates GAN images, and clipdraw generates stroke-based drawings. This AI also lets you change art styles, quality, or scale.
7. DeepAI

DeepAI is a user-friendly text-to-image generator. Some free styles include basic text-to-image, creatures, fantasy worlds, Renaissance, or abstract. Images are produced based on these styles. There is also a logo generator for brand names.
8. Picsart

Picsart is a smartphone app predominantly used for photo editing. However, you can also generate AI images in the free account. It's available for Android and iOS platforms.
9. Canva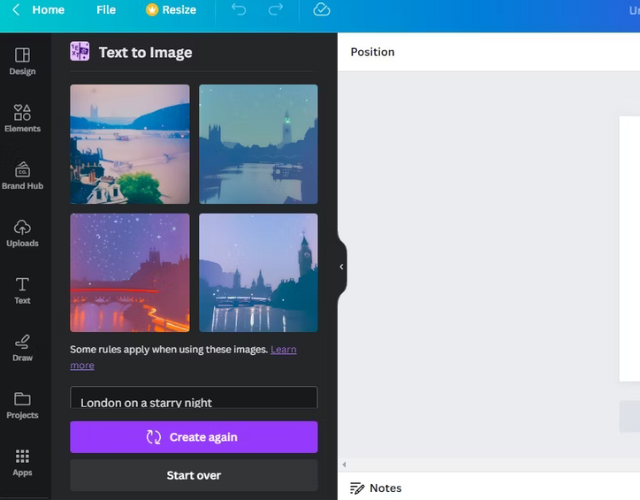 Canva is a popular graphic design website and mobile app. It's predominantly used for photo editing and creating designs. However, it also provides AI image generation for free. It has a premium version where all other features are unlocked for use.
10. Dezgo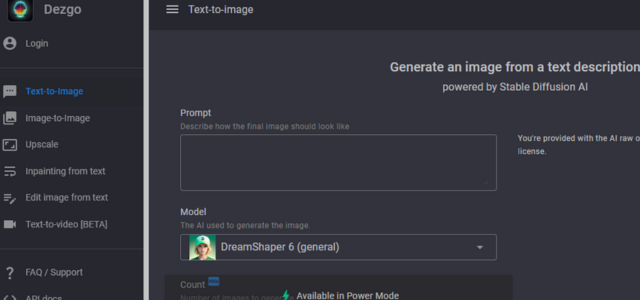 This powerful AI art generator can be a bit difficult to use at first. Dezgo is web-based and also has apps. After signing in, you can create art based on text prompts. The images generated look like paintings.
Which is the best AI image generator?
Many may argue that Bing image creator is the best free AI art generator. However, the best is determined by your needs and how much you're willing to spend. A business may need a paid AI art genetator service, such as Midjourney, which is more consistent in its output.
To have fun with AI art, Craiyon can be the most rewarding. If you design with your phone, you may opt for apps like Dream, Canva, or Picsart.
Some people oppose AI art because some AI platforms study existing art to generate images, and the original artist isn't credited or paid. In addition, there is a lot of debate as to whether AI-generated art can be protected under copyright. Some people also think AI art can push graphic designers and artists from jobs, but others argue that AI can't replace human artists. AI can never be as specific and emotional as human art. But sometimes, you're an individual who doesn't have the budget for an artist, and AI can help you meet your goals.
Check out:
Technology: Ways In Which Artificial Intelligence Is Reshaping The Travel Industry
Is There A New Online Doctor In Town? Why ChatGPT Self-Diagnosis Will Become Popular
The Rise Of Artificial Intelligence: Dangers, Benefits, Realities And Opportunities Of AI