Fashion has evolved over the years bringing in new styles, new wear, and even new looks to try. There is always something for everyone in the fashion world and that has made people even more expressive through their sense of style. The last few years have seen too many new upcoming looks and ways to wear outfits that we didn't think of before. What we would deem unfashionable in previous years has been worn to red carpets and high profile events by the trendsetters of fashion. From streetwear looks by celebrities to red carpet statements to premier looks, we have been endowed with plenty of fashion inspiration to incorporate into our everyday looks. What are some trends that have caught on in 2018?
Off-shoulder Denim Jackets.
I am not afraid to say that I am obsessed with the off-shoulder looks, be it tops, shirts, jackets, I absolutely love. The look has a way of accentuating your chest and makes you look feminine by the show of a little shoulder. It's safe to say that having seen Kim Kardashian and Rihanna rock these looks it is definitely fashion approved.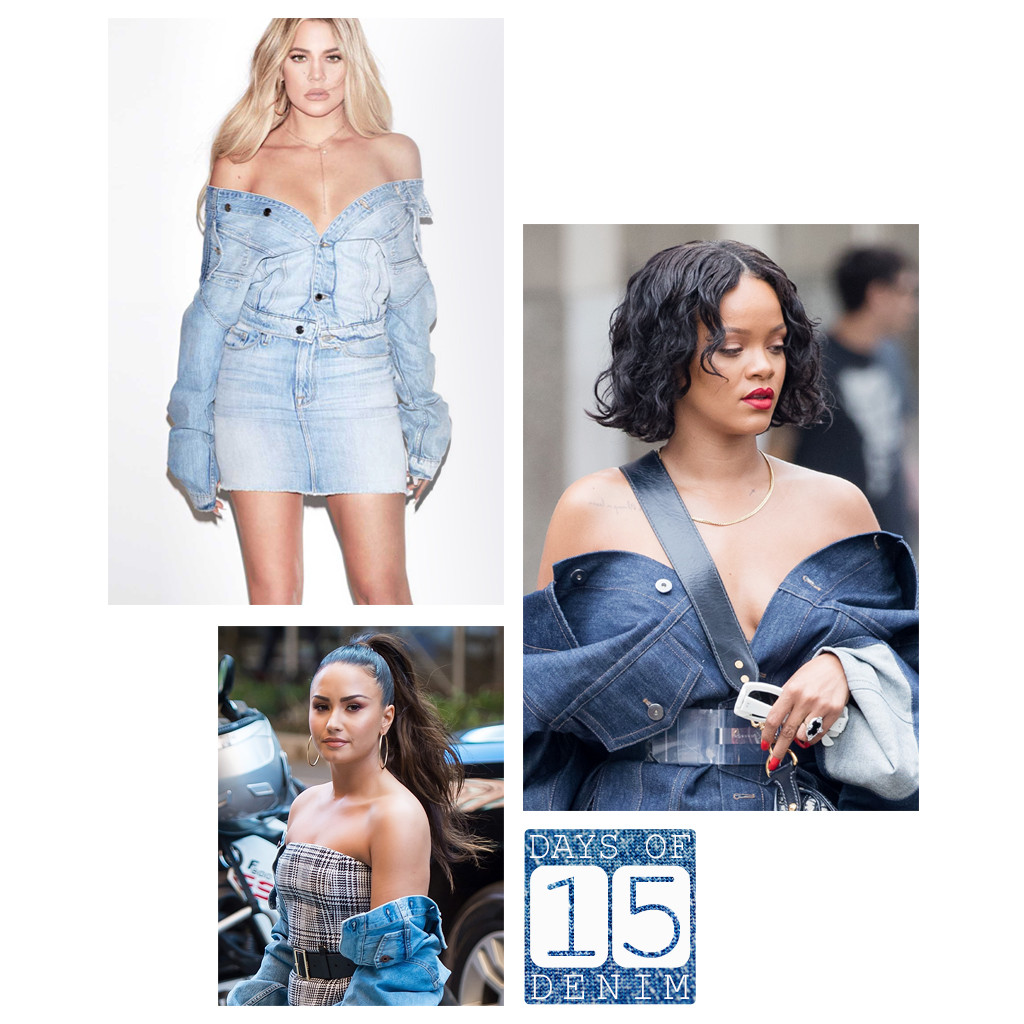 Denim jackets have been worn in different styles in the past, but if you want to look fashion forward I suggest letting it hang a little off your shoulders to create a look of half wearing it half taking it off. This is sure to make your look go from a 7 to a 9. I mean this because I've tried wearing the same outfit off-shoulder and fully wearing the jacket and somehow the latter looked better. Have a variety of denim jackets, ranging from denim bomber jackets to the casual oversize denim, you can never have enough denim jackets. Varying the colours is also great from faded denim to deep blues and even blacks.
For an event, a casual date, a lunch out with friends, pop on a denim jacket over your outfit, wear it off-shoulder and that adds the final touch to your outfit. I know the main concern may be why wear a jacket if you're wearing it off-shoulder, believe me when I say once you see how the off-shoulder look transforms your outfits you will never question it again. Plus in this weather, you won't freeze as you cover up your arms from the elements.
Thigh high boots.
Yes, this has been all the rave these past few months with people trying out thigh-high denim, leather boots, and the fabric thigh highs. This has caught on not only for how amazing they look but also for the outfit variety they have. They can be worn with dresses, skirts, jeans and even oversize shirts. They are perfect for work, school, dates, events, you name it. I have some genuine love for boots and once these new trends started coming up I knew this was the universe blessing us.
For a night out in a mini, shorts or shirt dress thigh high boots work perfect and they not only keep your legs warm but they also make a fashion statement and have you standing out. For work, get some black boots over jeans and a chiffon top to complete the look. Date night, pop on a mini skater skirt and some thigh-high boots to make you look fierce and adorable. They literally work with anything.
High waist mom jeans.
We all recall the time former US President Obama was called out for supposedly wearing mom jeans, who knew the look would catch on. Mom jeans have a casual feel to them and look great on most body types. Get them high-waist and that's a done deal, you are ready to slay. High-waist mom jeans tend to cinch in the waist and elongate the legs. They are great for a casual look, for events, meeting friends and just hanging around. Get an off-shoulder crop, pair it with some high-waist mom jeans, fold the bottoms and add on some vans to complete the look.
These jeans also work perfect for work, pair it with a blouse and some stilettos and you're ready to boss up. You can never go wrong with the look and it makes you take a break from those tight jeans you have to squeeze into every time.
Try these fashion looks to transform your daily outfits. The best thing about them is they can be paired with other outfits to create new looks and switch up your style.
You can change your look based on your accessories.  Ageless Fashion: You'll Never Go Wrong With These Accessories
Featured image via http://www.shiekhshoesblog.com/