Saving is that one thing that we all know the importance of, yet very few of us do. The household saving rate and the personal savings in Kenya are both at less than 15%. One of the tools that measure the savings culture of a country is the Gross Domestic Savings. This is defined as GDP minus final consumption expenditure. It is expressed as a percentage of GDP. Kenya's Gross Domestic Savings is at 11%. The World's is at 25%. More disturbing is that Kenya's GDS was at 25% 30 years ago. During the same period, countries such as Sri Lanka and Seychelles have seen their GDS go up from 6% and -6% respectively to 29% and 16%. Bottom line is that, not only are we not saving but every year, we are saving less than the previous year.
As a country, this needs to change. There are various reasons why everyone should be saving. The most important is for a rainy day. We never know about tomorrow. You may be having a good job, paying good money, then the job is lost for one reason or another (retrenchment, fired, retirement etc). We all know how job searching is hard. Unfortunately, bills tend to be oblivious to the fact that you are no longer employed. Before getting the next job, you will have to survive somehow.
Another reason to save is for a milestone. Maybe you want that house or that holiday, or you want to save up capital to start your own business. More often than not, our income may not allow us to do these things. If for example, you earn Kshs. 100,000 and are planning a holiday of Kshs. 100,000. Your best bet is that in December, you will get a bonus of Kshs. 100,000. Alternatively, you can spend your entire December salary on the holiday then come January, be in problems. The ideal situation would be putting aside slightly more than Kshs. 8,000 every month so that by the end of the year, you have your Kshs. 100,000.
Whatever the reason, saving is important and not difficult. It is recommended that you save at least 10% of your income for a rainy day. If you are saving for a holiday or other goal, that should be a different kitty. Here are some of the tools that can help you in saving.
52 Week Challenge
The aim of this challenge is to save money from your regular expenditure. You can read more about the challenge on Rookie's blog here. The challenge is that you save Kshs. 50 for the first week and every week thereafter, you increase your savings by Kshs. 50. There is another one for Ksh. 100 as well. I had seen another challenge which begins with USD 1. The amount is not the issue. The main thing is that you save.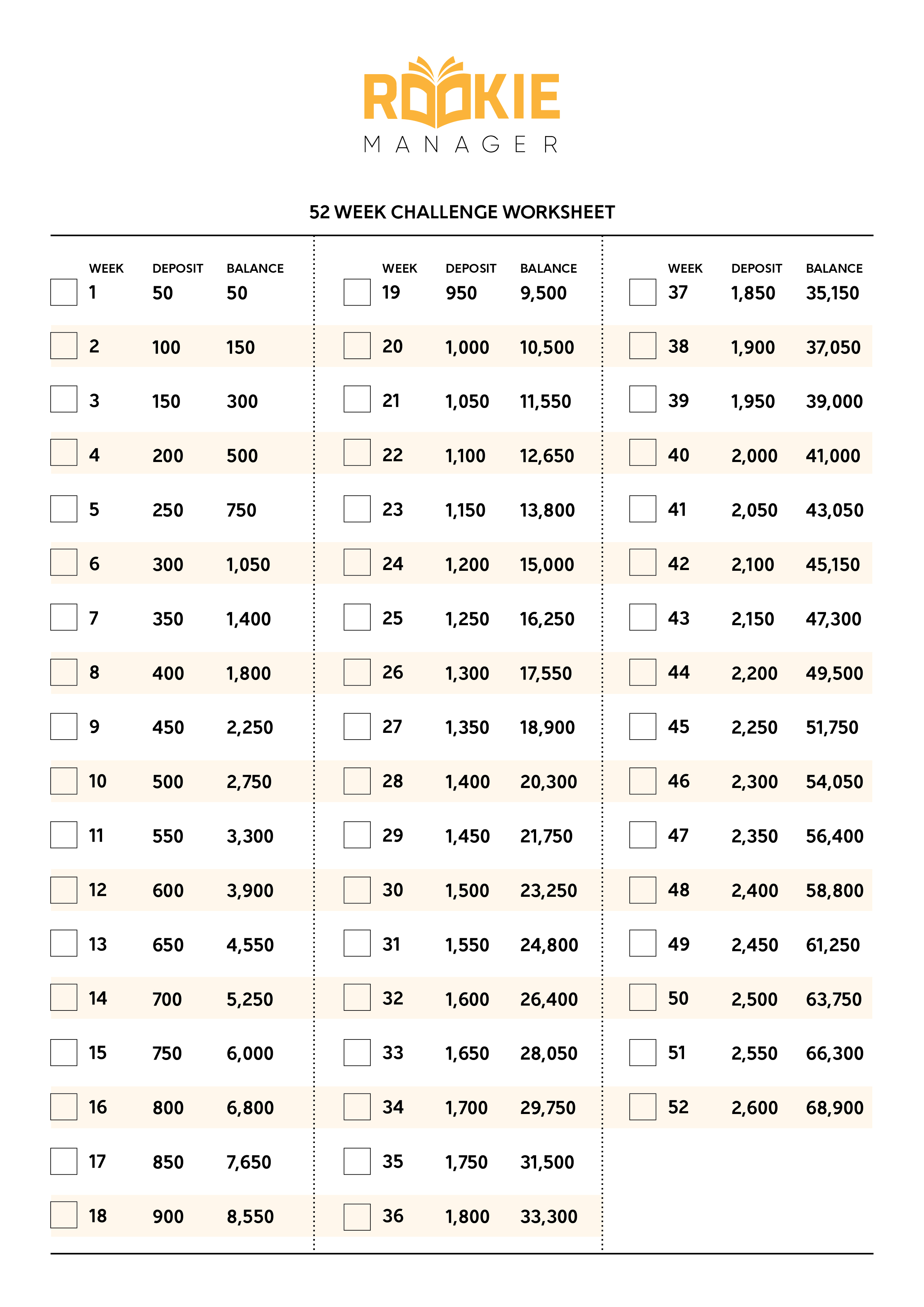 Obviously, we are not all alike. Our financial muscles are different. If you cannot afford Kshs. 50, do your own challenge of Kshs. 20 or whatever amount you are comfortable with. Starting with Kshs. 10 on week one enables you to save over Kshs. 13,000 by the year-end. If you can afford to start with more than Kshs. 50, please do.
I have created a spreadsheet in which you can change the amount you start with and see how much you will end up with at the end of the year. There is also a column that has an interest element since Rookie recommended that you lock up your money on M-Shwari which comes with an interest of 7% per year. You can also play around with the interest percentage depending on where you will be saving your money. If you want to save a certain amount, for example, if your holiday will cost you say Kshs. 100,000, you can play around with the starting amount to see how much you will start with. For Kshs. 100,000, which is about Kshs. 75.
Those in Chamas can use this challenge as a way of making more contributions towards their goals this year. A chama of 20 people, each starting with Kshs. 50 each should have over 1.3 Million by the time the year ends. Factoring a conservative interest of 7% makes the total amount exceed 1.4 Million. Not bad.
Personal Finance: 52 Week Money Challenge Tips For Saving Success
M-Shwari Lock Savings Account
This is a savings account that enables M-Shwari customers to save for a defined purpose and for a specified amount of time. You can save a minimum target of Kshs. 500 for up to six months.
However, the minimum amount you can deposit is Kshs. 1. The money is locked until the maturity period- that you had defined – when it is transferred to your M-Shwari Account. This is good, especially for discipline. The money also earns an interest of 7% per year calculated daily and paid out monthly. You can find out more about M-Shwari here.
Mobile and Web Applications
There are various applications that can help you save money. Most of them are from the US and therefore tailored to their needs. That does not mean we cannot use them before we get the ones that are tailor-made for us. The most common that I can recommend that are free include LearnVest and Level Money. While you are at it, you can also check out the 52-Week Challenge App on Play Store.
Technology: 5 Financial Apps You Should Have
Banks Savings Accounts
I am normally not a fan of Bank Savings Accounts, but now that they have to give relatively good interests, you can have a look at them. Most banks offer savings accounts whereby the withdrawals are limited and interest is better than in current accounts. For salaried people, you can set up a standing order from your salary account to your savings account once your salary hits the account so that you never get to see the money in your account. A disclaimer, go for banks that cannot collapse. It is so painful to save money then the bank collapses with your money.
Finance: What To Consider When Choosing A Long Term Savings Account
SACCOs/ Chamas
Contributing to a Chama or a SACCO can be a great way of saving money. Most SACCOs and some Chamas invest the money on behalf of the members. This means the money earns interest. You can also get soft loans in case of an emergency. The interest charged on these loans is low compared to bank loans.
SACCOs also provide easy ways for members to get other types of investments such as property. What you should be careful of here is the duration it takes to access your money. Most will require you to give a notice of at least 30 days for you to access your money. Finances: 10 Pros And Cons Of Joining A Sacco
Whatever reason you have for saving, whatever tool you decide to use, make sure you save.
Do you have a chama where you are saving? Find out how you can take your chama to the next level – Investments: What Chamas Should Do To Attain Their Goals 
Personal Finance: Practical Steps To Get Out Of Debt
Finances: 5 Seemingly Small Yet Avoidable Payments And Fees That Are Costing You
Finances: The 7 Money Personalities You Should Know About
6 Financial Goals That You Should Work Towards