The first time I came across the phrase, "Nai Ni Who?" on billboards along Haile Selassie Avenue, that would be about three years ago, I wondered for a moment what that was before I refocused my attention back to my phone. I have problems with language. If it is not proper English or proper Kiswahili, I may not understand it because sometimes I begin to think too much about the hidden meanings and I miss out on the soft, obvious things. A few days after seeing the billboards, I went to Alliance Francaise to see what was on exhibition during one of those lazy campus afternoons. Once again, I saw that "Nai Ni Who?" thing. It was an art exhibition about who and what makes up Nairobi. Then I understood; Nai Ni Who? was, to write in long-form, simply, "Who is Nairobi".
The more I went around the portraits and read what was written, the more I realised that, indeed, I might not have as much knowledge or awareness about Nairobi as I like to think that I have. Just so I am sure that I am not leaving anyone behind, Nai Ni Who? is an annual festival that happens during the months of July and August and it looks at all the various people, cultures and activities that condense to form what is then known as the city of Nairobi. These festival takes place around various neighborhoods in Nairobi while placing emphasis on the fact that, every hood has a unique aspect about it which, when brought together with aspects of other places, form the comprehensive identity of Nairobi.
Nai Ni Who?, which is one of the programs run by The GoDown Arts Centre in Nairobi invites all Nairobians to conversations, activities both online and physically to engage and discuss what really the capital city of Kenya is.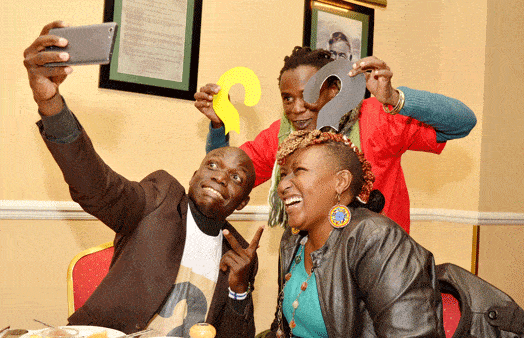 But do such events have importance? Is this something you should leave your day job for a day or sacrifice your weekend for?
I think so and here is why:
Boosts your knowledge about the city you live in
Trust me, there is more to Nairobi than the Langata road which you use every day. You know the way we are told to travel around and discover new things? Well, adventure does not always have to be this thing that happens extremely far away from where you live ati now you must use an aeroplane or a very long road trip to experience an adventure. You need to start moving around to discover what this Westlands really is. Now, with events like Nai Ni Who?; attending them and interacting with people from different parts of Nairobi, you get a free information guide around your city and you don't have to second guess about where you are likely to go and experience the kind of fun that makes you tick. In other words, Nai Ni Who? festival affords one the opportunity to widen their scope.
I had a conversation with a new friend I made less than a day ago and she told me that she is looking for someone to help her develop an app that can act like a database for all clubs in Nairobi because she felt that, "people basically party at the same place every day. They need a place where they can easily learn about new joints that could equally suit them."
Yes, one of the ways to ensure that you do not party at the same joint every Friday is to engage the services of a festival such as Nai Ni Who?
2. Boosts tourism—both local and international
Nai Ni Who? is sort of a brand activation… this simply means getting people hyped about something by the use of mainstream media, social me media platforms and even word of mouth. In this scenario, Nairobi is the brand and the activation is being handled by the festivaliers. By having conversations around, Nairobi and what its people do and the cultures that define them, the festival helps the Ministry of Tourism. This happens because this festival plays the role of starting up/opening certain areas that might not have been known prior but which are of very great relevance for some people.
3. An outlet source of the artists and massive young talents
How many times have you heard that sentence said; that there is massive talent in Kenya? Personally, I cannot count. Now, when I think about the numerous hands and talents that the festival is going to make use of in the form of visual arts, performing arts, song/dance and so on, I begin to realise just how indispensable this festival is. The festival also attracts participation from different parts of the world and if you are a good festival-goer, then you are likely to return home with other networks – people you can learn from and learn with and you can also have your eyes open to the numerous opportunities that lie beyond what you originally thought.
4. Boosting the pride of Nairobians
Is it just me who gets an adrenaline rush each time Kenya is mentioned in the international media for something good? University of Minnesota, community features notes that experts agree that hometown pride is a critical factor in the development and improvement of any community. And this pride, the article further argues, is promoted by celebrating things that make a town special and evoke good feelings among its residents. This – the pride of Nairobi—informs a large part of what Nai Ni Who? is about and this, therefore, underscores the importance of the festival.