Having your finances organised is an important part of being a responsible adult. However, getting your finances prepared in the event of your death is important. It can also be difficult to broach the subject with our older loved ones or those battling chronic illnesses. When people die, one of the most difficult parts of packing their lives away is ironing out their finances.
Financial activist Dasha on Twitter posted about why it's important to organise your finances to ease the burden for your children.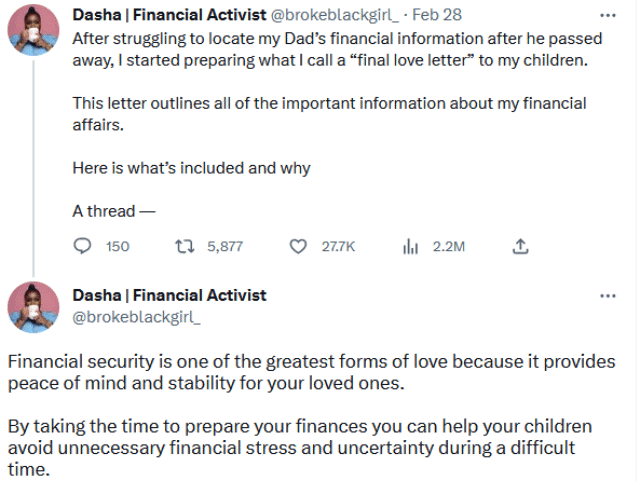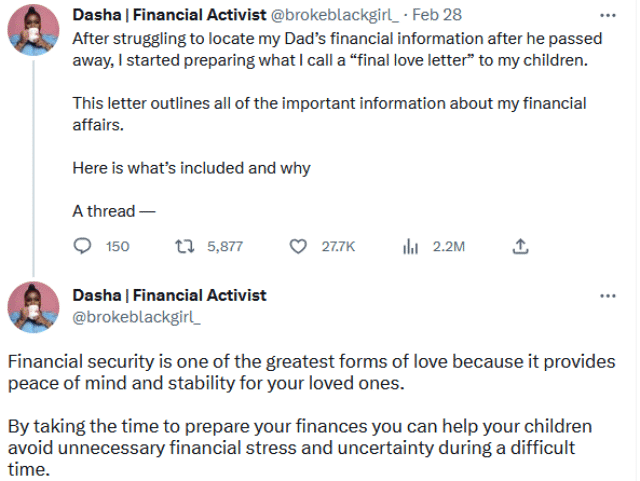 Why it's important to get your affairs in order before death

Let your loved ones know where to find your financial information. Using a planner to write down everything you own and owe will make it easier for your family to better plan what to do after you die.
This also reduces the risk of conflict between family members. Making them aware of your finances provides clarity and doesn't leave room for accusations. This reduces the added stress that could come with disagreements about the finances about the deceased.
Steps to organise your finances before your death
1. Keep an organiser
Invest in a binder or folder that lists every account that you have. Include insurance declarations, financial statements, pensions, tax returns, and other official documents. If you have a post office box, add details about where the key can be found. Keep this binder somewhere that can be accessed by your next of kin. It should also have your passwords to different online accounts.
2. Get a will
A will is an important part of estate planning. It is a legal document that outlines an individual's wishes for how their property and assets will be distributed after death. In the will, you choose someone to carry out your instructions, an executor. The will is authenticated by going through probate.
Dying without a will puts your will in intestate. In the event of this, the court tallies up your assets, pays all your debts and distributes the remainder using a formula. In Kenya, a will only needs the testator (you) and two witnesses. An oral will is valid if made three months before the death.
3. Life insurance
This insurance policy guarantees the insurer pays a sum of money to named beneficiaries in the event of the policyholder's death. The policyholder pays premiums during their lifetime, and the beneficiaries receive a lump sum after the holder's death. Some insurance companies also offer a payout when the holder achieves a certain age.
4. Estate planning
Aside from creating a will, estate planning also outlines how you want your estates managed after death. This leaves instructions on what to do after you die or become incapacitated.
5. Guardianship
If you have children, ensure you declare guardianship for whom you want to watch them after you pass. Ensure you converse with the relatives or friends you have singled out to take over these duties. Get their consent and adequately prepare them to watch your children.
A guardianship agreement is given by parents or by order of the court. The parent, appointed guardian, and two witnesses sign the agreement. In it, parents also outline how funds will be disbursed for their children until they come of adult age. Most notably, guardianship is different from custody. Custody refers to ownership of the child. Anyone with child custody has guardianship, but guardians don't necessarily have custody.
Guardians can run a child's estate until they're legally adults or until an age specified by the will.
6. Power of Attorney
Giving a trusted person Power of Attorney authorises them to act on your behalf. They will make decisions for you over your estate and medical decisions. The attorney can have limited or absolute power. The duty remains when the principal falls ill, becomes disabled, or cannot act personally. Approaching someone to give them power of attorney is an important decision.
The principal, the POA, and a witness sign the documents. A court can revoke the power of attorney agreement in the event of the death of the principal. It can also be suspended if the POA was a spouse divorced by the principal. Powers of Attorney (POA) must be stamped (payment of stamp duty) and registered in Kenya in the Register of Powers of Attorney under the Registration of Documents Act.
In addition, a company can also act as POA. If a company has issued the POA, a copy of the company's Memorandum and Articles of Association and a company resolution authorizing the POA must be presented before a court.
7. Letter of Instruction
A Letter of Instruction is an informal document that provides extra instructions that aren't included in your will. It clarifies your wishes and makes things easier for your family.
Check out:
Drafting Your Will: 8 Steps You Must Follow To Avoid Any Hassles
The Importance Of Your Next Of Kin Knowing About Your Wealth And Investments
Finances: Here Are The Steps You Need To Take To Inherit M-PESA Money As The Next Of Kin
Dealing With 'Black Tax' Part 2: Building Generational Wealth To Break The Black Tax Cycle
Six Reasons Why You Should Consider Getting A Cancer Insurance Cover
Does Your Family Meet Or Have They Become Sworn Enemies Because Of Land Issues? 16 Interesting Responses By Kenyans About Family And Land Issues
Difficult But Critical Conversations To Have With Your Ageing Parents