Did you know that you can use sodas like Coca-Cola and soda water to cook? Coke is an excellent marinade to make your meat tender and also give your meat a sweet taste.
I teamed up with Celebrity Chef Vergie Gordon Gichuki (and who just happens to be my auntie) to try out some delicious Coca-Cola recipes. Here are some Coca-Cola recipes to try out this Christmas.
You will need some fresh ingredients.
Coca-Cola Chili Lime Chicken
Coca-Cola Chili Lime Chicken – This is an easy chicken marinade that is a little sweet and a little spicy and so good. The chicken is marinated in Coke, soy sauce, garlic, smoked paprika and lime juice. Let the chicken marinate for as long as possible.
Ingredients
I bottle Coca-Cola soda – 500 ml
3 Tbsp soy sauce
4 Tbsp garlic minced with ginger
1½ Tbsp lime juice
Some smoked paprika
Pepper
Salt
Some chilli flakes
Rosemary
A full chicken or chicken breasts
Instructions
Whisk together some Coca-Cola with all the other ingredients.
Place chicken in a Ziplock bag or a container. Pour marinade over chicken, spread it all over and refrigerate a few hours to overnight.
Put the chicken in a pot and roast it. Or cook it covered with some carrots as we did.
Mix the rest of the coke with the rest of the marinade.
Pour this mixture on the chicken as it roasts.
Add some rosemary. You can also add some coriander or parsley if you prefer.
Serve the chicken as is.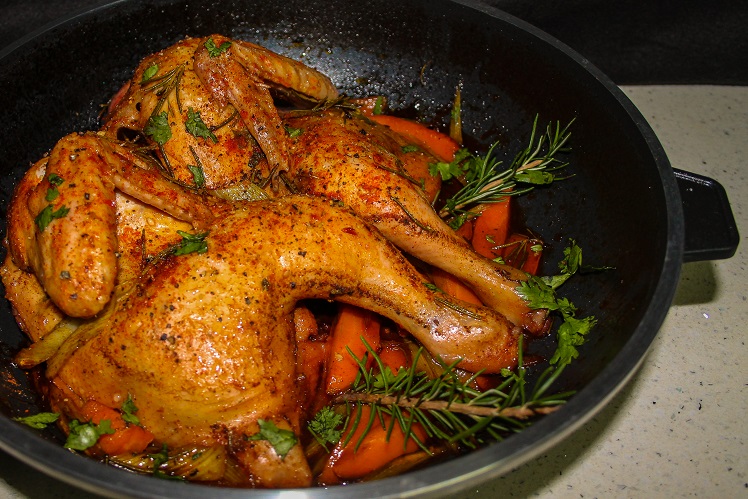 You can also cut up the chicken pieces and return them to the pan to fry for another 10 minutes adding some coriander and rosemary.
Alternatively, if you have a two-sided pan and you have chicken breasts or tenders, you can pan-sear for 3-4 minutes on either side.  Then grill for around 15 minutes adding add some coriander and rosemary for flavour. Keep pouring some more Coke over it for more flavour.
Braised Coca-Cola Ossobuco 
Ingredients
2 teaspoons salt
1 1/2 teaspoons freshly ground black pepper
1 kg of Famers Choice Ossobuco (you can also use any fresh-cut ossobuco from your butcher)
2 tablespoons olive oil
6 medium garlic cloves, peeled and smashed
1 large onion, small dice
2 cups Coca Cola
2 tablespoons soy sauce
Parsley
Celery
Balsamic Vinegar
Tomato paste
3 carrots
Instructions
Combine the salt, black pepper, balsamic vinegar, soy sauce, and olive oil. Evenly rub the spice mix on all sides of the ribs then set aside.
Heat the oil in a saucepan over medium heat until shimmering. Working in batches, add Ossobuco pieces to cover the bottom of the pan without crowding them. Sear and turn them occasionally until the ossobuco is browned on all sides. This will take about 6 minutes. Transfer these pieces to a plate and repeat the same with the remaining meat.
Add the garlic and onion. Let it cook for about four minutes until softened. Add some Coca Cola to make a sauce.
Return the Ossobuco to the saucepan, turn to coat them in the sauce. Add the tomato paste and let it cook for around 15 minutes covered on high heat.
Cut some carrots and celery and add them to the sauce. Cook for another 15 minutes on medium heat. Add some more Coke to the sauce. Simmer until tender.
Add the parley and cook for another 5 minutes.
Serve with rice or ugali.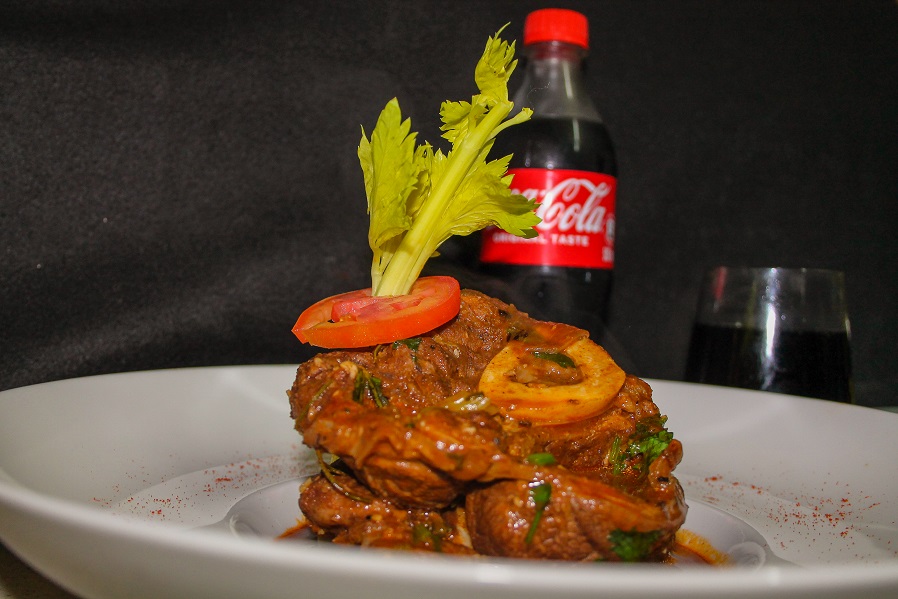 Precautions
View this post on Instagram
Don't thaw raw beef on a counter or cutting board because it takes longer to thaw than most meats meaning that it is susceptible to bacteria growth. It takes about 24 hours for a smaller cut of beef and more than a few days for larger pieces. Thaw it in the fridge. If you don't have time, you can thaw it in a bowl of lukewarm water.
Beef Burgers With Coca Cola
Ingredients
1 small Coca-Cola bottle
6 tablespoons French salad dressing
2 teaspoon salt
Some black pepper
6 ground beef hamburger patties (we used Farmers Choice patties)
6 hamburger buns, split
Toppings: Lettuce leaves, sliced tomato, sliced red onion, and sliced cheddar cheese.
Directions
Preheat a grill to high heat. When the grill is hot, lightly oil the grill.
In a small bowl, combine Coke, salt, salad dressing, and pepper, and set aside.
Grill burgers, covered, over medium heat for 3 minutes on each side. Brush with cola mixture. Continue grilling to the desired doneness, 6-8 minutes, brushing and turning occasionally. Remove this and toast the cut buns.
Return the burgers to the grill and add the cheese to melt. If you are using a two-sided grill pan as we did, close the lid for a couple of minutes to give the cheese time to melt.
Serve on buns. Put the toppings as desired.
Coca-Cola Sausage Recipe
These appetizers are perfect finger food for a party or if you want to give your children a different taste.
Ingredients
Sausages /Choma Sausage/Hot dogs  (we used 5 choma sausages)
A small bottle of Coke
One big onion
One bell pepper
Recipe
Heat the pan for a few minutes until the oil gets hot
Cut the choma sausages at a 45-degree angle.
Let the sausages cook for 3-5 minutes
Add the Coke. It has a flambee effect so be careful when you do this. Let it cook for another five minutes.
Add cut onions pieces, bell peppers and parsley and cook for a few minutes.
Serve with rice. You can add barbeque sauce or sweet chilli sauce to the sausages.
Or
Pour the Coke into the saucepan first and bring to a boil.
Allow it to cook for a while until reduced and there is a thick sauce.
Cut the choma sausages at a 45-degree angle. 
Add the choma sausages to the pan. Continue cooking and stirring often until the liquid thickens well and the pieces are perfectly glazed.
Put them in skewers with some lightly roasted bell peppers and onions. 
View this post on Instagram
Coca-Cola Grilled Pork Fillet
Ingredients
1 kg of Farmers Choice pork fillet
Garlic – 5 cloves
Rosemary
Paprika
Ginger
Honey
Coke – a 500 ML bottle
Salt
Pepper
Soy Sauce
Oil
Instructions
Mix all ingredients together. Marinate pork overnight for maximum flavour. If you don't have time 1 hour will do.
Place the marinade in a saucepan and bring to a boil. Reduce it to a simmer and reduce the sauce and reduce to a simmer. It should be a bit thick but not too thick so that you can brush it on the pork while cooking.
Rub some more oil all over the pork and place it over direct heat in the pan. Let it sear for a few minutes then brush it with the marinade sauce making sure all sides are basted. Let the pork get browned on all sides. When all sides are browned move to more indirect heat. Let it cook some more until it is well done (or you prefer it).
Let it rest for around 5 minutes then cut into slices.
Serve with roast potatoes and salad. You can also have some sauce for a dip.


Grilled Liver Coca-Cola Marinade
Ingredients
Salt
Pepper
Rosemary
Garlic
Smoked paprika
Oil
Soy Sauce
Lemon
Chili flakes
Liver – ½ kg
Instructions
Mix all the ingredients together. Cut some lines into the liver and make sure the marinade gets in.  Marinate the meat for 30 minutes or overnight whichever you prefer.
Grill the liver until it is well done. You can also grill some tomatoes, onions and bell peppers to eat with the liver.
Serve with chips and salad.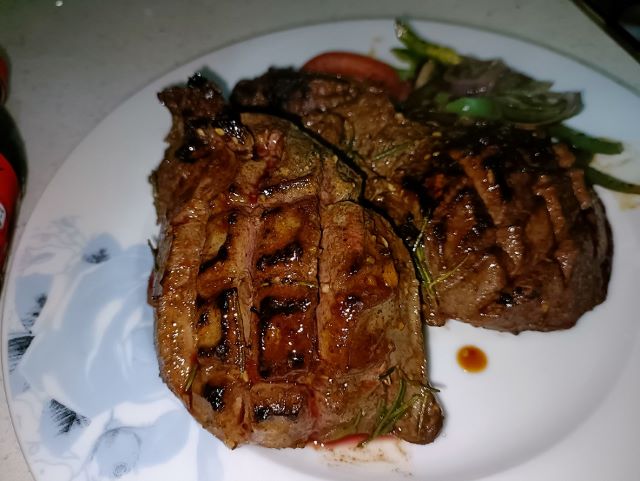 Coca-Cola Icecream Float
Finally, a dessert that your kids will love (adults too because it is yummy)
Ingredients
Vanilla ice cream
Chocolate sauce
A bottle of Coca-Cola.
Instructions
Swirl some chocolate sauce in a glass.
Put two or three scoops of vanilla ice cream.
Pour the coke until it reaches the top.
Enjoy your Coca-Cola Icecream Float.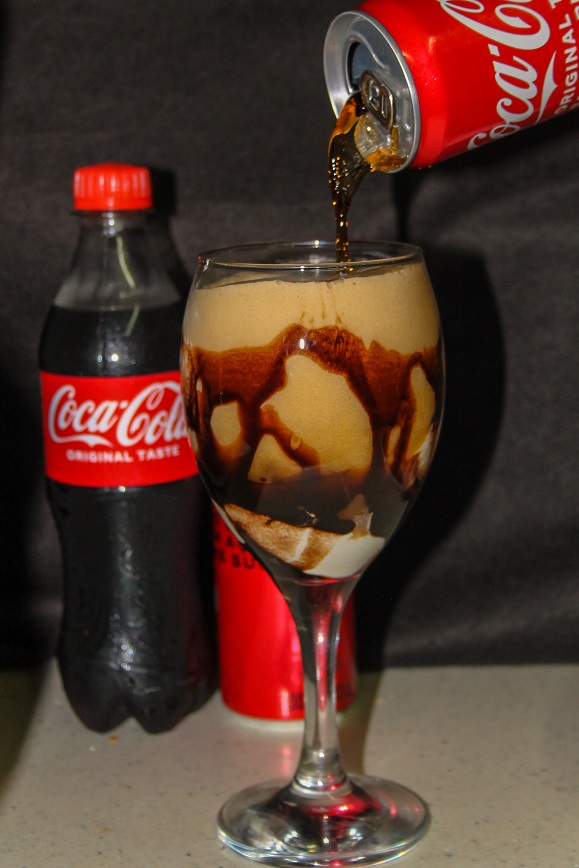 Thank you to the Chef who made it possible.
Here is a video showing some of the food.
View this post on Instagram
Speaking of Christmas, have you spotted the Coca-Cola Caravan? Tis The Season: Look Out For The Coca-Cola Christmas Caravan With Goodies Coming To A Town Near You
Reminisce on past Coca Cola Campaigns.  The Coca-Cola Brand Has Delivered Greatness From Time Immemorial. Let 's Take A Walk Down Memory Lane