Playing the bad guy is a role Chris Kamau does excellently. Chris is a familiar face to many people, we have grown up seeing Chris on our screens, from watching him sing and dance as part of the group Five Alive to watching play him play some interesting characters in movies and series. Chris has a way of playing the bad guy that is just badass. But did you know that Chris Kamau was also that sweet little boy you would see on the 80s Blue Band tins? Such a turnaround, right?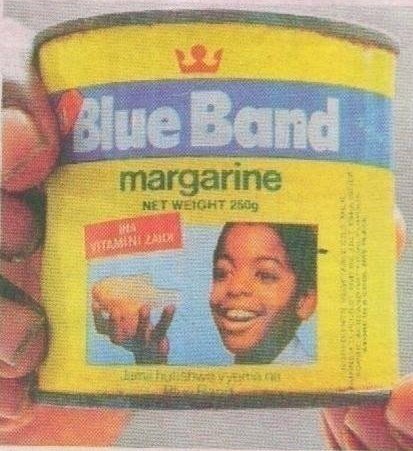 Chris Kamau describes himself as a creative. He's an Arts, Communication, Entertainment and Media Practitioner with more than 15 years experience in radio, stage, television and film. He has travelled extensively internationally and channels the rich diversity of the global experience, bringing a fresh, edgy, multicultural perspective to his work. His special skills include character voices and continental accents. He is a founder member of Five Alive, East and Central Africa's premier Gospel/R&B Acapella singing group and has been in numerous productions both local and international including The Bold & The Beautiful, On the Bench, Mind Tricks, Taharuki, Ogas at the Top, Sumu la Penzi, reading Maisha Magic's Jane & Abel. From his days on the BlueBand tin to music, songwriting, acting, and stand-up, he's done it all.
AISHA – Maisha Magic Original Film
I was incredibly fortunate to have a sit-down with the super-chilled Chris for what turned out to be a few hours of straight-up awesomeness. I mean I walked into his office and he was writing a congratulatory email to Pakistan's newly elected Prime Minister, Imran Khan. That was happening. And it only got more surreal and fascinating from there. We had an engaging talk about Kenya's film industry, where it is, where it could be and what it's going to take to get there. If that sounds fascinating to you, strap in and enjoy the ride.
How did you get into film?
When I was very young, I used to be that kid who when there were guests in the house, your parents would call you and say, 'Hey, do something', a song, dance or something because they knew I was that way inclined. I started having big dreams. I used to watch the Oscars and say one day…
Your name's been linked to so many shows. What project are you currently working on?
I am working on the Sports Film Festival. I was actually brought into this project by Matrid Nyaga who is an Oscar-award-winning producer for the film Watu Wote. She also runs Udada Film Festival. She met Asif Karim, of the Karim sporting dynasty and he had an idea for a Sports Film Festival which he'd seen in Iran, India and other countries. So she got in touch with me, we got together with Mr Karim, put together a team and actually started planning Africa's first-ever Sports Film Festival. That's what we're working on. We've received almost 400 entries from all over the world. I think we're only missing ten countries. Kenya has about 13 entries. There are still others coming in as well. We're seeing amazing stuff. Amazing sports-oriented documentaries and movies.
I'm also the chairman of the Kenya Actors Guild (KAG) and a writer for Sports Monthly.
Tell me a little bit about the Kenya Actors Guild.
The guild was started 8 years ago by Lupita Nyong'o, Peter King Mwania and Elly Omukubi. We mainly mediate between actors and producers. That's usually where the conflict arises. Producers are guilty of very many offences.
For the very first time, we're getting actors aware of their rights. We're getting them to read documents like the copyright bill. The guild is agitating for us to have some of the seats in the Kenya Film Classification Board and Kenya Film Commission dedicated to actors.
When you join, one of the things the guild does is they give you a rate card then it's up to you as an actor to negotiate upwards from there. One of the things we're doing is we want to negotiate directly with the Kenya Association of Manufacturers and with the Kenya National Chamber of Commerce and Industry. So we've sent them the rates so that actors can no longer be taken advantage of by producers and directors when it comes to payment.
If you engage actors from the Kenya Actors Guild (KAG) as a producer or director, you engage a professional actor or you quickly learn that cheap is expensive.
How's it been running the guild?
It's an uphill task, it's very difficult, trying to make actors understand that effective change cannot happen without legislation. You can make all the noise you want but the government only listens to collective voices, not individuals. So you have to get all your ducks in a row. You have to learn to negotiate. You have to speak to the government. You have to make them understand your perspective, and where you're coming from. You have to make them realize that you're a serious institution, that you're professionals.
Another thing we're struggling with is that the broadcasting networks have not been playing with the whole deck, you know about the 60/40 rule regarding local content. Also in this country, you get paid and you get paid once but you're supposed to get what's called residuals. There are a lot of shenanigans in this industry of ours that we're trying to streamline. Madam Secretary has actually appeared before the Senate committee to do with labour and welfare. We also appeared before the ICT committee. We cut across multiple ministries.
How are you balancing all of this? Running the Kenya Actors Guild, organizing this Sports Film Festival, writing for SPORTS monthly, working on your acting career?
It's a question of timing. If you have the national secretary that we have, who is very effective, she's very good at what she does, then that helps a great deal. As the chairman of the Kenya Actors Guild (KAG), I'm here to give guidance and direction but the real nitty-gritty is handled by the committee and the national secretary. For the Sports Film Festival, we're a small but effective team. Kenya Will Be Hosting An International Sports Film Festival In November
Where could we be as an industry?
Really far. We are an industry that should have grown a long time ago. If we're able to be streamlined, organized and recognized we could contribute to the GDP. We could contribute to CDF which is currently a headache. The problem is we don't have guidelines to take the industry to the next level.
In local productions, there are only so many ways a cook, a watchman, and a maid can get into it. We're not pushing the envelope. There's fantastic local stuff being made, but it's all going out, to the outside market. Why? Because the local networks won't buy it. They'll say it's too expensive or it's going to go above the heads of our viewers.
What changes have you noted in the industry since you got started?
Actors can now question their contracts. They are informed. They are more aware of the fact that not everything producers tell you is the gospel truth. And the fact that they now treat this as a business is a plus.
Say you're reading and you want to be an actor… What advice would you give to such a person?
First of all, you require seriousness. That's number one. Acting is not a by the way. It's not something that you do because you're killing time or because you failed.
What's the big dream for Chris Kamau?
I take it one day at a time. Facebook says I'm a creative individual. I believe that everything that is life is art and vice versa. I don't have a five-year plan, projection or anything like that. I have learnt that in life you have to realize that you are where you are when you are. A lot of people are depressed because they think at a certain age I must have this or that, whatever it is, who told you? Those are society's expectations of you.
What does Chris do to chill out and have fun?
If I'm not watching movies, I love movies, of course, I'm reading. I'm an avid reader. I'm an information junkie. I love getting information from everywhere. My taste in music is the same, it's very eclectic. I listen to everything.
Any project you've worked on that you're especially proud of?
A reporter asked Denzel Washington which was his best movie and he said, 'The next one.'
Why did you come back? You were basically in Hollywood.
You soon realize it's better to be a big fish in a small sea than a small fish in a huge sea.
Are you a creative looking for funds for your project? Check out this post – 90 Million Fund for Kenya's Creative Industry Through HEVA Fund
Interview With Film Producer Jackline Emali On The Journey To Screening At The Miami Film Festival
From Agricultural Engineer To Scriptwriter And Director, Cajetan Boy Has Come A Long Way
Peter Kawa Is Very Good At Playing The Bad Guy On TV But OffScreen He Is A Very Different Person