The time we have all been waiting for has arrived, The Black Panther movie is finally appearing in the cinemas this week. I was one of the lucky few to attend a VIP show by Crimson Media on Saturday and I have to say that you need to book your tickets right now because Black Panther is everything we wanted in a Black superhero movie and more. There is action, romance, shocking revelations and surprises, and a great storyline. But just in case you don't know what's up with the Wakanda universe let me catch you up on the main plot of the story without giving spoilers.
In the movie Black Panther, Prince T'Challa of the African Nation of Wakanda returns home to become King after the death of his father.Wakanda, is a unique place, it is the most technologically advanced society in the world, but like the amazonians, Wakanda has managed to hide its capabilities from the world. T'Challa faces different challenges including another contender for the throne. Just when things seem to be settling down, a powerful enemy appears with a shocking secret that puts Wakanda and the entire world at risk. The young King finds that allies have turned and that old enemies might be the key to save Wakanda.
Why am I so excited about this movie?
The superhero Black Panther was created in 1966, by Stan Lee and Jack Kirby to correct the lack of black superheros in the Marvel Universe. His name was briefly changed to Black Leopard after the founding of the Black Panther Party but it was later changed back because Black Leopard didn't have the same oomph. In his first comic appearance he defeated the Fantastic Four in their own comic. It has taken more than 50 years for this superhero to have his story make it to the big screen so that's a big deal. Many of the black superheros who followed Black Panther in the comics, beat him to the screen, this included the Meteor Man, the "Blade" franchise and Catwoman.
Since Black Panther was the first black major superhero this movie is a big deal. Also keep in mind that although there have been many black superheroes in the Marvel and DC Films they have all had secondary parts. Some of the heroes include Falcon in Captain America, Storm in X-Men, Nick Fury in the Avengers and Cyborg In Justice League.
Chadwick Boseman was cast as Black Panther in 2014 and he first appeared in Captain America: Civil War. Chadwick Boseman is T'Challa, the crown Prince. Letitia Wright is his brilliant techno-genius sister Shuri who is a bit of a rebel. Danai Gurira (General Okoye) is the general of the Dora Milaje and the head of Wakanda's armed forces and intel. Lupita Nyong'o is a spy Nakia who also happens to be T'Challa's ex-girlfriend plus the head of one of the Wakanda Clans. Michael B. Jordan plays the mercenary Erik Killmonger, who comes to Wakanda with an evil plan to overthrow the King. Daniel Kaluuya is is W'Kabi. T'Challa's best friend and one of his trusted warriors. Any Serkis is the evil arms merchant Klaw. Winston Duke is M'Baku, who wants the Wakanda Throne. Forest Whitaker is Zuri, the Wakanda Shaman and Angela Bassett is Ramonda, the Queen Mother. The acting is fantastic, and this movie has enough light and dark moments that really stretch the actors but they come out looking good. Let me not even get started on how the action scenes will blow you away, you can tell the actors really put in the time to work on their moves and not just their lines. This makes this a very enjoyable movie to watch.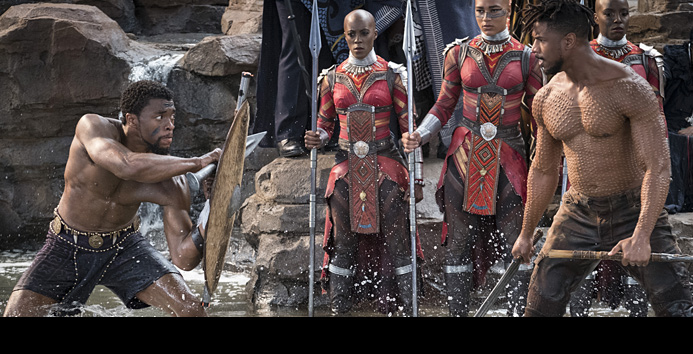 I loved this movie because it shows Africa as a place of black excellence. The west has often depicted Africa as a place where everything is backward, and there is disease, war and poverty. This movie shows that Africa is not like that, that Africans did have great civilizations and they can and have come up with many things that people all over the world can use for the betterment of society. Black Panther: Why People Are Going Crazy Over This Black Super Hero Movie
I love that women are central in this movie, they are not just pretty faces. T'Challa's sister Shuri is a brilliant scientist who has created so many amazing gadgets and machines. Nakia is also a key player, at a critical point when it looked like all was lost, she worked hard to make sure that the future of Wakanda would be secure. Also she is an independent woman, she is not waiting around for her ex-boyfriend to come around and make her Queen, she charts her own path. And what can I say about General Okoye and the Dora Milaje, they are so majestic, and they are lean, mean, fighting machines. I like the fact that girls can watch this movie and have role models to look up to, not have to think that they have to be saved by a guy. The women get do a lot of saving in this movie (move aside token Bond girls).
I am trying to stay away from giving too many spoilers so I will just say, go watch this movie. Take your friends, and family and just have a good time at the cinemas. You will enjoy this movie, it's a beautiful film and I loved it.
Black Panther contains some action violence and a brief rude gesture. The movie runs for 140 minutes.
https://www.youtube.com/watch?v=fsT5SyBLlIg