For the past few weeks, there has been a serious debate online on the millennial. A millennial is any person born between 1980 and 2000. While it is deemed as the luckiest generation ever, born at the time of a great technology-driven world full of opportunities and avenues to make a living, research has shown that most millennials are struggling almost in everything. There are fewer resources and so many people are trying to get the few opportunities that are there, and there is also the high cost of education which leaves them indebted even before they start earning and a lot more.
Are we the only ones going through this? No, its happening all over the world. Before you even think about giving up, check out these five books that will encourage you to keep on going.  These books are written by fellow millennials (or people who are around that age) and most importantly, celebrities who happen to be some of the most influential celebrities of our time.
The Last Black Unicorn – Tiffany Haddish
You know Haddish, from the Girls Trip comedy film, who also starred in If Loving You Is Wrong. If you are a great fan of comedy, then you might have seen her make appearances in some other comedy shows. While you might be fooled to think that it was a walk in the park for Haddish to make it such big in a male-dominated industry, she's said it all in her book The Last Black Unicorn. From enduring bullying in school, her mother being involved in a road accident that changes their course of life forever, to getting booed and turned off stages. In fact, she starts by saying that she wasn't smart in school. Simple dictation was rocket science to her, and when her mom went crazy after that accident, things went from bad to worse. She has been through domestic violence too. This is a book that talks on the DMs she used to get on Facebook and Instagram and all that, something that we can easily relate. It is a book that you need to read, absolutely!
Born A Crime- Trevor Noah
We all love Trevor Noah, don't we? His jokes are original, his imitations on point and above all, he's African. Reading Trevor Noah's Born A Crime opens you to a new world, a world of a young coloured boy growing up under apartheid. Being coloured means he was a result of a black-white love affair which was a crime, hence Born A Crime. He talks of his mother's struggles in defying odds, rebelling against the status quo and bringing him up to be who he is.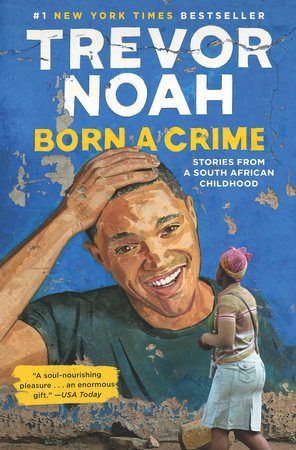 The Keys – DJ Khaled
We love his psyche, his hard work, his music and his music. Who really doesn't know Dj Khaled, if you are a millennial? In this book, Dj Khaled tells us about one of his most used phrases 'The Keys'. We have often heard him shout 'Major key alert! This is a major key!' and he has adopted a key as the logo of his label 'We The Best Music'. But how did he begin? What did he go through? He opens up about all this in this book that is so motivating. Khaled talks about helping his parents in their clothing store at a young age, trying to make sales, his family getting robbed and finally going bankrupt, him going solo, getting arrested while selling tapes, and much more. It is a story of hard work, resilience, great work ethic and passion for what one is doing.
I Am Zlatan- Zlatan Ibrahimovic
We see athletes on the pitch, get amazed at how good they are at their trade and forget that it is not mere talent but hard work. Ibra is popular, currently playing for Manchester United. Although in his footballing sunset days, Ibra is a legend and in his book, I Am Zlatan he talks hard work and self-esteem.  He opens up how his parents divorced when he was still young and he had to make choices on whom to stay with. He talks about being despised when he began playing and the hate he'd get from fans who were supporting his youth team. Ironically for Zlatan, the hate has kept him moving more than love has. He always wants to prove his critics wrong, even when they think his time on the pitch. Think about a man who conquered Netherlands, Spain, Italy, France, and English football at different times of his career. You can also check out his mini-movie going by the same name, I Am Zlatan.
DotCom Secrets- Russel Brunson
Now, if you want to get into business then you're most likely to have millennials outnumber everybody as your employees. Russel shares secrets of how you can grow your company online, drive crazy traffic and convert it into sales. He also opens your eyes to many online business aspects that require more than that degree and a few years of experience to learn.
Grab any book of the above, or if possible all of them. Let's read, but most importantly learn.