Dreams are valid if you make plans to achieve them.
When you are a young woman or a young man, probably pursuing your higher education or trying out your first job and testing your mettle as regards to earning a decent living, you possibly have big dreams for your future. You probably dream about your honeymoon destination (if a church wedding is part of your life's dream, i.e), perhaps you even visualize your pretty little babies playing in your trimmed, sparkling backyard. Then you also dream about how your career will develop from one strength to another and if you are like me, you want to earn the highest possible degree in your discipline and go on to be a force of change in your later years. Lupita Nyong'o says, "Your dreams are valid" and I think that is one of the most overused quotes in Kenya and for good reasons. We all dream of a better tomorrow. We all dream. If it can be dreamed it can be achieved, so dream on.
But what is the difference between dreaming and the realisation of these dreams?
For some, it is money, for others, it is time, for yet another group, it is opportunity… the list can go on and on. GET IT TOGETHER a song by Tiwa Savage and Paul Okoye (PSquare) and is the current National Family Planning anthem in Nigeria, says that planning your sex life is one of the main things that stands between you and the fulfillment of the dreams that you so strongly wish to see realised.
Young people today are dating, quite seriously and engaging in sexual activities, that is if these statistics are anything to go by. One of the results of engaging in sexual activity is pregnancy or ending up with a sexually transmitted disease. Both of these can seriously alter the course of your life. Therefore, taking charge of your sex life is important and that is what this song is primarily about.
The video tells the story of young people in campus who plan for the things that they want to achieve – a great family, a successful career and good money. The video takes us through their campus days as they devote time to their studies; we see them graduate, go on to date and get jobs, get married and finally have babies. Classic example of the adage, everything has its own time? Tell me what you think after watching the music video.
To summarise the message in the song: "with proper planning, your days will shine and your future will be bright."
The song begins with Paul Okoye saying, "Listen". Stylistically, this places emphasis on the song as a piece of advice to young people. Indeed, all the three stanzas read like pieces of advice from a big brother (or from a big sister when Tiwa Savage sings her parts) to a younger sibling or friend. Stylistically still, the language of composition, Nigerian pidgin, also cuts down on the formalness with the seriousness of the advice not being watered down because of the soft-firmness with which the words are delivered.
Tiwa and Paul take turns to sing their lines. It is easy to get the point that Tiwa is reaching out to the young women, as a voice to remind them of the need to make proper decisions in their lives as regards to what she calls 'joining body with your baby boo' and urges them to discuss such matters very well as they deserve to be meticulously handled. Paul on the other hand reaches out to the young men and even the tone and his choice of words will give you an idea of the way conversations go when 'boys' meet. And I think that this is a good way to reach right to the hearts of the constituents. One more thing, the use of Tiwa and Paul to 'advice' young people in matters sexuality for me was good because these are two recognizable artists across the continent of Africa who are regarded as role models by many young people. This therefore means that the young people who look up to them can actually pay attention to them both as their heroes and for the advice as big sister and brother. Talk about killing two birds with one stone!
While the song has no illusions of its ability to decide what is right for a grown up, it offers direction and some facts about life that I think need an older eye to help the younger generation to see. "Cause the people wey sabi na dem wey dey plan well oh!" (because people who enjoy plan well) reads a part of the amazing chorus that is likely to get you off your chair and dancing. I think that the fact that the two musicians are established in their careers also plays a role with message delivery in terms of showing the youngsters the importance of planning in life if they are to achieve their most cherished dreams.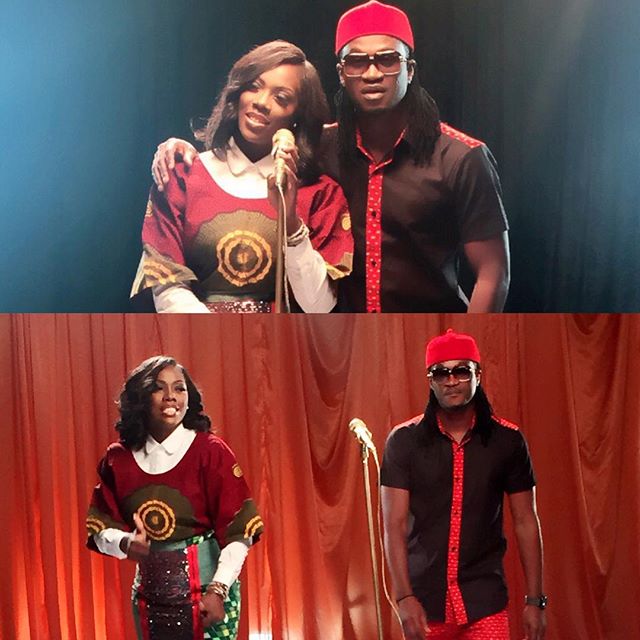 The song also looks at the wider picture of the importance of planning in the bid to achieve a better future for ourselves and our loved ones. Basically, what the song says is that planning is important if at all we are to enjoy life.
Here are a few reasons you definitely want to download this song and listen to it at least once a day – especially if you are in your early 20s.
This song goes beyond simply entertaining you.
I know my review has largely touched on this point. But I cannot over emphasise just how this song goes beyond the role of simply entertaining. Very important life lessons are embedded in this song. Get it and listen.
The song is so cool
I know that with all the emphasis on the educative qualities of this song, you are visualizing your high school chemistry lesson with that teacher you had nicknamed 'piriton'. Far from it. It was actually the beat that drew me to the song and made me pay attention to what Tiwa and Paul were saying. So worry not, if you are looking for a song to dance to at your birthday party, this one will work very well.
The song is very simple
Well, maybe the pidgin will be a bit problematic the first few times you listen to the song but you will be on the roll very soon. Again, by simple I also mean that the message in the song is not complicated which gives you all the time to have the message sink in. You know there are those songs that you listen to and you do not understand them and you wonder whether it is you who has failed to get the point or whether it is the musician who failed to deliver? Well, this song is not painfully twisted like that.
A fresh message?
I don't know, maybe I just haven't been listening to enough songs but I think that this is one of the few songs in the recent past that looks at the possibility of the youth actually following the right path to riches and happiness. So if you are one of those people who blame pop culture for all the sins in the world, there is an alternative song here.
A good contraceptive advert.
The message in the song (which did I mention is a campaign song for contraceptive use?) is so subtle and it will not embarrass you out of the dinner table when it comes on TV. There are some ads on contraceptives that make you shy even if you are not and you suddenly need to get up and use the toilet. Not this one. In fact, if your mother is like mine whom any song that is not in the hymn book manages to confuse, she will not understand a thing of what the music is about because there is no mention of contraception anywhere in the song nor are the moves in the video blush-inducing. You can therefore continue to enjoy your cup of porridge with mom when the ad comes on.
Get It Together by Tiwa Savage and Paul Okoye is a campaign song by Nigerian Urban Reproductive Health Initiative (NURHI) and is aimed at raising awareness about family planning by increasing contraceptive use among young people. Source: Bella Naija