"Africa is the next big thing" is a phrase we have all heard being thrown around by external and internal investors. Kenya, for example, has been highly ranked in relation to other African countries and hence has been seen as most suitable for investments. Generally, this will translate into more international chains entering the Kenyan market as we are already witnessing and entrepreneurs should seriously start considering buying this franchises rather than building a business from scratch. The benefits of franchising outweigh the limitations.
First and foremost, franchises have an inbuilt setup infrastructure hence there is little to worry about when starting out. There is endless support, a proven track record, and a reputation. This means your clients are already available rather you do not have to worry about getting customers because marketing costs are incurred by the managing company or shared across chains.
Secondly, through franchising, one avoids a lot of risks that are heavily associated with starting one's business. Franchises have a higher success rate than personal businesses because of risk avoidance. With due diligence of the franchise, you are about to purchase you are more likely to land a great deal. One common way that franchises to cut costs is through bulk purchases and fully leveraging their economies of scale. Starting and running a business is very hectic regardless of the type and when an entrepreneur has one thing less to worry about,  they have time to focus on things like scaling up, things that most small businesses don't enjoy early in business.
Additionally, franchising offers an opportunity for franchisors to have access to higher valuations. A study by the ifranchise group in 2012 concluded that franchises in comparison to the S&P 500 has a higher valuation and this was a comparison between entities that were both publicly traded. Investors are more likely to keep injecting funds to an entity that has the potential to be of a higher value in a short time than those that will grow over time. This is because they need to recoup back their investment. On the other hand, a franchisor whose model has been seen to grow over a short time is more likely to fetch a higher price might they decide to dispose of their franchise.
Businesses are seen as successful if they can make profits. Through franchises, there are avenues to fully cut costs or reduce them such that you enjoy a higher return, for example, the parent company takes care of the training and expertise costs. There is a dedication to provide uniform products and services and to make this true, most training is centralized at the cost of the parent entity.
Every business model has its own advantages and limitations it is a matter solely left onto the entrepreneur to decide what they can accommodate and what is non-negotiable. As a growing economy and as the world keeps advancing, Kenya will soon be flooded by huge corporations looking to set up shop. In this case, franchising becomes a better and viable option for all the reasons given above.
Here are some of the advantages and disadvantages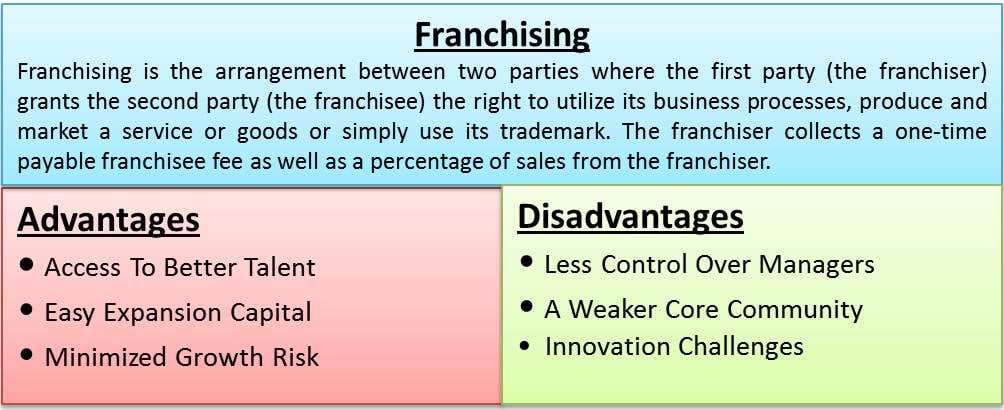 Starting a business with other people? Four Ways To Ensure Your Business Partnership Survives The Test Of Time