Some of us are adrenaline junkies, and we think or dream of the next activity that will give us an adrenaline rush. That quick rush of adrenaline pumping through your veins. Whether we are indoor or outdoor people, we all enjoy indulging in a little adventure. Life is too short not to enjoy an amazing experience once in a while. With the tourism industry booming in Kenya, more and more opportunities to take part in adventure sports are opening up. So grab your friends or family and try out one or all of these amazing sports one of these fine days.
Skydiving
Jump from an aircraft from over 12000 feet above the ground? I know, crazy. However, it is a chance to try out an exhilarating experience, maybe even conquer a fear of heights. Enjoy the magical view from above just like you see in the movies (leave the stunts to Tom Cruise). You can find skydiving services along the Kenyan coastline in Diani and Watamu where qualified professionals guide you through the process so you do not have to worry. They also offer video recording so you can take that magical experience home.
2. Scuba Diving
If you love the water, this is guaranteed to make you love it more. It is the literal definition of 'swimming with the fishes'. Get a chance to enjoy a weightless experience underwater where you explore a little of what 70% of the earth's surface has to offer. Kisite Marine Park gives you the chance to view coral fish and colourful coral reefs that brighten up the ocean. You also get a chance to see numerous dolphins swimming about as is the norm for them. You can go scuba diving in all KWS Marine Parks.
3. Paragliding
Another great adventure sport in the sky is paragliding. It is a little less scary than skydiving since you are propelled slowly by the wind. In Kenya, one can enjoy this sport in Kerio Valley in the Great Rift Valley. Here you get to experience the lovely landscape while viewing the clear blue skies. It is advised to try it out between the months of December and March when the winds are really strong.
4. Rock Climbing
This is definitely for the faint of heart. You do not just show up, and look pretty. It is one of those sports where the thrill comes from the effort put in. Test your strength and endurance and get to enjoy the feeling of success as you savour the glorious views from above. Kenya offers various opportunities for rock climbing. Savage Wilderness offers rock climbing in Sagana or in Hells Gate National Park. If you are looking for a more challenging experience, Rockclimbing offers the chance to trek mountains as high as Mt. Kilimanjaro. You can try out an indoor version of the same at Climb Bluesky at Diamond Plaza Nairobi.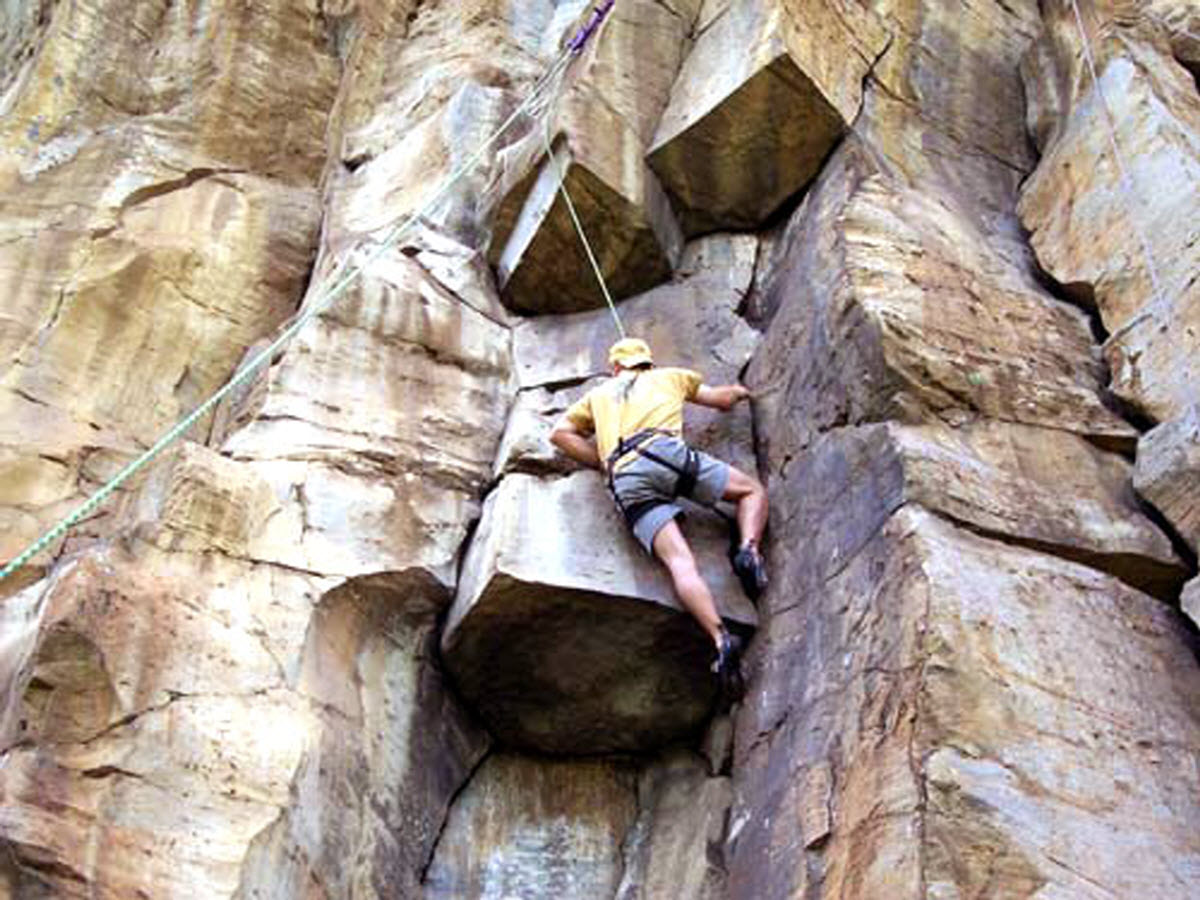 5. Kitesurfing/Windsurfing
The difference between these two sports is that one relies on an overhead kite to propel and direct them while the other relies on a sail tied to a sailboard. These two activities rely on the strength and direction of the wind. These activities are available at H20 Extreme in Diani and Tribal Water Sports in Watamu. You get to enjoy the thrill of manoeuvring the tidal waves as you view the beautiful scenery of the coastal line. Surfing classes are offered in most of these places for those who want to become pros.
6. White Water Rafting
Fun fact, the name 'White' water rafting is derived from the frothy white water formed when a river's gradient increases enough to create turbulence. I cannot be the only one who did not know that. This is one of those experiences you get to enjoy with a group of people. It allows you to let loose, scream and practice a little teamwork as you paddle through the rough meandering river. White Water Rafting is offered in Sagana along River Tana where you get to enjoy lovely green lawns and also camp if interested.
7. Mountain Biking
At places like Hells Gate, you get to experience mountain biking in all its glory. This takes the idea of normal bike riding to the next level. You get to ride through rocky narrow paths as you marvel at the beautiful scenery of nature. You get to take pictures of gorges, natural hot springs, and small dormant volcanoes. If looking for a less strenuous or chilled-out mountain bike experience, Karura Forest offers biking services in the beautiful Karura Forest.
8. Bungee Jumping
Nothing gets your heart going more than a 60 m drop head first. You get to enjoy the experience of free fall without really hitting the ground. Once you get to maximum fall, you get to rebound for a while before the cable holding you stabilizes. In Kenya, one can experience this amazing adrenaline-pumping activity at Sagana. So whether you want to take the jump screaming, take the leap of faith and try something new and daring.
9. Ziplining
Ziplining is one of these activities that has become really popular over the years. You get to 'swing' from one position to the other viewing the magnificent sites most places have to offer. Most areas that offer it, have hiking or biking routes thus you can combine the two exciting activities to make for a fun day. Some of the areas that offer zip lining are; Limuru, Kerita Zipline near Kijabe town, Machakos zip line and The Tana Zipline in Sagana. These areas also offer great restaurants that offer lovely local cuisine.
So what are you waiting for? Start planning your adventure trip now.
Travel: Adventure show Routes shows the beauty of Kenya #TembeaKenya
Hot air ballooning in Kenya – an adventure in the sky
7 Reasons You Should Play A Sport
Sports: Archery Is A Mental Game – 9 Reasons Why You Should Take It Up
World Rally Championship Safari Rally: Watch Out For These Three Young Talented Drivers That Safaricom Is Sponsoring In The FIA Rally Star Programme