Six-pack abs are an end goal for many fitness enthusiasts. Many home athletes frequently share pictures of their washboard abs and show how fit they are. They're highly popular as an aesthetic. However, six-pack abs aren't recommended for women.
Many women have changed their fitness routines to try and accomplish six-pack abs. Abs require a strong, well-trained core. This is highly beneficial since a strong core stabilises your spine and torso. Core strength reduces the risk of lower back pain and spinal injury during daily activities and corrects your posture. Six-pack abs are the most advanced level of core strength. However, they're very difficult to accomplish and maintain.
Well-defined six-pack abs mean having minimal body fat percentage, specifically in the abdominal muscle region. Low body fat in the abs is unimportant because the rectus abdominis is a superficial muscle.
Why are six-pack abs dangerous for women?
Six-pack abs are the visible 4-8 rows of distinct muscular segments on the front of the lower abdomen. You achieve them when you eliminate belly fat. In most men, genetics are what determine the likelihood of getting abs.
However, for women, six-pack abs are ill-advised. In men, the recommended body fat percentage is 10-20%. Among women, it's 15-30% body fat percentage. They also need at least 12% essential body fat. Essential body fat insulates the body. It also enables healthy body function. In addition, it protects the organs.
Women have to get a very low body fat percentage to achieve six-pack abs. This disrupts the production of oestrogen. As a result, this affects reproductive and psychological health and bone density. Getting ripped abs compromises healthy body function and can lead to hypothalamic amenorrhea. This means your period stops.
Women with visible abs also experience extra stress because they may have low progesterone and oestradiol. Progesterone and oestradiol are also sex hormones that affect the menstrual cycle and reduce symptoms of menopause.
Oestradiol also plays a role in bone, brain and liver health. Low oestradiol leads to dry skin, and trouble concentrating on things, and it also causes intense mood swings. Low bone density increases the risk of physical fractures and makes it harder for you to carry out exercises. Estradiol is an estrogen hormone that is the major female sex hormone; it plays an important role in your bones, liver, and brain. It's produced in the follicles of your ovaries and it's also present in men (it's produced in their testicles) as well, just in lower amounts. Low levels of estradiol result in dry skin, weak bones, trouble concentrating, and intense mood swings.
Achieving six-pack abs for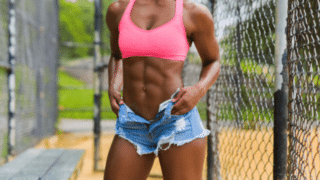 is also a lot more complicated. You may need an extreme dieting and fitness routine, like jogging after consuming only 1000 calories daily or drinking diet coke or sugarless black coffee to monitor your hunger.
Six-pack abs are not a sign of health among women. Super-advanced male athletes can manage such abs because they have nutritionists who provide them with their nutritional needs. Athletes also have very expensive equipment that monitors their health and ensures they aren't at risk.
Read Also: Fitness: Things To Consider Before Hiring A Personal Trainer
What should women do instead?
Avoid working out excessively and denying yourself the calories you need. Women need 2000 calories a day while men need 2500. This can change based on age, physical activity levels, recovery from illness, or daily needs.
If you want a strong core, avoid malnutrition. Ensure you have a healthy balanced diet. If you're a beginner, you can do exercises where you lie on the floor and raise your hips until they align with the shoulders at least five times. If you have been exercising for a long time, you can do the plank, holding the upper push-up position for at least 30 seconds and tightening your core.
A healthy lifestyle won't give you six-pack abs, but it can improve your core strength, which is a lot more important.
Check out
Health: Myths About Exercise And Physical Fitness
10 Natural Ways To Balance Your Hormones
Fitness: 5 Exercises To Give You Perky Breasts
Health & Fitness: 7 Tips To Help You Start Jogging