The online space has grown. Over the years people have used the internet for different reasons. To get jobs, to do research, to blog, to check out people, to socialize and lately in Kenya to sell online as well.
People have met on the internet, dated and fallen in love. Some of course have been catfished (having a relationship with a person who doesn't really exist but who operates a social media account under a false identity.) In the busy world that we live in we spend a lot of time on the internet. So why not socialize? It could be the perfect place to meet that dream man who buys you flowers and chocolates and calls you every night. Or maybe not. Do those men exist in real life outside of the soap operas and romance novels are the questions every girl asks?
I have been telling you about OLX for the last couple of weeks. OLX is an online platform where you can buy and sell goods. But it doesn't end there. You can also socialise on OLX. Meet people who share your hobbies like reading, cooking, making jewelry etc. You can even use OLX to form a bookclub. One of my friends tried it out earlier this year when he thought our bookclub wasn't been serious enough about discussing books (we whatsapp too much.)
Anyway a couple of years ago I wrote a poem called Love by technology. I wondered what would happen if a couple met on OLX. I was told a story about how a couple met on OLX and are now married. Go figure. So I thought what would their story be? Find below the reworked poem called OLX with love.
Baby we need to talk.
Let's meet and get away together.
We met on OLX,
You were selling puppies,
And I wanted one, they were so adorable.
Remember that time we first met,
When I realized the puppy was not the only thing I wanted to take home.
Now we chat,
Hanging out on social media,
Laughing about how OLX,
Brought us together.
But I don't get to see enough of you,
So why don't you book us a holiday on OLX,
And let us get away,
Spend some quality time together.
I want to see your face.
I am tired of this love by technology.
I email you and you text me.
I write on your wall and you inbox me.
I follow you on twitter and you stalk me on instagram,
I send you pictures by whatsapp, and you send me videos by YouTube.
Then technologies converge and we meet online,
Images by webcam, voice through headphones,
As we hang out on Google plus,
and touch through fingers on the keyboard.
Our love is love by remote.
We never meet we just communicate through bytes of data
through the internet and over the phone.
I want to see your face up close.
Smell our scent and let it drive me crazy.
Hold your hand as we walk hand in hand,
Laugh together in real time,
No downtime required.
I want not to have to wait to see your expression
Because the internet connection has broken.
Baby let's me and you get away.
Damn I hate talking to voicemail!
Call me back suga so we can arrange a rendezvous.
Call me, text me, email me, inbox me.
Just find me.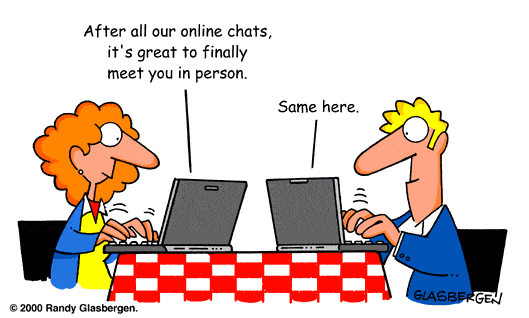 When I was doing research I came across this blogpost Falling in Love…Online? Pretty interesting story on socializing online.